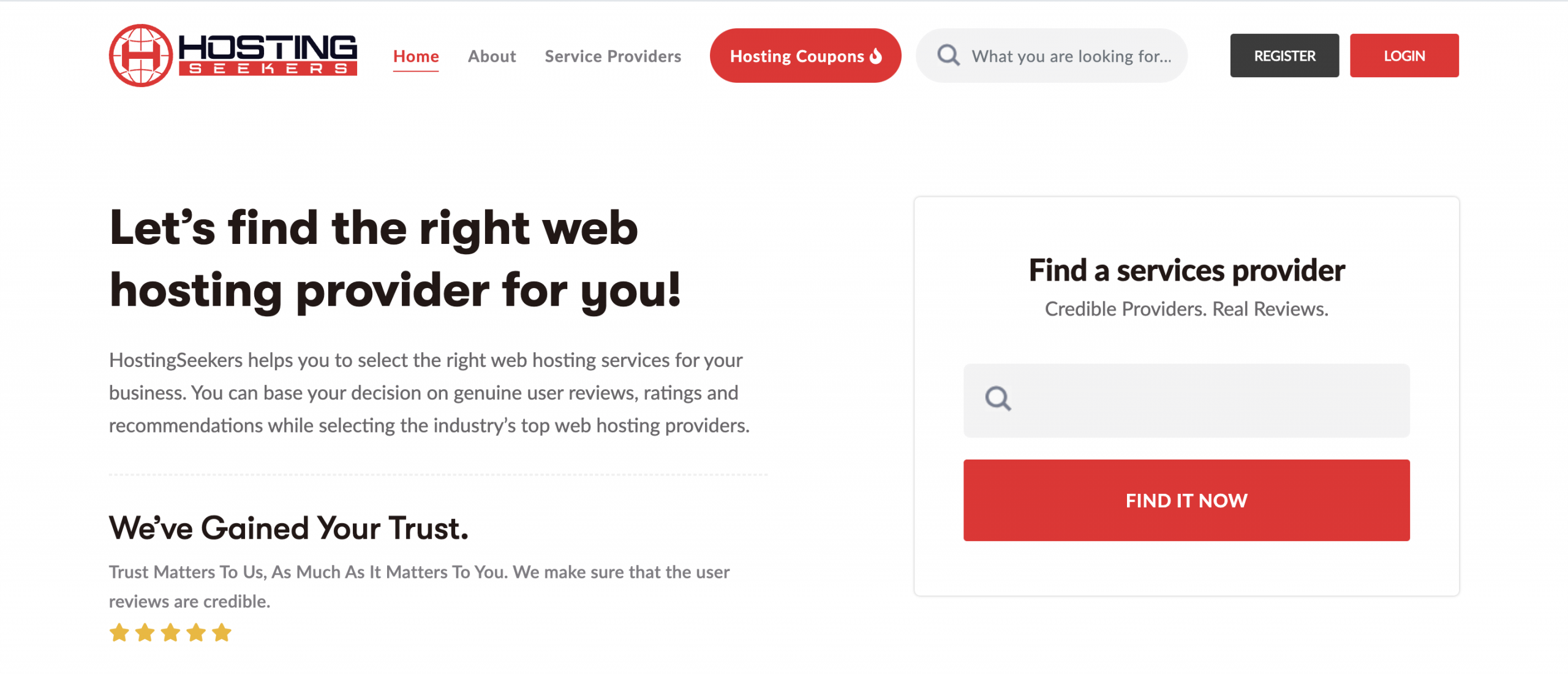 HostingSeekers is an online directory of web hosting companies. With thousands of daily visitors on their website, they are an impressive source of information about everything related to hosting. ​​Owing to their contribution to the web hosting industry, they recently also received the Prestigious Award for "Excellence in Web Hosting Business Listings 2021" by Acquisition International, UK.
They offer a user-friendly and easy-to-navigate user interface. The list of hosting providers is constantly updated, helping the visitors to settle for the most relevant hosting plans for their business and website.
A media partner of Cloud Talk Global, HostingSeekers constantly offers top-class value through their services. They try to inculcate trust in all their business processes and promote a transparent approach centered around strong ethics and values. 
Table of Contents: How HostingSeekers Is A Game Changer For Hosting Providers As Well As Website Owners - HostNamaste
Hide
How HostingSeekers Is A Game Changer For Hosting Providers As Well As Website Owners
Who Can Use HostingSeekers?
HostingSeekers can be used by both hosting service providers as well as website or business owners. Web hosting providers can gain visibility and benefit by reaching a wider audience. Business owners can find the right hosting solution provider by comparing the available options.
Is HostingSeekers Free?
It is absolutely free to use for both hosting providers and for website owners.
Why Should You Use HostingSeekers?
– Top Features For Service Providers Listed On HostingSeekers
HostingSeekers recently added new high-quality features to their existing hosting directory platform. 
A user friendly dashboard lets you manage your profile visitors end to end. With access to real time data, you can perform instant analysis and take the right actions to manage your customers. Additionally, the service providers can generate instant analysis reports like number of profile visitors, location of visitors, number of clicks etc. Access your user reviews and checkout the status of your profile within seconds.
Based on the performance of the services offered by the service providers and the reviews submitted by the users, HostingSeekers follows a fair ranking badge system to assign badges. This helps service providers understand their areas of improvement and compare their performance with other listed providers. The criteria for allotting badges include the age of the domain, rating of the providers, number of profile visits, the overall profile and the trust in the brand.
The best way to know about a business is to read what users have to say about it. Therefore, HostingSeekers emphasizes the importance of getting user reviews to the hosting service providers listed on their platform. This also gives feedback to the providers regarding their performance, support services, uptime, features and pricing.
HostingSeekers offers bulk emails that help service providers to reach out to their target audience faster. This feature aims to make the process of reaching out to your customers for reviews easier and faster. This is just a one-step process. Service providers share a CSV file of their clients' email addresses and a series of emails including follow up messages are taken care of.
For analytical service providers, HostingSeekers offers monthly reports to share statistics around their company's performance on HostingSeekers. This report includes information such as number of reviews received, profile visits, traffic, user rating, badges received etc. This report can be accessed directly through the dashboard as well. This analysis helps providers to reflect on their strategy and take corrective actions if needed.
Top Features For Website Visitors Visiting HostingSeekers
HostingSeekers aims to help website/business owners to find the best hosting or its related services provider in the least time. 
The badges and ranking assigned by HostingSeekers based on the performance of service providers gives a snapshot of the striking features of service providers to website visitors. This highlights top performing hosting companies helping visitors to select the right service provider based on a fair ranking badge system.
The rating system followed by HostingSeekers helps users to understand the features and performance of hosting providers around customer support, user experience, pricing, coupons, reviews and benefits. This will help visitors match their requirements with the top performing provider who fulfils most of their needs. 
With thousands of hosting providers available online, selecting the right hosting partner for your website can be confusing. Therefore, HostingSeekers offers a feature of instant comparison wherein the visitors can select upto 5 companies and click on the "Compare" button. This will help to differentiate these providers with respect to their prices, features, offerings, reviews, ratings etc.
To avoid the inconvenience of manually updating the location of website visitors, HostingSeekers finds search results based on the IP location of the visitors.This will help to automatically find the providers located near you. 
Conclusion
The core features and ranking systems offered by HostingSeekers help the visitors find the most suitable hosting provider for their website. This makes the search process for visitors efficient and effective while helping providers reach a wider target audience. HostingSeekers offers a fair and transparent platform for hosting providers to showcase their offerings to thousands of daily visitors.