Without a doubt, shared hosting is ideal for getting your business online because it doesn't cost you a fortune.
We are so fortunate to be born in an era where we have so many options and opportunities for web hosting and servers. Now, creating a successful website or web presence is easier than ever with superior hosting solutions and platforms. Huge online presence was only considered by large-scale businesses; e-commerce platforms, technological giants, online trade hubs, or community is now being considered on a massive scale by small-scale online businesses.
The increased adaptability of a web presence is a result of innovative web technologies, fast-paced internet, increased storage capacities, etc. Businesses can now feel stress-free and breathe a sigh of relief in handling their websites, as they do not have to worry about managing or maintaining server-side of things. When we specifically talk about shared hosting plans, they have become the top priority of small-scale businesses these days, as they are cost-effective and easier to maintain with low configuration requirements.
A Right Web Server Serves the Right Need
Different servers serve different level of hosting needs as it allows individuals and organizations (small or large) to increase their web presence and make their website accessible via World Wide Web or more commonly knowns as www. Without a doubt, businesses can sell their products and services a lot more than initial projections if they have an attractive and professional website, portfolio or user-front. Choosing and selecting the best hosting service or web server for small business require many considerations as there are thousands of agencies claiming to be the best over the internet, which means finding the right strategic fit, is no easy feat.
The biggest reason why shared hosting is an ideal alternative to virtual private servers (VPS), dedicated private servers (DPS), dedicated servers, cloud-based web hosting, reseller web hosting is that it is inexpensive in nature and has long-proved to be a cost-effective substitute for them. Seeing and examining the utility factor, small-scale businesses who were initially fearing or feeling reluctant to create and make their website accessible across the web are now showing deep interest in having one for each of them. This means that affordability, dependability, reliability, and practicality of web hosting have largely grown to become a basic need for modern day businesses, especially those who have small-scale operations.

Shared hosting is the most common and well-known type of web hosting, which is probably the most economical option for your business's hosting needs. In this type of web hosting, you share a server provided by a web hosting company with other servers and websites or it allows multiple websites to utilize a single server with each leading an impact on another. This means, if the user-traffic and resource usage are high, it may let you feel a delay in request completion. This situation is a critical drawback in the online industry but for small businesses, who have lesser traffic on their websites, have less resource usage and have tight budgets, shared hosting works best for them!
What Best Hosting Essentially Mean?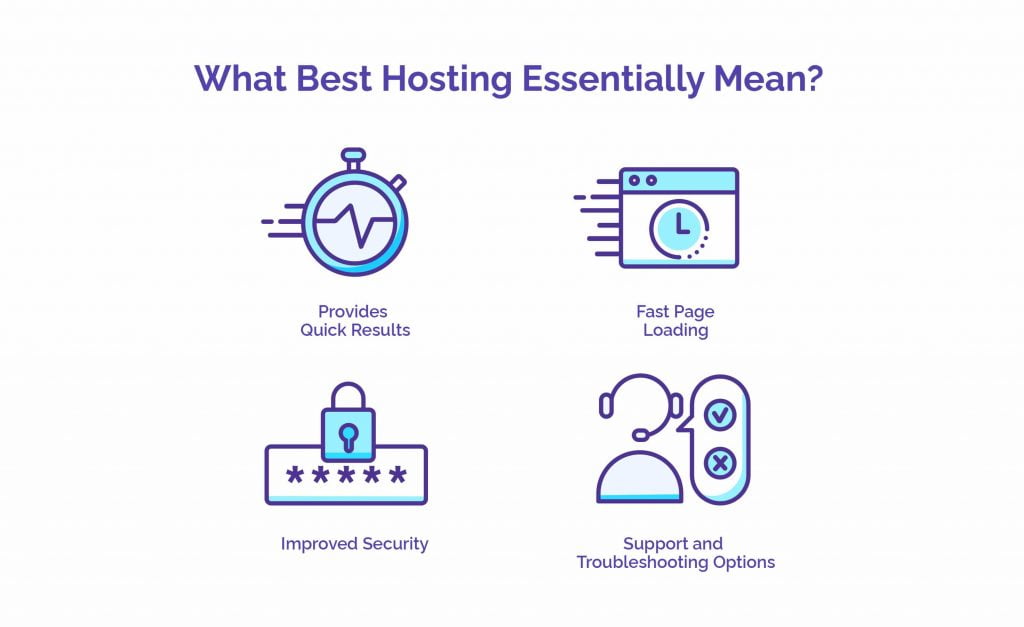 Why businesses; small or large strive to create aesthetically pleasing yet effective websites? Well, the reason is obvious to provide a perfect platform for first-time visitors/potential clients and privileged customers to have more business with them. Having an informative yet appealing user-front would indirectly value potential clients and give them a reason to do business with the company. The best hosting server provides quick results, fast page loading with improved security, support, and troubleshooting options. In simplest terms, the quicker the response rate, the higher are the chances of acquiring a business.
Shared hosting has made the life of small businesses far easier than any other type of hosting currently available as it ensures the smooth and efficient functioning of websites. Moreover, it is tested against time and safe for businesses, especially those who have the need of small-level web presence. With so many hosting options these days and best hosting services and expertise in hand, you can expect to put grow your business and web presence on a massive scale. When the need or web demand grows, later you can migrate or upgrade your hosting to another type of hosting, suiting your need.
People always equate credibility or reliability with costs. There is a misconception, "if costs are lower, shared hosting will be less credible or reliable." This is a false perception indeed, as it is ideal for small businesses for hosting their websites on the web. However, you need to look for reliable options for making things work for you as many companies only claim to be the best—whereas they are not!
Since level or type of hosting is directly proportional to your need, so when the needs become more complex, the type of hosting becomes more intense, which means you have to transfer into an advanced web server such as VPS or dedicated ones.
High performance and ultra-reliable hosting will help your success. Therefore, companies who have better looking yet fully functional websites can sell far more products and services. Cost-effectiveness, dependability, and practicality is perhaps the biggest motivation for small-scale online vendors to use shared hosting for creating and making an optimal use of their websites.
Summary
The world we live in provides immense scope and hosting opportunities for businesses, especially small-scale online vendors. Shared hosting is perhaps the sole motivation for small businesses to create or initiate their website programs.