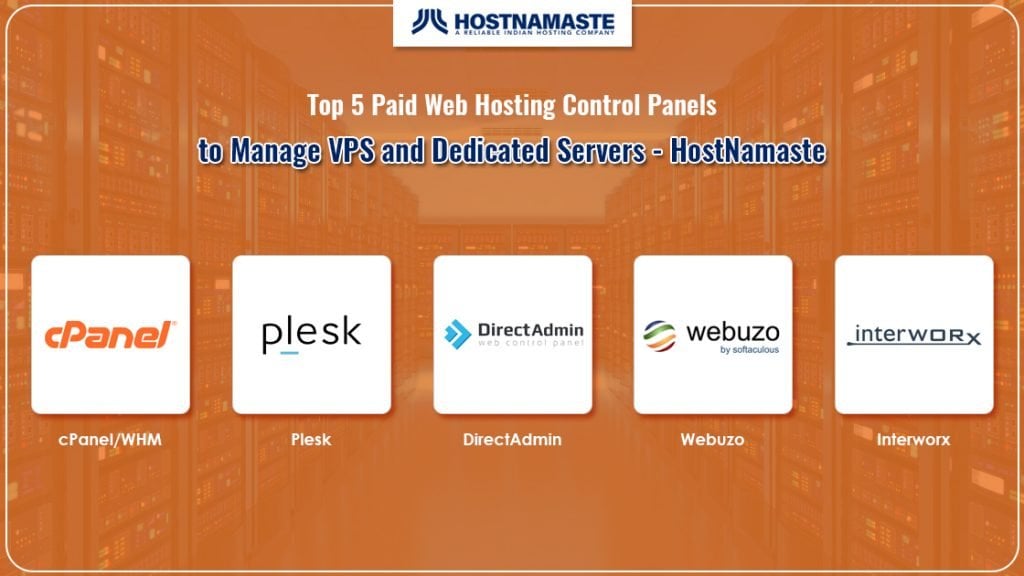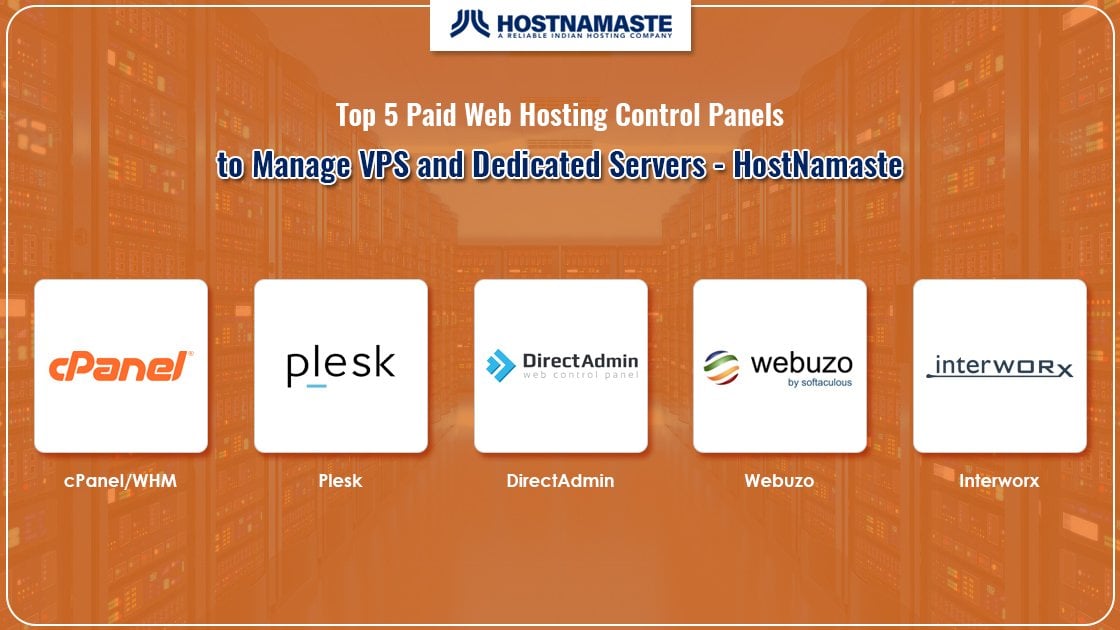 The Control Panel tool helps the website owners and admins to manage their web hosting services. Many activities can be done with the control panel, including domain name management, application installation, creating & managing email accounts, FTP, database management, backups, and more.
Control Panels allows you to access your server and to do all these activities directly from there. However, you will need some technical skills to use advanced features. Usually, control panels are simple, intuitive, and quick, but sometimes, even a single error can affect the performance of the entire site.
I have used many different paid hosting control panels over the past couple years and in this blog post, I have decided that I will be narrowing down the top 5 paid hosting control panels amongst the ones I have optimized for the VPS and Dedicated Servers.
Why Should You Consider Control Panels while Choosing a New Hosting Package?
The control panel is often used to check server usage and basic stats to ensure that everything runs smoothly. The performance and speed of your server and website cannot be seen, but control panels allow you to see and monitor all the necessary statistics. You will be satisfied with the chosen hosting package, only if it comes with the right control panel for your customized needs.
There are Many Hosting Panels Available but Each One Differs in Terms of:
Design

User Interface

Functionality
If you choose a control panel which does all possible tasks, but if it doesn't suit the style of your working, then you will not be satisfied. As you will be using it frequently, you need to consider an option that offers suitable features and functionality. In this post, we have described some of the commonly preferred, friendly hosting control panels.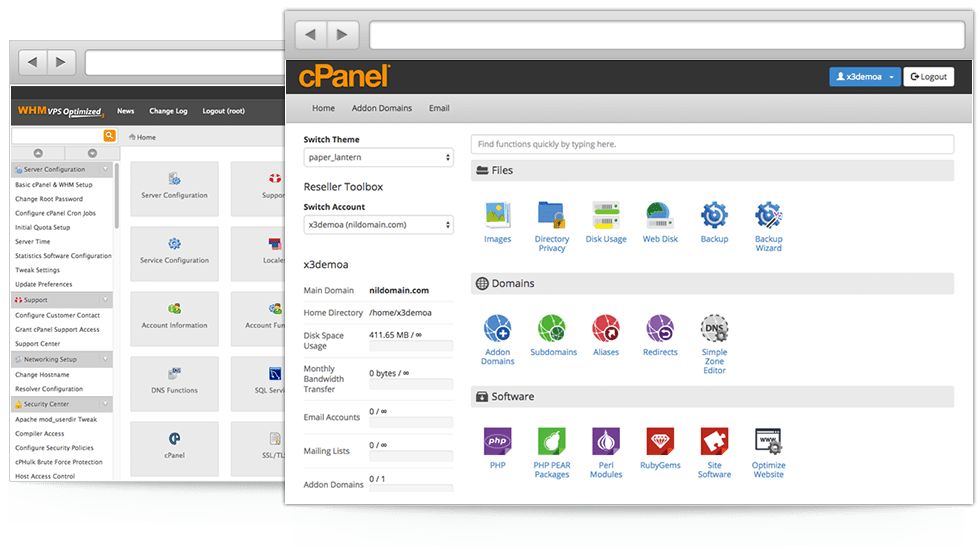 cPanel helps to manage Linux OS. It has a graphical interface as well as a server management interface via Web Host Manager [WHM]. Both work in tandem and even maintain the difference that is beneficial to resellers and end-users. 
Key Features of cPanel:
You can add domains and manage your emails as per hosting plans.

Control FTP accounts including file movements, uploading, and deleting on the server. 

Many API and add-ons.

Users can benefit from web-related stats, like monthly visitor count.

Ensures strong data security as well as backup & recovery option.
Key Features of WHM:
Allows SSL certificate installation and management with ease.

Allows IP addresses assignment and whitelisting.

Account ownership can be changed in case the account is deleted or sold.

Websites can brand themselves using different WHM features.

Customers get updates, newsletters, and can handle upgrades through WHM.

The server and resource status gets monitored. 
cPanel VS. WHM:
End users under resellers can benefit from cPanel to manage their personal accounts. Whereas WHM is a reseller control panel, which helps to manage reseller plans hosting accounts. Access on the server is obtained via cPanel, whereas WHM provides root-level access to resellers. Only a single domain can be possible with WHM, but with cPanel it is possible to add & remove extra domains or subdomains.
Pricing:
cPanel Package Comprises of 4 Tiers Including:
1) Solo [1 account] – $15/month (Available on Cloud only)
2) Admin [5 accounts] – $20/month (Available on Cloud only)
3) Pro [30 accounts] – $30/month (Available on Cloud only)
4) Premier [100 accounts] – $45/month (Available on Cloud and Metal)
Here Cloud Means VPS and Metal Means Dedicated Server.
cPanel is web-based, therefore you can interact with it via a web browser. All your tools and apps will be categorized into recognizable groups like database, files, and software. Icons of every group can be dragged and dropped around. However, you cannot move icons from group A to group B. 
Before you choose cPanel, you must know that uninstalling it and moving to another option is extremely difficult. There will be a need to completely reformat your disk drives. This is a complex task!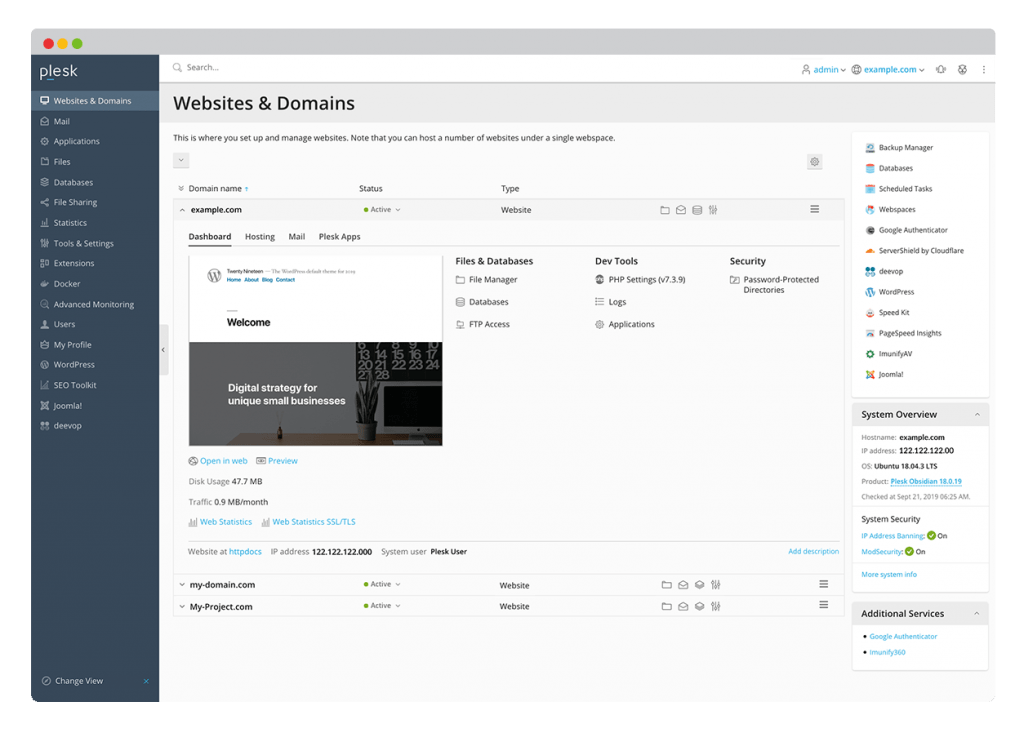 Plesk Control Panel allows managing hundreds of virtual hosting accounts on a single panel. It can be used with dedicated, VPS, or shared hosting plans. The interface is very simple and intuitive. Tasks get automated, allowing web hosts to save on their operating expenses and resources. Simultaneously, efficiency, profitability, and customer satisfaction increases. 
Plesk Configurations Allow Users To:
File upload and management

Create FTP users accounts

Add new domains & sub-domains

Email account creation and management

Database formation and management

View the weblog files

Backup & recovery options

DNS and other resources management
Plesk is Compatible with Windows and Linus Both the Operating Systems. Which is Good at:
Automation

Integration

Supporting multiple languages

Offering a secure environment
Pricing:
Plesk is an advanced and cost-effective option. It's pricing levels for dedicated and VPS hosting services are as follows.
Plesk's VPS Licence Pricing:
1) Web Admin Edition [You can have up to 10 domains] – $10/mo
2) Web Pro Edition [Allows for hosting up to 30 domains] – $15/mo
3) Web Host Edition [Allows for hosting unlimited domains] – $25/mo
Plesk's Dedicated Server Licence Pricing:
1) Web Admin Edition [You can have up to 10 domains] – $10/mo
2) Web Pro Edition [Allows for hosting up to 30 domains] – $15/mo
3) Web Host Edition [Allows for hosting unlimited domains] – $45/mo
There is no need for an agreement to use Plesk. You can downgrade or upgrade your Plesk plan at any time. You can become a reseller, because Plesk is scalable and allows you to expand the business rapidly. You can try a 2-week trial, before buying a license. It will allow you to get an idea of how the control panel software works.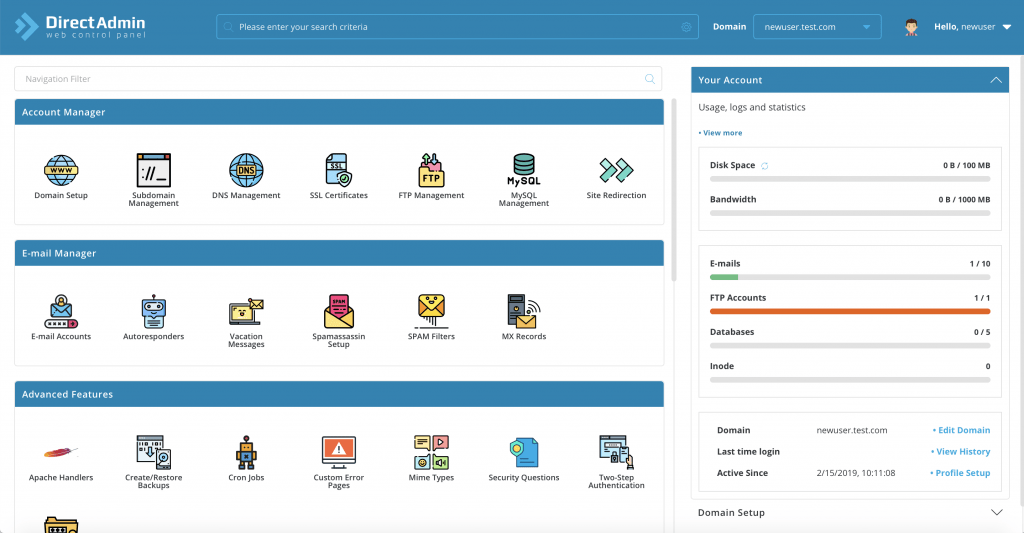 It is a user-friendly and efficient control panel for Linux users. This highly stable DirectAdmin Control Panel offers advanced technologies to stay abreast with consistently evolving sophisticated solutions. 
Administrator's Features:
Admin can modify or create resellers and admin with ease.

Reseller packages can be predefined

Every single user account is viewed on the system.

DNS records can be created, modified, or deleted on the server. 

IP manager allows allocating IP addresses to the resellers.

System/service Info allows admin to view, start, restart, and stop services.

Admin gains an entire overview of the system usage.

DNS clustering feature disallows duplicate domain creation.

Admin can even check their license status as well as update their software.
Reseller Features:
Accounts can be created, listed, deleted, and modified quickly.

Predefined packages can be created by the reseller.

Resellers attain a comprehensive overuse of total usage.

Messages can be sent to every customer directly from the software using a ticket support system.

Resellers can allot IP addresses to their clients using the IP Assignment feature.

Resellers can create tailored name servers.
User's Feature:
Email administration includes forwarding, creating mailing lists, auto-responding, and sending webmail are possible. 

FTP management of every account is handled easily.

DNS menu allows adding or removing records or changing MX settings.

MySQL database can be created, modified, and deleted.

Users can have a backup and recovery plan strategized.

Custom messages and error codes like 401, 404,403, and 500 can be created.

Allows directory password protection.

Users can select a PHP version they prefer for their .php extension.

Advanced tools feature allows installing SSL certificates & Perl modules, view server info, as well as configure mime types, cron jobs, and apache handlers. You can even enable domain pointers and site redirects. 
Pricing:
DirectAdmin offers different licensing options like:
1) Personal [10 domains/1 account] – $2/mo
2) Lite [50 domains/10 accounts] – $15/mo
3) Standard [unlimited accounts and domains] – $29/mo
With all these features made available, the panel is simple. There is no need to be etch-savvy for understanding and using it.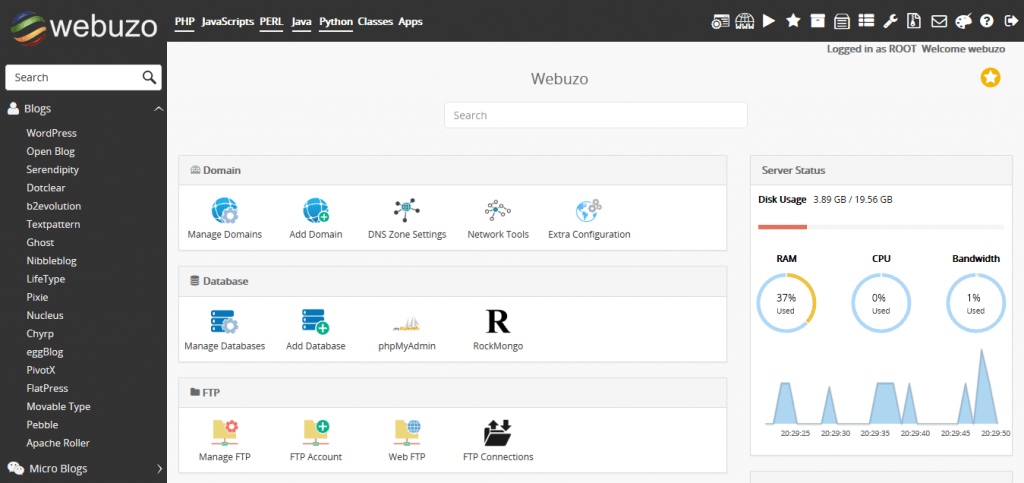 Webuzo is a Control Panel that can be used by a single user on Linux or Windows or Mac OS. It helps to deploy server-based software and scripts making it easy to use. You can concentrate more on using the software instead of maintaining them. 
Webuzo includes an app installer, which helps to install software with just one click. More than 200 web apps are compatible. The user interface is simple and easy-to-use. 
It Has Fop Features Like:
MySQL management
Other system apps like PHP, Python, Apache, PERL, MongoDB, Java, MySQL, etc. can be installed with a single click. No hassle of configuring each one individually. 
Domain management

Database management

Multiple PHP versions

SSL certificate management

Switching between NGINX and Apache

Create email accounts of current domains

FTP support

phpAdmin

CRON job management

Advanced zone setting  

Advanced security including IP blocks

Supports virtual server driven by Linux, Xen PV, OpenVZ, KVM, etc. 
Webuzo allows CSF security and can be deployed as a virtual machine for your office or home environment. The app can be used in isolation without any need to install it on your OS. It saves your time to set a server. Softaculous auto-installer allows installing the script automatically. Thus you can relax as Webuzon install your favorite script. 
Pricing:
Dedicated server – $50/year & $5/mo

VPS server – $25/year & $2.5/mo

Virtual Appliance & Cloud license – $250/year & $25/mo

Get free license including 56 scripts [default]

Use a free trial monthly license to experience Webuzo with 353 scripts.

Install 455 scripts in seconds with Webuzo. It is a comprehensive server management solution!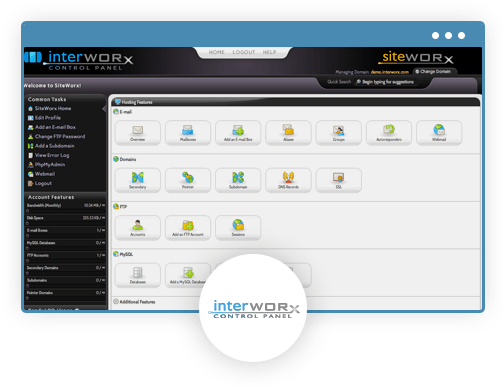 Technically Interworx is an umbrella name used for two products including –
• Nodeworx: Server sysadmins use for server management.
• Siteworx: Website owners use for site management. 
Web developers and designers can use Interwox and get their customer site running on dedicated or cloud servers. Resellers can also manage different customer's website. User can manage their own websites allowing the resellers to concentrate on their own business. The web developers can stay focused on delivering content and codes, rather than spending time on server administration. 
Overview of Nodeworx:
It is a system administrator interface for server management and hosting accounts [Siteworx]. On Nodeworx home page you get a broad overview of:
Systems current status

Graphs displaying real-time bandwidth and memory usage

General server information
Use the quick search feature or the menu to navigate. 
Centralized Hosting Management:
Create & administer the Siteworx [hosting accounts]

Predefine hosting plans and limitations of resources.

Use the reseller system 

Alter user themes, language settings, and branding

Create extra administrator system users and modify permissions

Configure email alerts for identifying issues and notifications
Complete Server Control:
Nodeworx allows tweaking MySQL memory cache limits, adding new DNS zones on the name server, and even configuring FTP, IMAP, email, SSH access, virus protection, IP addresses, and firewall rules from the interface.
Clustering:
Multiple servers clustering allow dynamic scaling your offerings. You can create, add, and remove the nodes as well as configure the cluster to work within many networking setups like multiple NIC/server or NAT or external storage. 
Overview of Siteworx:
It is a site owner's interface, which the host and their customers use for managing email, domains, and other features. On Siteworx homepage, you will get a synopsis of –
Hosting account features

Current bandwidth usage

Recently used links
Simple Hosting Management:
Website owners can enjoy an uncluttered and user-friendly interface with Siteworx.
Setup & configure email, FTP, domains, and MySQL.

Upload or create content through an integrated file manager.

Install forum or CMS software via Softaculous and SimpleScripts.

Administer advanced features like remote email delivery, non-critical DNS records, and DomainKeys signing.
One-Click Backups:
Backups are crucial and are a routine task for every site owner. Using Interworx users can create partial, structured, or full back-up with a single click. Existing back-up can be managed at a centralized location. Backup schedules can be configured so that you will always find them, whenever needed.
Statistic Suite:
A powerful statistic suite helps to enhance the other web traffic monitoring tools you use. AWstats, Analog, and Webalizer are regularly updated. You get in-depth info about the performance and usage of your website. Bandwidth usage graphs get updated every five minutes. It helps to stay above the demand spikes. 
Pricing:
Single License – $20/mo

Bulk Licenses [500+] – $5/annual
Interwox offers top-notch support from trained professionals always keen to assist. 
Control Panel Features Matrix
Web Hosting Control Panel FAQs
Final Verdict
The Control Hosting Panels discussed above are very popular. They have regular support in terms of bug fixing and new features. Each one has its own pros, cons, and peculiarities. All of them have a single feature in common, and that is they make hosting and managing servers quick and easy. Therefore they are a great solution for developers and beginners. 
You can also check Free Open Source Web Hosting Control Panels, If you are not intended to pay for the hosting panel, these free control panels also works with the servers.
With an overview of all the top-notch paid control panel types, you can make an informed decision on the kind that suits your business needs. The choice is subjective. You must have observed that some hosting control panels focus on professional users, while others need less technical know-how associated with hosting management skills. It is wise to choose a reputable and well-supported hosting management solution.