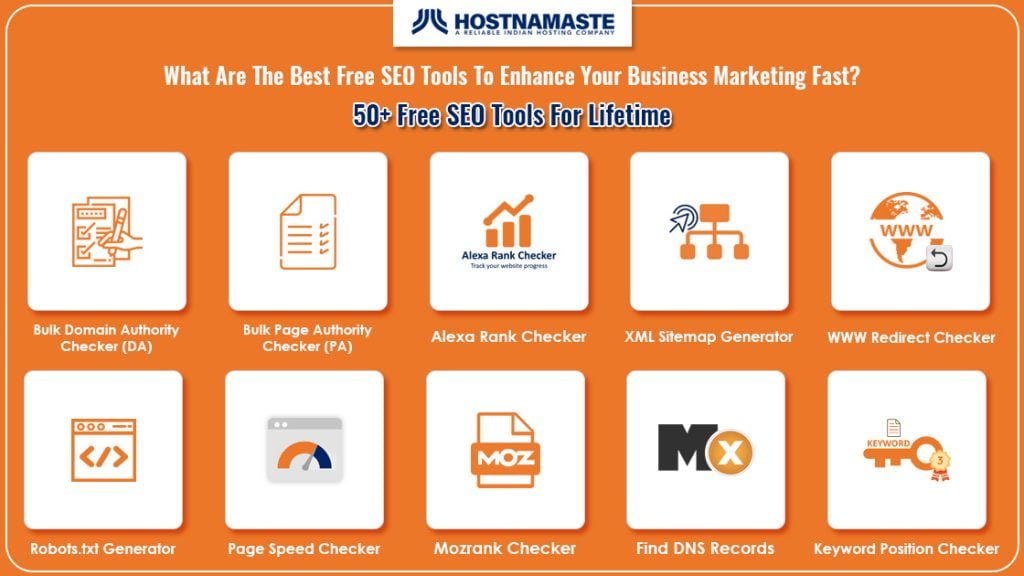 Businesses are competing with each other for online presence, in order to gain maximum exposure for their products or services. The primary step is obviously to choose a domain name, and have the website designed.
However, companies can expect to make good returns on investments, only if they get targeted traffic to their business websites. That is why there is a good demand for professional SEO services. These companies help their clients in improving the search engine rankings of websites, and in achieving maximum online exposures.
If you are offering SEO services, then it is important for you to have the right tools to deliver exceptional results to your clients. There are innumerable tools available to help you conduct various SEO activities like, page rank checking, finding broken links, finding blacklisted sites, locating IP, getting source code, implementing page redirects, and lots more.
In this post, we have handpicked 50+ web applications and SEO Tools that will help you in offering high quality SEO services to your clients. These applications will help you in getting the tasks done effortlessness, and in saving a lot of time.
Table of Contents :
What Are The Best Free SEO Tools To Enhance Your Business Marketing Fast?
50+ Free SEO Tools For Lifetime - HostNamaste
Show
Alexa Rank Checker is a global ranking tool that provides the list of popular websites on the internet based on their user traffic. It is a trusted and precise tool that uses web traffic data to determine the top websites in the world. Other aspects of a websites that are taken to consideration for ranking are, the bounce rate, number of pages viewed, the authenticity of DNS, etc.
Hostnamaste is one of the leading places on the web where you can get access to highly effective SEO and search tools to improve your business marketing.
An Article Rewriter Tool is an effective SEO tool that replaces the words in webpage text by its synonyms to change the sentence, while keeping its meaning unchanged. This tool makes old articles look fresh and unique, at no additional cost. Article Rewriter Tool offers instant results to the user, and is capable of spinning and rewriting any text or article.
Another important too which will help you improve your business's SEO is the backlink checker tool. You can access the backlink profiles of different websites present on the web.
You can also find who is linking to you, and research the best performing content for your website. With the help of this tool, you can find the most valuable backlinks of your website competitors, and evaluate the backlink profile of the website. It will help you locate backlinking opportunities, and patterns on a website.
Backlink Maker is one of the very important tools that will assist you in generating the best quality backlinks to the websites. This is a trusted and highly impactful tool that is developed by using the best SEO practices. The tool adheres to the backlink building guidelines as mentioned by Google.
If you are looking to reach the top positions on the Search Engine Results Page, then this is the tool that would help you in accomplishing this objective. With this tool, you can easily develop high-quality backlinks quickly and easily for your business website.
This is another important tool that businesses will need in improving the SEO results. By using this tool, you can easily check whether the domain of any website is blacklisted by Google.
The blacklist Lookup is effective tool to identify the blacklist status, if a person gets a security warning from Google during accessing the URL on popular web browsers such as Safari, Firefox, or Chrome. The tool makes use of Web Risk Application Programming Interface to check about the security state of any URL.
Links hold an important place in building SEO of any website. This tool will assist you in identifying any broken links or missing pages. The analysis report will help you rectify any errors instantly. As this tool is designed to be user-friendly, you do not have to be a webmaster or an SEO expert to use it. You can use this free tool for any number of times.
With this tool, you can look up for ISP, ASN, domain, and location for several hosts at one time. Bulk GEO IP Locator examines IPs present in server logs, and supports lookup for NS or MX DNS records for several domains. There is a limit to which you can use this tool to investigate IPs. This free tool enables its user to check 100 domains or IPs per session.
Classic IP checker is one of the highly popular tools to locate the internet provider, location, and owner of a website, IP address, or a business domain. By using it, you can locate the place from where these undesirable emails or the source of virus, and spam had originated.
When you implement this tool on your website, you will get information about the registered ARIN, and WHOIS contact data of the domain owner as well as the firm that operates the linked server. Once you acquire details about the ISP, you can complain to that company.
Code to Text ratio is one of one the best ways for businesses can enhance their SEO. It is seen that search engines rank those websites better that have high code to text ratio. The tool lets you divide the occurrences of text signs on the number of HTML code signs. This checker helps you gain a positive influence on your website's SEO.
This tool is a GUI widget that is present either online, or in graphics software. The tool lets you choose colors and also create varied types of color schemes. Using this tool, a user can easily make, adjust, and try with custom colors for the website.
Color Picker is easy to understand and well-managed tool. They have many website building tutorials with several illustrations on ways to use PHP, CSS, HTML, Javascript, SQL, etc.
Different domain names have different ages, and that can be found using this tool. This is a free and trusted tool that enables you to precisely locate the age of the website, or domain from the date it got registered to the time it is active. This period is called the domain age.
This factor is a very significant factor in ranking a website by search engines. It is found that older domains have better rankings on search engines than the newer ones.
If you are looking for a tool that will help you figure out the strength of any specific web page and the possibilities for a domain to rank high on the SERP, then you will find this Authority Checker to be useful.
With the help of this Bulk Domain Authority Checker tool, you can learn about several significant aspects of a website that includes Page Authority, and Domain Authority. You can also compare domain authority across websites.
Domain hosting checker is a tool that enables you to view accurate information on specific websites. It includes their name servers, website host, activity status (offline/online), IP address, and more. It is especially handy while doing competitor analysis for developing marketing strategies.
This is free to use an online tool that provides valuable and precise website hosting data on different businesses with just one click. By providing the website URL, you can easily access to the above information in a few seconds.
Sometimes, you will find the need to check the domain name for several different IP addresses. In such cases, you would need the "Domain into IP tool". This application enables a business to convert a domain address into IP address instantly, and in a hassle-free way. The tool is designed with a systematic and user-friendly interface that enables even the beginners to easily convert their domain names into IP addresses.
Emails are one of the most important ways for businesses to communicate with their users or potential customers. However, email communication is not free from cyberattacks. To ensure safe operation of email, Email Privacy tool comes as a trusted tool.
With this tool, you can encrypt incoming mails using their encoded mailbox. This application ensures that any new email that you receive in your mailbox is quickly encrypted with the help of the public key. It is a convenient and portable tool to encrypt, as well as decrypt any file, or text message in your email.
The tool gives you permission to authorize your website users to either check DNS records of a specific domain, or retrieve information concerning a specific domain. With the help of this tool, you can search for details, as well as generate comprehensive and accurate reports of DNS records for any website.
Some websites put restrictions on users to copy their code, or to look at the source code. However, examining the source code of any webpage can still be done with the "Get Source Code of Webpage" tool.
This is a free tool that doesn't need any installation. When you use it, you can get instant access to the source code of any webpage in just a matter of seconds. With this tool, you can generate the source code of any webpage.
A web cache stores the copies of all those docs that you access. Cache checker tool assists a business to store business documents temporarily on the website. These documents can be images and HTML webpages. The purpose of the tool is to reduce the bandwidth usage of any website, webserver load, as well as perceived lag.
Indexing is another important aspect of SEO. A Google Index checker assists a business to know whether the specific webpage or the website is indexed or not. Multiple URLs can be used to check the indexing of any webpage.
Index checker tool lets a business to check up to twenty-five URLs and export excel sheet too. Presently, this is the best available SEO tool that tells how many webpages of the website have been indexed.
Websites can be exposed to malware and other scrupulous programs if they lack an effective anti-malware program. Google Malware checker is one of the tools that can scan websites and offer users with web security reports.
This free of cost tool gives you an indication of whether the website that you wish to access has malicious content or suspicious script hidden in its content.
If a website has broken links, then it can harm its SEO to a great extent. 301 Redirect is one of the ways a website can fix this issue. This is also a beneficial tool if a website is preparing for a move or migration. Using this online htaccess Redirect Generator, a website can create redirects on the famous Apache server that is used by several hosting providers.
Keywords hold a lot of significance when it comes to improving SEO on a website. With this tool, you can check the average density of the keywords used in the overall website with the help of its URL. This can be done by copying and pasting some section of website text, or website URL in the tool.
Just like the keyword density, keyword placement also has immense significance in determining the effectiveness of SEO on the website. This tool is important to figure out the position of a URL, or website in the search engine for any particular keyword, against other websites for that same keyword. You can access this valuable information for free with this keyword app.
Employing Google Suggest for keyword research helps in boosting the speed of searches performed by the online audiences on Google. This tool generates several different keywords from databases of several countries. It also provides competitor and traditional keyword research to assist you in locating long-trail of keywords.
Link Analyzer tool is used mainly to find the ratio between inner website links and outgoing links for any specific business domain. This tool lets you research various other websites that link to your website. It provides information related to anchor text, and no follow tags that can influence the strength of backlinks.
A link price tool is a very beneficial SEO tool for website advertisers and owners. This tool functions based on a unique algorithm for the determining the reputation of the website. This is done based on age, and ranking of backlinks and a few other factors.
Meta tags are hidden HTML tags that are used in the head region of a HTML web page. These tags are important in web page creation and SEO purposes, as they provide information about the website to search engines.
A Meta Tag Generator tool is an easy to use. It will help your business to research on the important keywords and description. It also helps you find other significant meta-tags relevant to your content.
It is an useful application to analyze the meta-tags of a website. These tags do not impact the display of your website. The tool indicates the search engines about the topic and text of the webpage that is shown when ranked in SERP. This 100% free online tool that allows businesses to check the metadata of any given web page.
Every business will want to track its ranking on the search engine results page. One of the most trusted and efficient tools that are designed to serve this purpose is Mozrank Checker.
The tool provides you with SERP rankings of your entire website, as well as of different web pages. With Mozrank Checker, you can easily check the key parameters of the website that include page authority and domain authority. 50+ Best Free SEO Tools for Lifetime
IP Address carries a lot of sensitive information about your website that includes the location of the device, etc. My IP Address tool is an important SEO tool that gives complete information about the IP address of a website. This includes your IP address, city, region, ISP, latitude, longitude, country, and country code.
MD5 is a message-digest algorithm that helps to calculate a hash value in cryptocurrency string. With this free online MD5 generator tool you can generate MD5 checksum for any string or file in the browser, without any need to upload it. The tool does it very efficiently and quickly, without any need for installation.
Ping is one of the network accessibility methods used to check whether the host is reachable or not. With the help of this online ping website tool, your business will see a significant increase in the speed of indexing and crawling. The tool notifies search engines about the presence of new content on your website. This is the highly advised tool for all those websites that have new content.
This is a safe and effective tool that is extensively used by SEO experts and webmasters. Using this tool, you can examine the domain's page authority, spam metrics, and domain authority of multiple websites easily. However, there is a limitation to its use. The tool can be used for maximum of fifty URLs at one time.
Page size checker is a commonly used SEO tool that provides you the accurate size of any specific website URL. The result obtained is in bytes, and kilobytes. With this free online tool, you can check the website size instantly. It makes it is a convenient and strong programming tool for any HTML designer.
Page speed holds a lot of importance in determining the overall SEO performance of a website. This tool examines the website content and based on which, it generates suggestions to make it a lot faster.
It provides rich diagnostic information that comprises of page speed optimization checks, resource stacking waterfall charts and more, to give you accurate results.
Google Page Speed Insights Checker is viewed to give preferential treatment to all those websites that load fast. So, if you wish to make your webpages run faster on all devices, then this is a beneficial application for your SEO success. After analyzing the webpage content, it will return suggestions to make the webpage run faster.
Any kind of plagiarism in website content is considered to be an offense, and it also harms the reputation of your website. To avoid facing such harmful consequences, the Plagiarism tool provides support by identifying plagiarism in the text. This feature will help to prevent any redundancy in the data, and create free and precise content for your website easily.
Reverse IP Domain Checker requires an IP address, or a domain name linked to the web server, and searches for other websites, or domain names that are found to be hosted on the same shared web hosting server. The user gets a list of ccTLD, and gTLD domains that share the same server.
The RGB to Hex converter tool takes in the values for Red, Green, and Blue that ranges from 0 to 255, and converts it into a hexadecimal string. This conversion helps in the determination of color in CSS/HTML code. This free online tool performs this task for your business efficiently.
Robot.txt is a document that is kept in the website's root folder to enable search engines to effectively index the website efficiently. Prominent search engines make use of robots, and web crawlers to review the website content. The tool Robots.txt Generator creates the robot file easily, and it is free to use.
Spider Simulator is a tool that enables its user to simulate search engines, and tries to show the content of the website in the same way a web crawler bot sees it. This free online tool displays how the engines "view" any web page. It pretends the way Google "reads" any webpage. It is a really useful app for web developers and SEO professionals.
Another very important SEO tool is the Server Status Checker. It can help you check the status of the server's response when the server is down. Webmasters sharing a web hosting service provider is likely to experience the same problem on their server status. The Checker can take up to a hundred URLs for this task.
This is free of cost website malware scanner. The tool looks at the domain or website and determines whether it is vulnerable or safe. This is an important scanner for websites. It will check up to twenty domains and websites for fast identification of any unscrupulous Malware codes.
With this application, you can take any string of text and decode or encode it in the way you wish. Encoded JavaScript URLs can be converted from gibberish into understandable text. Use the online URL Encode and Decode Tool to perform the encoding or decoding function of a string of text.
This tool helps in the conversion of dynamic URLs into a link that is understandable by users. These SEO static URLs look friendlier to people, and so rank higher in search engines, and can also draw more traffic. With URL rewriting tool, it can convert long dynamic URLs into descriptive and static URLs, for quick indexing and SEO improvement.
Webpage Screen Resolution Simulator is an effective SEO tool that assists the users to adjust the resolution of the screen, such that it is stable with all types of formats. It is excellent software for website owners to decide on the screen resolution that remains consistent with nearly all formats.
This Checker is utilized by web owners to check how many incoming, and outgoing links are getting linked to any specific webpage. All that a user needs is to copy and paste the website URL into the provided space in the search box. The tool will calculate the number of web links that links to a specific webpage. It is useful for finding broken links too.
Another widely used SEO tool is the website screenshot generator. As the name suggests, this tool allows you to generate a powerful full-page screenshot of any website.
All you need is to press the website screen generator button on the website whose screen you want to capture. This free and automated screenshot tool effortlessly integrates into any application.
Browser is a high-utility software application that allows a user to visit web pages present on the Internet. Using this tool, you can perform a fast online check to determine browser name and other information related to it. Information includes the browser version, Computer Screen, User-Agent, and other information.
A "WhoIs lookup"tool helps in the identification of the admin contact information, the technical contact information, and billing contact information for every IP, or listing of domain name present in the "WhoIs database". A "WhoIs IP search" aids in the determination of the source of spam and some other information related to any website.
This is another free online utility that helps in counting and calculating the total number of words present in a text. This e-tool calculates the total number of letters, characters, paragraphs, and sentences for the text that a user inputs in the tool. This is an important utility for those who do not use Microsoft Office Word.
URL redirect checker is one of the best applications designed to precisely check the current status of its web links. For all pages that are redirected, this tool assists the user to analyze the route with pre-determined status codes. In just a few clicks, any user can perform an advanced examination of website links.
Last and not least, the XML sitemap generator is a great utility tool. A sitemap helps to organize a website, identifies the data, and URLs present under each section.
Sitemap Generator places a configured XML document with a site map on the webserver and enables Search Engine crawlers to figure out what webpages are present, what is recently changed, and methods to crawl the website accordingly.
Conclusion
These are some of the very useful, and free online tools that will significantly improve the SEO performance of your website.