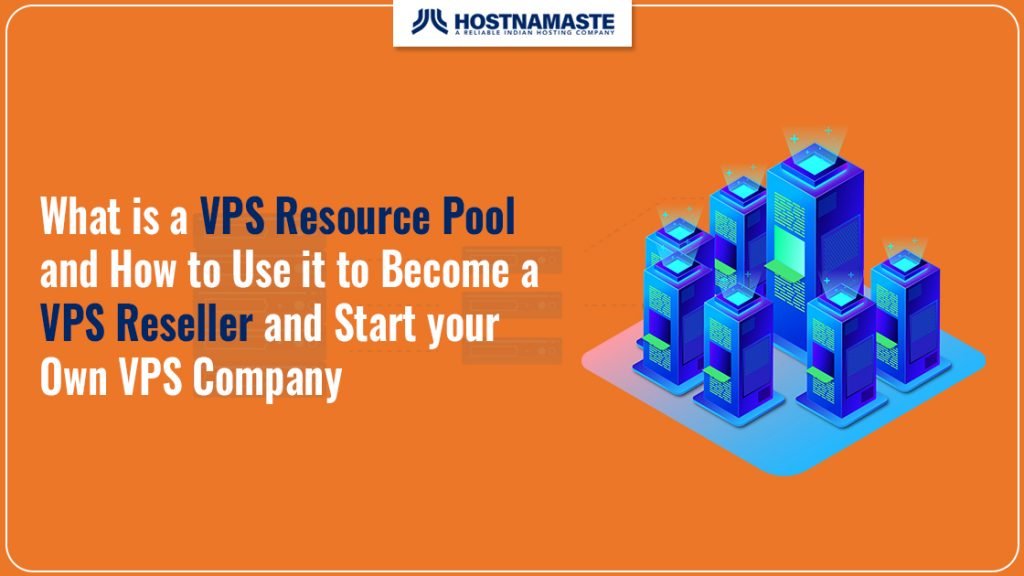 The world of Virtual Private Servers has evolved so rapidly. There's severe competition, so much so that many recognized web hosts are allowing VPS services to be resold almost just as much as any other form of hosting. VPS hosting has been one of the most demanded forms of hosting for the last couple of years. As a result, it is natural to yearn for starting your own VPS business. At some point, if the thought of your own VPS company crosses your mind, don't just dismiss it. The hosting industry is a great and convenient way of establishing your company in the market and you can also earn a lot of money from reselling VPS services. 
Table of Contents: What is a VPS Resource Pool and How to Use it to Become a VPS Reseller and Start your Own VPS Company in 2023 - HostNamaste.com
Hide
How can you Earn Money from Reselling VPS Hosting Services?
Reseller hosting is the primary key. Becoming a reseller is the real deal in today's era. You could be missing out on a profitable opportunity by not considering a VPS business. Instead of spending a huge amount on purchasing servers, hardware, and other extensive technology, it's far more superior to become a VPS Reseller.  
Before we go on and on about it, let's narrow down in simpler terms what VPS Reseller Hosting actually is. 
VPS Reseller Hosting is a kind of hosting in which an account holder rents virtual servers from a reputed web host at a discounted price and sells his share of RAM, vSWAP as well as bandwidth to his own clientele with an added profit on his part.  
After 'white labeling' the VPS services you've purchased on a wholesale basis, you can sell them forward with the branding of your own company.  
In order to resell shared hosting, you must purchase a certain amount of hard drive space and bandwidth from a recognized hosting provider and avail permission to resell small portions from the disk to host your client's website. The server belongs to the original web host irrespective of white labeling, and it is shared amongst countless other accounts. 
Likewise, in VPS reseller hosting, you must rent VPS containers to resell them forward to your customers at a profit. 
Why VPS Reseller Hosting is Preferred

 
Becoming a VPS reseller is the finest amongst all. Unlike shared and dedicated plans, our VPS reselling packages are the most cost-effective and easily accessible. Reselling VPS hosting services makes it easier for you to start your own company and earn lots of money from it, only if you know how to do it right.  
Establishing a hosting business is not as much of a cake-walk as it sounds. If you could sum it all up, being a reseller host enables you to manage and operate on the back-end of countless websites, emails, and domains. You are obligated to set up the management of your client's websites from your reseller panel.  
This occurs as most users don't have extensive knowledge of handling a control panel; therefore, it falls upon you to make adamant changes for them. You must understand that being a VPS reseller is not all about hosting a site on a server. It requires management, knowledge, as well as precision; all of which you could offer your clients after opening your own company. 
The key to success in any VPS reseller business is a VPS Resource pool. Thousands of users have taken help from our VPS Resource Pool plans and brought in pleasing ROI.  
What is a VPS Resource Pool and why it is Important

 
A VPS resource pool is the kind of service offered by a web host that allows you to gain access to multiple VPS containers without purchasing more than a single VPS plan. If the web host offers a reseller panel, you can create and manage numerous VPS, IPs, and acquire a generous RAM as well as bandwidth with just one reseller account. 
A VPS resource pool is by far the most prominent deal you can get if you yearn for starting your own VPS reseller business. Many web hosts only permit shared hosting solutions as part of their reseller packages. We aren't one of them.
The reason why we don't prefer Shared hosting is because it not very reliable and your customers would much rather prefer to purchase a shared package directly from the web host only.  
VPS Reseller hosting is admired by all kinds of businesses since it is not as expensive as renting a dedicated server, at the same time you do not have to share disk space with way too many accounts to count. 
Our VPS containers are adequate for all sizes of websites. 
Here are some of the features that you get in our VPS Resource Pool plans

 
First things first, you should be alert that there are many vital aspects to consider before going for a dependable VPS resource pool. It could either make or break your dreams of owning your hosting company.  
Here's a list of things you should check out- 
1. Adequate RAM and bandwidth- If you are going to offer VPS services to your customers, you need to ensure that there's never a shortage of disk space and bandwidth on your reseller panel. Even our cheapest plan comes with 2GB RAM and 2TB monthly bandwidth. Thus, it's easier for the servers to bear the load of heavy or large websites of your customers. If that is not sufficient, you can opt for more prominent plans with up to 16GB RAM and 10TB bandwidth. 
2. Faultless uptime response- Our uptime response is undeniably excellent so there's never a complaint from your customers concerning unavailability. When your customers perceive that their website faces no lags or unavailability, it positively affects your online reputation as well as ours. Therefore, we implemented a Service Level Agreement that comes with all of our VPS Resource pool plans to guarantee 99.9% uptime. 
3. Multiple Server Locations- Server Locations play an essential part in the success of your hosting business. It is not viable to gain a clientele from a singular region. You'll have customers from all over the world and subsequent to having 6 server locations in your arsenal, it'll become easier to extend your customer base and grant them better connectivity. 
4. RAID protected servers– Our servers are powered with the top-notch Intel Xeon processors with RAID-10 protection enabled. Even when a data loss occurs, the protection ensures that every customer's database is retrieved back and there's no permanent casualty. There's also comprehensive support of VPN that helps in monitoring the CPU, RAM, HDD, and bandwidth. 
5. SolusVM Reseller control panel– HostNamaste uses OpenVZ Virtualization and KVM Virtualization all VPS reseller plans and we exclusively grant you access to the SolusVM VPS reseller control panel. As a result, you can rather suitably create and manage your VPS(s) without any hassle. You are capable of starting, stopping, or rebooting your virtual servers with the convenience of a click.  
6. Support of over 50 OS- Compatibility of several different Operating Systems is more important than you think. We offer 50+ operating systems and our customers are entitled to host their websites under whichever prebuilt template they fancy. 
There's a lot more we propose that could positively help in building your hosting empire. However, only when you make yourself aware of the stakes and fulfill your customer's VPS requirements, you could maximize your profit. Like I already said, if you know how to handle a reseller business well, it is quite easy to earn a lot of money through it.  
We are pleased to announce that our VPS Resource Pool Plans abide by all these criteria's and bestow a proficient VPS reseller experience.  
We have four VPS resource pool packages. All of these plans have been implemented with the sole focus of enabling our clients to start their own VPS business. It took a lot of precision from our team's part and their proficiency warrants that all VPS reseller requests are met.  
Use our one of our VPS Resource Pools and Become a VPS Reseller
It is time for you to make your dreams come true of owning a hosting business. All four of HostNamaste's VPS Resource Pool packages are at your leisure. You could go with the one that best fits your budget and you are no longer obligated to invest a humongous amount of money in order to start a company. Just order any one of our month-to-month VPS reseller plans and resell them to your own clientele. 
Gone are the days when becoming a hosting provider meant you had to install servers in diverse parts of the world and had to optimize severely expensive technology. The world of the Internet is full of wonders and for good reason. 
Conclusion
We take liberty in claiming that HostNamaste is one of the very few Indian web hosting providers that offer VPS reselling plans and at such affordable prices too. With just a couple of clicks, the SolusVM VPS Reseller Panel will allow you to create and manage as many as 24 virtual servers and more on request by contacting a support team.  
What are you still waiting for then? Purchase any of our VPS resource pool packages and start your own VPS business right now.