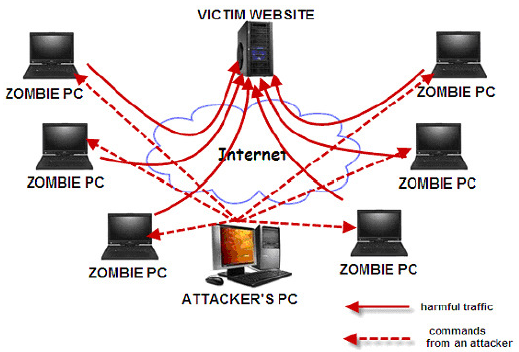 How DDos Protection from a Web Host Can Save Your Business from Attack
One of the more dangerous attacks your site can suffer is called a DDoS attack. These types of attacks are enough of a concern that it's important to make sure any web host you sign up with has a strategy for dealing with them. This is because without proper DDoS Protection Web Hosting Provider, your site is open game to anyone who has a reason to take your site offline for whatever reason.
What is a DDoS Attack?
This stands for "Distributed Denial of Service" This type of attack occurs when either a single individual or a group of people try to take a site down and make it so that no one else can access that site. Essentially, this type of attack will interrupt or suspend web hosting services for a website.
There are a few different ways to accomplish this, but one of the most common is to overload a server by making so many connections to the site that the server can't respond to any other real connections from traffic.
How Do You Find Web Hosting That Stops It From Happening?
One initial thing you can do to find secure services to check to see if the web host even mentions DDoS attacks at all. Some web hosts don't even think they should be bothered with this and consider the responsibility for dealing with this type of attack to be all on you.
But in general, it helps to look for services that give you free protection of around 100 GBPS or so. Many attacks will fit into this range so if you have this much protection you will be fine, we recommend you buy a DDoS Protected VPS.
You really don't want to be caught unprepared when it comes to a DDoS attack. If you want to find hosting that puts in extra effort to keep you safe from this type of attack, you should definitely contact us at Host Namaste where we work extra hard to keep you safe.
Things You Should Ask Your DDoS Protected Hosting Provider
In recent news, a new kind of DDOS attack has been identified. They are calling it a "Tsunami SYN Flood Attack" which has characteristics of containing 1 MB / packet rather than the usual 40-60 bytes / packet. The attack is TCP-based rather than UDP based. This results in DDOS traffic of a devastating 4-5 GB / second. The key to fending against these attacks are the usage of behavioural algorithms.
Given the increasing sophistication and efficiency of DDOS attacks, a recent article advises you to ask your web host provider to answer the following key questions:
How are DDOS attacks against your DNS infrastructure handled? The article suggests that your web host provider uses layered protection as well as extra cloud-based protection in case attacks get too large. HostNamaste utilizes Arbor Peakflow boxes and multi-point mitigation systems during DDOS attacks. We also give all of our customers CloudFare which acts as an extra layer of protection in the unlikely event that attacks get too large.
How am I affected / protected during times when other customers are being attacked? The article advises that you choose a web host which isolates DDOS attacks such that an attack on one customer won't harm your site. HostNamaste's servers all have 100 GBPS of DDOS protection. We also utilize a huge network of bandwidth providers – so there is not even a remote possibility that you'll ever feel the effects of a DDOS attack on other customers or yourself.
How would you handle an attack on my own site? The article advises that you choose a web hosting provider which treats DDOS attacks like an emergency and reacts quickly. HostNamaste analyzes the offending traffic within 2 minutes of the start of a DDOS attack. Automatically, offending packets are filtered out and your traffic cleaned.
If you'd like more information about our services or our DDOS protection methods, don't hesitate to contact us today.
Related Web Hosting, VPS Blog / Web Hosting Business News: