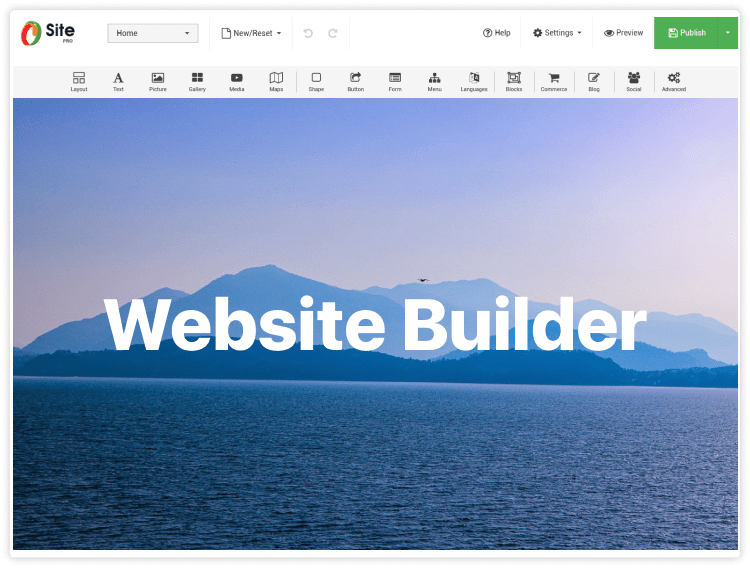 Website builders are everywhere. They have been through a long history, it's not that hard to remember them back in the 2000s: unpleasant to work with, almost useless, and nothing except limitations with all these non-flexible templates. Nowadays, however, it's a different thing. Modern website builders allow users to create responsive websites based on complicated frameworks like Bootstrap, keep track of dozens of pages, start up an online store, a blog, or a personal page, and all of that wouldn't require a single line of code. Of course, when previously denied website builders have started to receive positive feedback and a larger reach, they have become popular among end users.
Table of Contents: Why Hosting Companies Choose Site.pro White Label Website Builder?
Website builders are a part of Hosting Market Competition
Hosting services is a very flooded market, and in this market hosting providers are trying to fight the competitors in every available way. Obviously, when website building solutions became popular, they got in hosting providers' sight instantly. Nowadays, a hosting without a website builder looks close to obsolete, and for many hosting companies having a more attractive offer with as much functionality as possible might be a matter of survival in this market.
White Label becoming a Mandatory
Every business wants to make the best impression on its customers, and hosting providers are no exception: in order to look more solid and whole, you want to have your own brand website builder. Nobody wants to offer some third party solutions to their customers, it lowers the brand's importance to them.
Developing your own website builder from scratch is a very challenging task. Website builders have their long history for a reason: they are very complex solutions that have to keep the balance between powerful functionality and learning curve. Moreover, months and even years in their development are spent to find all of the possible use cases. You will never know how a customer would use your website builder, it's close to impossible to develop a good solution in a short amount of time.
This is when white label website builders come in. Hosting providers can customize their appearance to make them look like their own solution in a matter of minutes, and they can be sure that the product they will be placing their logo on is a well-tested solution that is supported by a completely separate and dedicated team. Instead of investing lots of time and money in the development of their own website builder, you can just start reselling a white label.
Who are Site.pro?
Site.pro was originally a startup that wanted to make the Internet a better and more accessible place not only for visiting a website, but also for creating one. They focused on making a next-level website builder that will have no limits for the end user's creativity and be easy to learn at the same time. From the very beginning Site.pro have targeted the hosting companies with their solution, and all these factors allowed the startup to succeed despite the fact that back in 2014 there already were few well-established competitors, like Wix.
But you know the saying: the clothes do not make the man. Let's see now why hosting companies consider Site.pro as a good choice to start offering their customers a good website builder.
Free Websites
Site.pro allows hosting companies to provide their customers with a free website. This makes hosting companies' lives much easier, as they can provide a free website for a user to try all the functionality of the website builder and pay nothing for that. All of that means that a hosting company will have to pay only if they actually earn with the solution. Here are the free and paid plans of site.pro: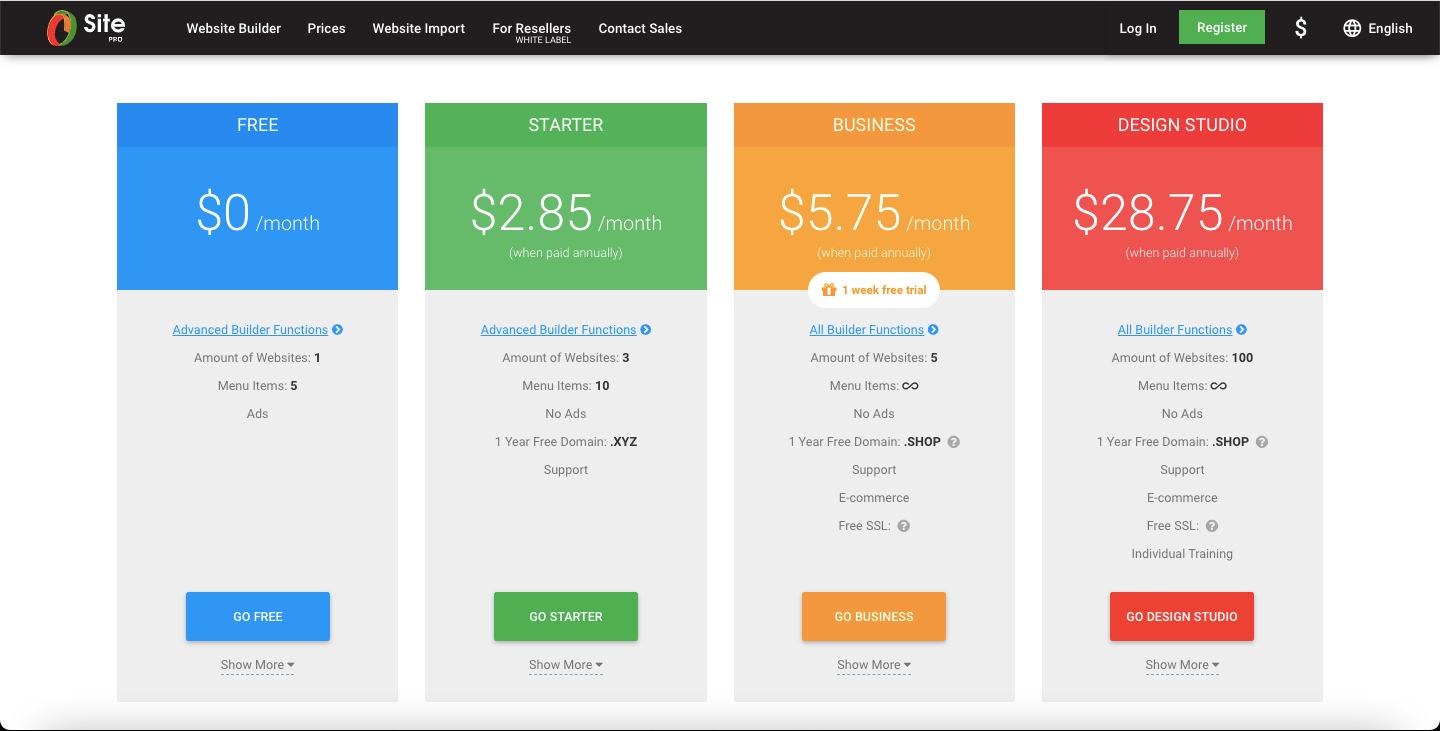 Mass Website import
There is a very powerful tool that Site.pro offers: it's the website import. It allows hosting providers and their customers to import any website from the Internet to convert it into a website that will be editable in the website builder. This is a very innovative technology and an absolute killer. It can serve multiple purposes, one of which could be to allow your clients to migrate their current website to your hosting with ease by just inserting an URL into the website builder.
Powerful e-commerce Module and Blog
A very significant part of a hosting provider's audience are people who want to sell stuff online or to publish various content. Site.pro gets you covered here as well: your customers will be able to easily set up an online store and/or a blog. It brings this website builder very close to a powerful CMS that can be managed by completely visual drag and drop interface.
Compatibility with Control Panels
Site.pro can be easily installed as a plugin into numerous paid web hosting control panels like cPanel, ISPManager, Plesk and others. But even if you use a custom control panel or free open source web hosting control panels, you can still use Site.pro's API.
Thorough Documentation and in-house Trained Support Staff
Another important reason why Site.pro is an attractive white label solution is their documentation. Site.pro provides their partners with very simple yet well-explained instructions and guidelines on the installation, and any cases that a customer might face unexplained can be easily resolved with the support team in a matter of a working day.
Growth and Marketing Care
Each hosting that partners up with Site.pro gets a personal manager and White Label Marketing kit to increase their sales. The difference between "sold and gone" and real customers care always plays a huge role, and hosting companies consider it as well when choosing a white label website builder.
A Conclusion on Site.pro
Site.pro still remembers their mission to make the Internet a better place, and this is probably the reason why they don't just take your money and give you an average product. Instead of that they make every hosting's life easier. Site.pro allows you to pay only when you actually sell the product, and their customer oriented service definitely won't make you feel alone with their website builder in your hands. Support and trust are essential in any business, especially when it comes to involving a third-party (like a white label solution) into your list of services, and all of the aforementioned makes Site.pro a very solid choice for any hosting company that is looking for a powerful website builder.