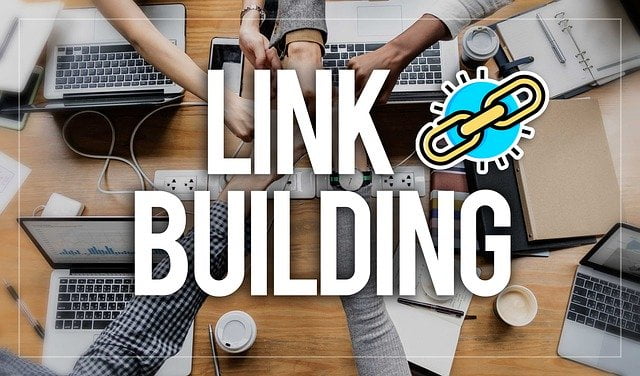 If you want to rank high up in the SERPs, you need to build a strong backlink profile.
But building a robust backlink profile isn't easy. Knowing which strategies to implement and being consistent is a major challenge. But here's the thing. If you stick to one strategy, it can lead to unnatural inbound links…and can land you a Google penalty.
The best way to build a strong backlink profile is to tackle 3 link building strategies at once.
If you go with three approaches, you're not overwhelmed by the sheer number of strategies available. And you're also not limiting yourself to one strategy and one type of backlink. 
That's why I'll go through three of my favourite link building strategies:
Smart Guest Blogging

Stealing Your Competitor's Strategy

Fixing Broken Links Online
…and show you how to leverage internal linking to your advantage.
But before we start, let's define link building.
What Is Link Building? 
Link building is the process of gaining a hyperlink from another website that points back to your own.
Search engines like Google, see each link as an endorsement or vote. These votes signal that your content is good. Generally, the more quality votes you gain, the higher your website will rank on the SERPs.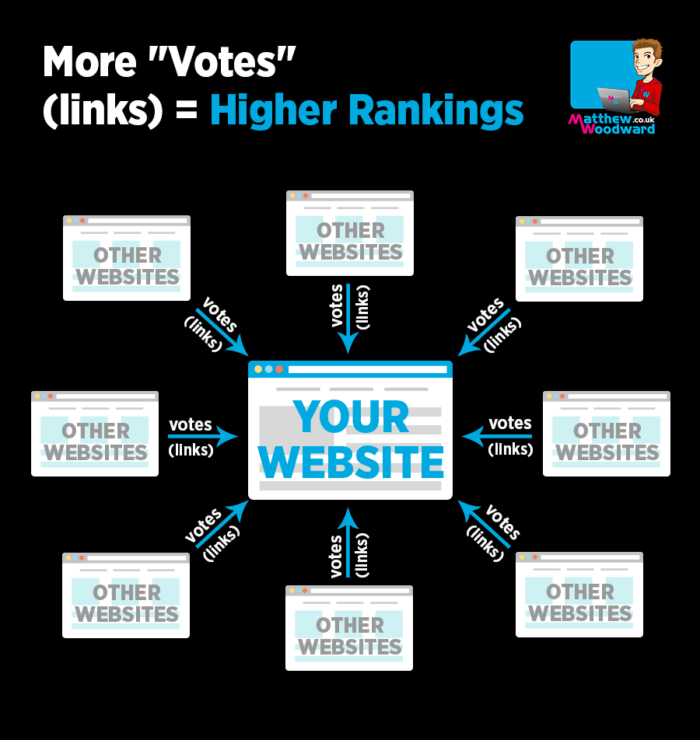 When link building is used in conjunction with on page SEO tactics, it can help propel small and unknown sites to the top of the charts.
Building a Strong Backlink Profile
Now that you're aware of the importance of backlinking, I'm going to share with you what a strong backlink profile looks like.
Your backlink profile is the group of sites that have a link pointing to your website.
Having a strong backlink profile involves gaining backlinks from a diverse range of different pages, sources and domains.
To build a strong backlink profile, you need to:
Monitor and track the websites linking back to your site

Make a plan to diversify you links
Best Backlink Checker Tools
Before we jump into the three link building strategies, I'm going to introduce you to 3 backlink checker tools.
1. Ahrefs:
Ahrefs is my go-to tool and one I highly recommend if you're serious about your SEO. It has the biggest database of backlinks with the most usable data. The user interface is also intuitive and very easy-to-use. Ahrefs pricing starts from $99/month.

2. SEMrush:
SEMrush is another great backlink checker tool with an easy-to-understand dashboard. They recently invested in numerous resources and added some new features. SEMRush pricing starts from $99.95/month.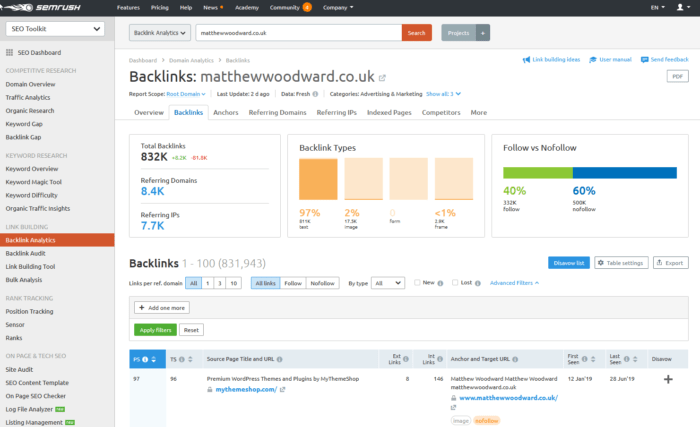 3. SEO Spyglass:
Although SEO Spyglass started as a slow SEO tool, they're back with a new database and awesome update. The new upgrade is super customisable and rapid fast.
SEO Spyglass is the more affordable option in the market. They charge $124.75 one time fee for the first year and $4.17/month afterwards.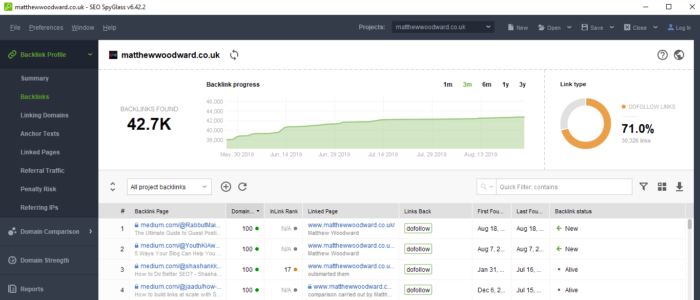 In the link building strategies below, I'll be using Ahrefs. While Ahrefs is one of the best seo tools for the job, you can use any other backlink checker tools available.
Smart Guest Blogging
Guest blogging remains one of the most popular and simple, yet highly effective link building strategies.
Here's the idea behind guest blogging:
You produce high-quality content for a another blog

You include a few links from the content that point back to your website

The blog publishes your work.
That's it! Ideally, the blog that publishes your work has a high domain authority rating so the backlink has more value. But overtime, the smart guest blogging approach can land you some high-quality backlinks.
To begin, you'll need to:
1. Identify your prospects:
First, you'll need to find sites that will publish your content. Ideally, your prospects are sites that have high domain authority (DA) and traffic.
To find these sites you can use these footprints on a Google search.
Keyword + "Guest Blogger"

Keyword + "Submit Guest Post"

Keyword + "Submit Article"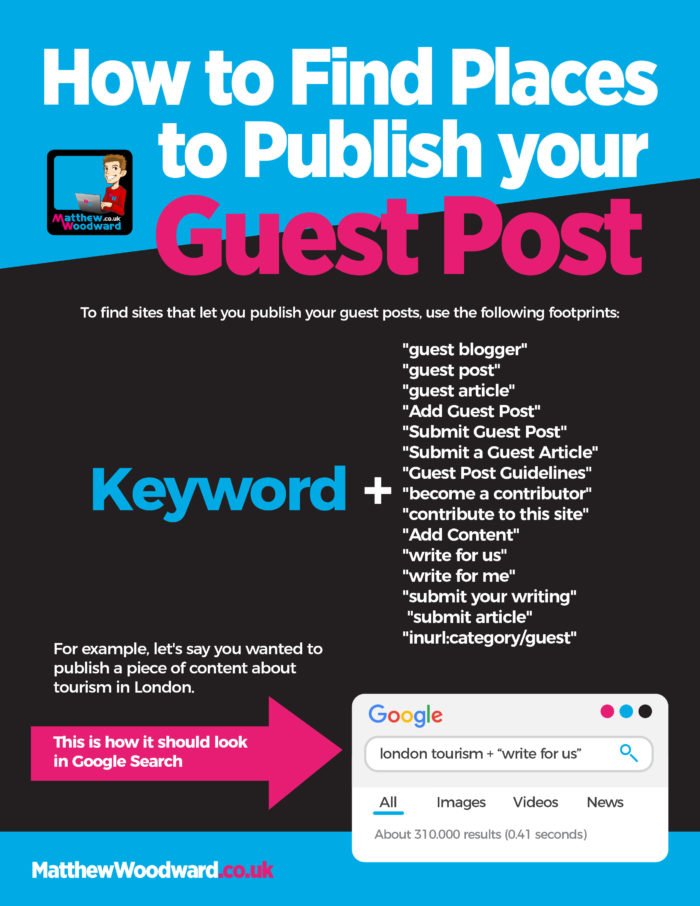 For example, if you wanted to publish an article on tourism in London, this is what your Google search results would look like.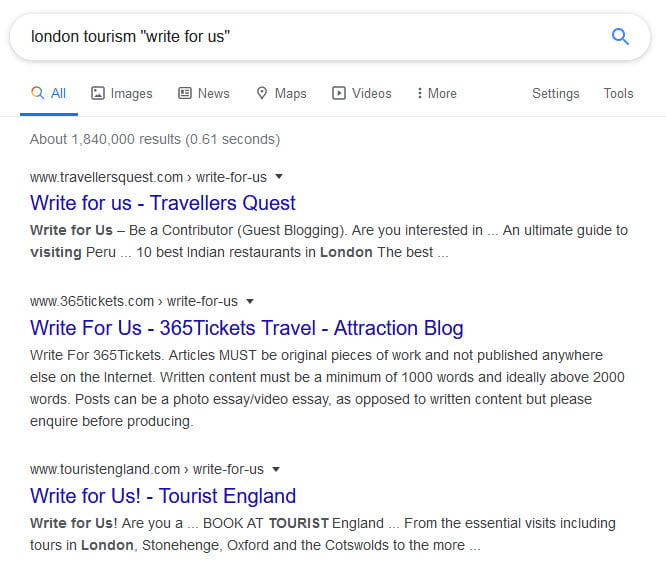 Then, list these sites on a spreadsheet.
2. Qualify the right blogs:
With your spreadsheet, run each website through Ahrefs to check for their domain authority. To do this, enter Ahrefs Site Explorer. Add in the website and click search.

You can see that there is a number in the centre of the screen under the word DR. DR stands for Domain Rating and tells you the strength of the website's backlink profile. Add each website's DR onto your list and repeat the process until you've finished.
3. Implement an outreach campaign:
With your spreadsheet, go to each website and contact the blog manager to see if they're interested in your content. I recommend you use personalized templates to speed up the process.
4. Produce high-quality content:
Once the blog manager accepts your request, it's time to produce your content. Make sure you write with the blog's audience in mind. You can look into the site's previous blog posts and read the comments from popular posts to learn more about their audience.
To produce high-quality content, I recommend you:
Include quotes

Links to other relevant articles from the website (internal links)

Include images and videos
Once you're done, send it to the blog manager.
And that's it!
That's all you need to do to earn a high-quality backlink from smart guest blogging.
But here's an added bonus. When you guest blog, you open up the opportunity to build relationships with blog managers. But that's not all. When you guest blog, you can also enter into open direct conversations with another audience.
That's why I highly recommend you also:
Respond to comments on the guest blog personally

Look out for social media shares and say thanks where necessary

Set up Google Alerts for the Guest Post URL so you can engage, express gratitude or even answer questions whenever it's shared
Steal Your Competitor's Strategy
One of my favourite link building strategies is competitor backlink analysis.
By analysing your competitor's backlinks, you can:
Discover their link building strategies

Identify key high-quality backlinks
…and steal their strategy to outrank them on the SERPs.
It's brilliant, isn't it!
You don't have to spend hours of time and thousands of dollars investing in an SEO strategy when you can just steal your competitors.
Here's how you to begin:
1. Find your competitors ranking URLs:
First, select a keyword you want to target. Then do a quick Google search. Compile a list of the first 5x organic search results.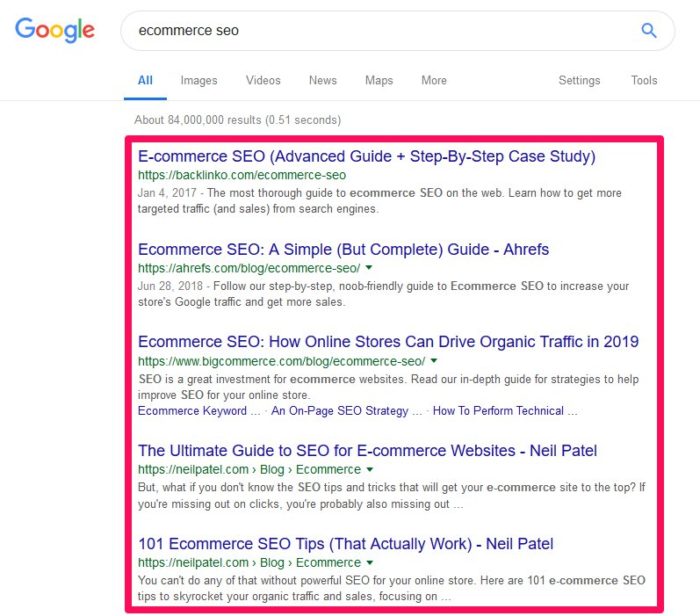 2. Download my Free Backlink Analysis Tool:
Then, download my free competitor backlink analysis spreadsheet. Simply paste the 5 links from above into the first column on the first sheet.

3. Find Your Competitor's Backlink Data:
Select a 'Click Here' link to automatically open the right report. Export the data as a .CSV file. I recommend you export as much as the tool allows you to.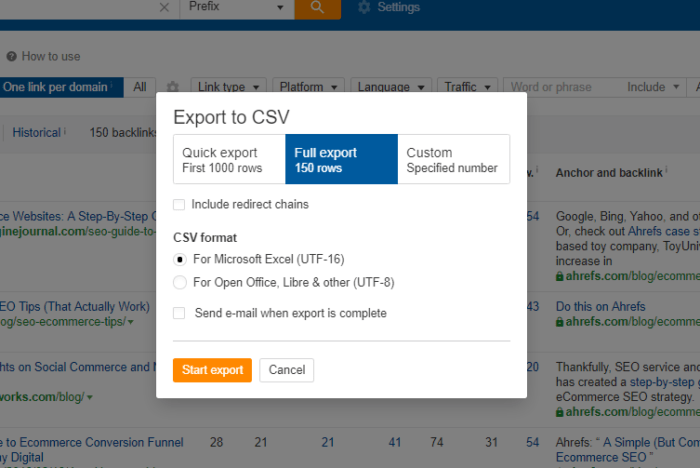 4. Load the Data:
Then go the #2 Tab in the sheet called data. Import each of the files you exported.
The fastest way is to:
Open one file from Step#2

Remove the first row of data

Highlight the remaining data. Then select Copy

Paste the remaining data into the #2nd Tab on your spreadsheet

Continue repeating this process. Add each report you exported from the #3rd step into the #2nd Tab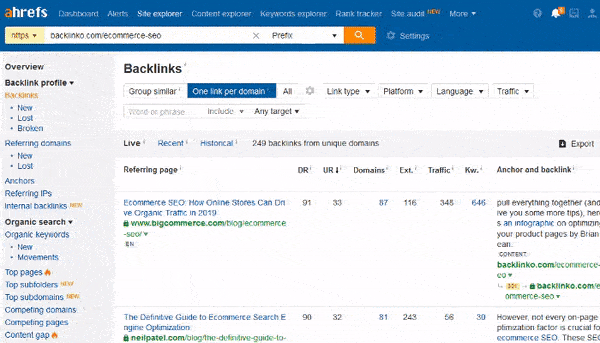 5. Analyze Your Competitor's Backlinks:
Once you've loaded the data, go to the #3rd Tab – Plan of Attack.
You should see a table of links.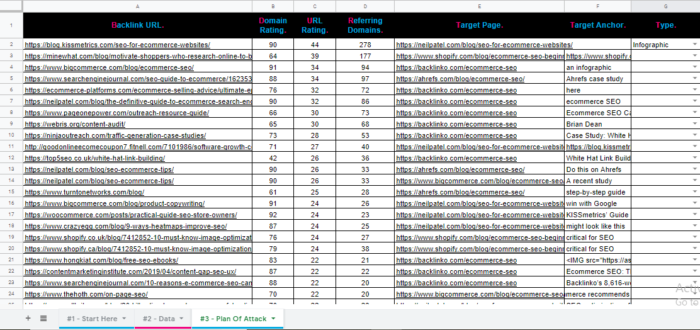 These links are the best competitor backlinks to go for.
You see, the spreadsheet has already:
Filtered harmful spammy links

Removed weak domains

Prioritized key links you should target first
6. Steal those Links:
Now that you have the list of backlinks to target, you need to think about how your competitor managed to gain that link.
For example:
If the link emerged from a blog comment, you just need to write your own blog comment.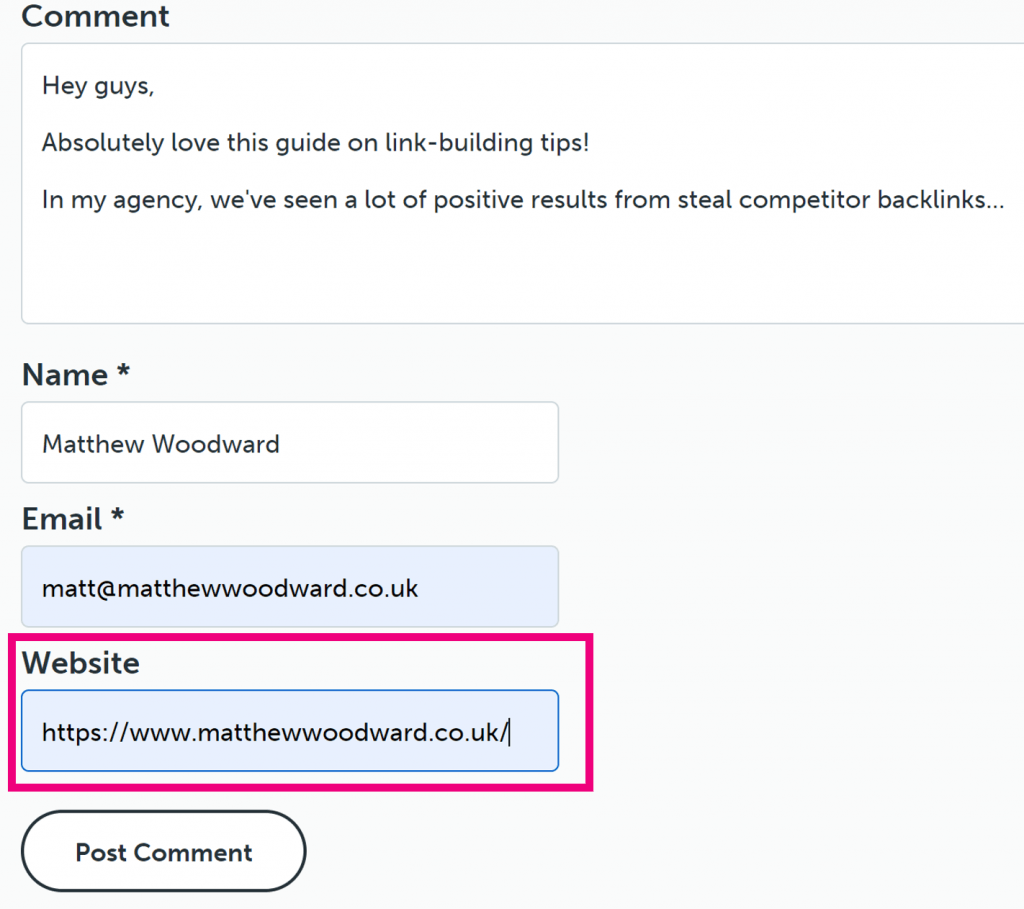 If it was a forum post, you can jump into the discussion and include a backlink where relevant. If it was a guest post, you'll need to then pitch to the blog manager about submitting a guest post.
Make sure you take it one link at a time.
The more you reverse engineer the process, the easier it is to figure out how your competitor's obtained that link.
Help Fix Broken Links
Most websites have hundreds and thousands of links. Unfortunately, links can break and stop working very easily. While a broken link may not seem so harmful at first, it can hurt search engine rankings and damage the user experience.
This is where you can turn broken links into link building opportunities.
By informing the site owner that they have a broken link, you can:
Help the owner become aware of their broken link

Develop a relationship with the website owner

Gain a high-quality backlink in the process
Helping fix broken links is one of my favourite link building approaches because it's a win-win for both parties.
In fact, it's the tactic that Nikolay Stoyanov implemented to gain 15 backlinks within 1 day with a high 15% conversion rate.
To get started you need to:
1. Define a target website
Here, you need to define the site you want to gain a backlink from. It's best to be realistic about expectations. Don't expect to gain a backlink from highly formidable sites like Inc. or the Times with this approach.
Personally, I find that personal blogs and small companies are the best sites you can gain backlinks from. The blog managers and owners of these sites will be grateful for the heads up and will thank you by linking back to your content.
2. Find the broken links
Once you have a list of sites, you should search their page for broken links. There are two ways to do this.
You can use Check My Links, a useful chrome extension that can find live and broken links on a specific page.

Alternatively, you can use Ahrefs. Ahrefs will analyze the whole site and produce a list of all the broken links from the website.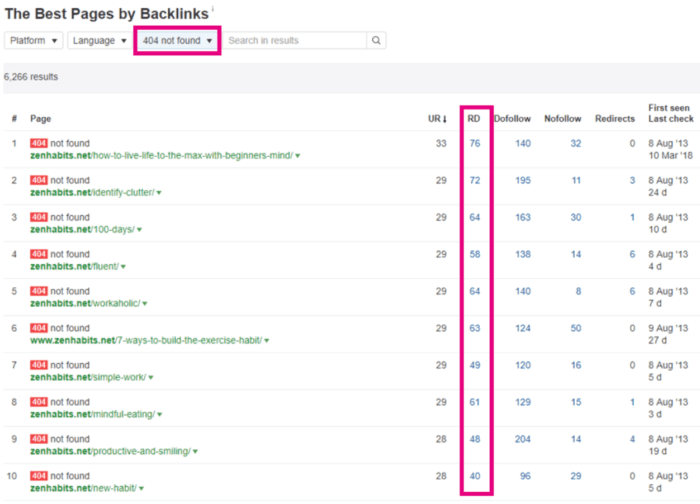 3. Contact the Blog Manager
Once you've scoured these pages for broken links, it's time to reach out to the blog owner or manager to let them know about their broken links.
The key is to develop trust and build a relationship with the blog manager. Don't inform them of the broken link just to get a backlink. Make sure you email them with the intent to help them produce great content for their readers.
Bonus: Internal Link Building
If you want a strong backlink profile, you should also work on internal link building as well.
Internal linking has the ability to skyrocket your search rankings. Furthermore, not only do you gain complete control over where you include your links but internal linking is also significantly easy to implement.
Here are 3 internal link building strategies you can work on:
1. The Quick and Dirty Method
The 3-step quick and dirty is simple to implement. First, create a list of URLs and primary target keywords. Then, identify the LSI keywords for each of these primary keywords. Use the SEO Auto Linker plugin to quickly add internal links.
2. The Manual Process
First, put together a list of your URLs and target keywords. Then, use Google to find posts on your website where you can add relevant links. Repeat this process for each URL and keyword in your list.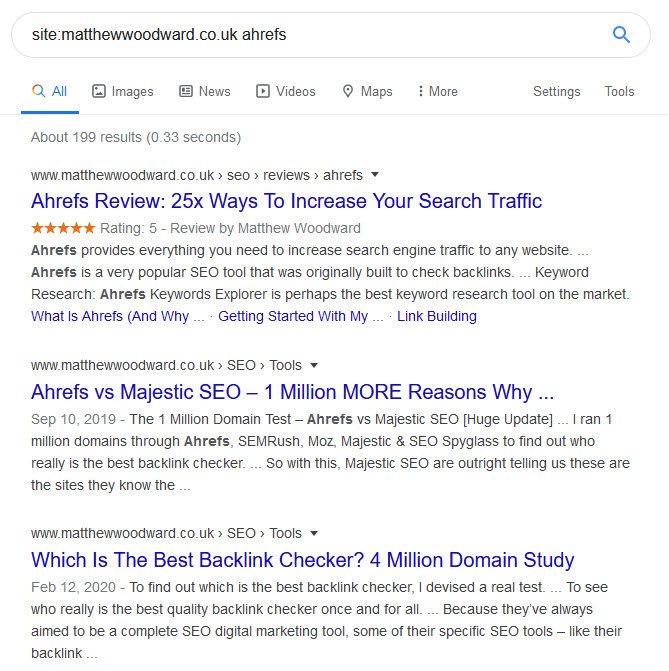 3. The Power Process
If you have a page that you want to rank well, you can implement the power process. First, find the most powerful ages on your site using Ahrefs. Then, add internal links from these pages to your target web page.
Rounding Up
Building a strong backlink profile can be challenging.
It's hard if you don't have the right strategies, tools and direction to move forward. If you follow many strategies, you could be quickly overwhelmed. But stick to one strategy and you can end up with an unbalanced backlink profile and a Google penalty.
The best way to resolve this issue is to tackle three strategies at once.
I recommend you begin with smart guest blogging, stealing your competitor's strategy and fixing broken links online. Don't complicate the process. Just work on these ones first.
Be persistent with your efforts and you'll see results.
Don't leave it off until tomorrow…start today!