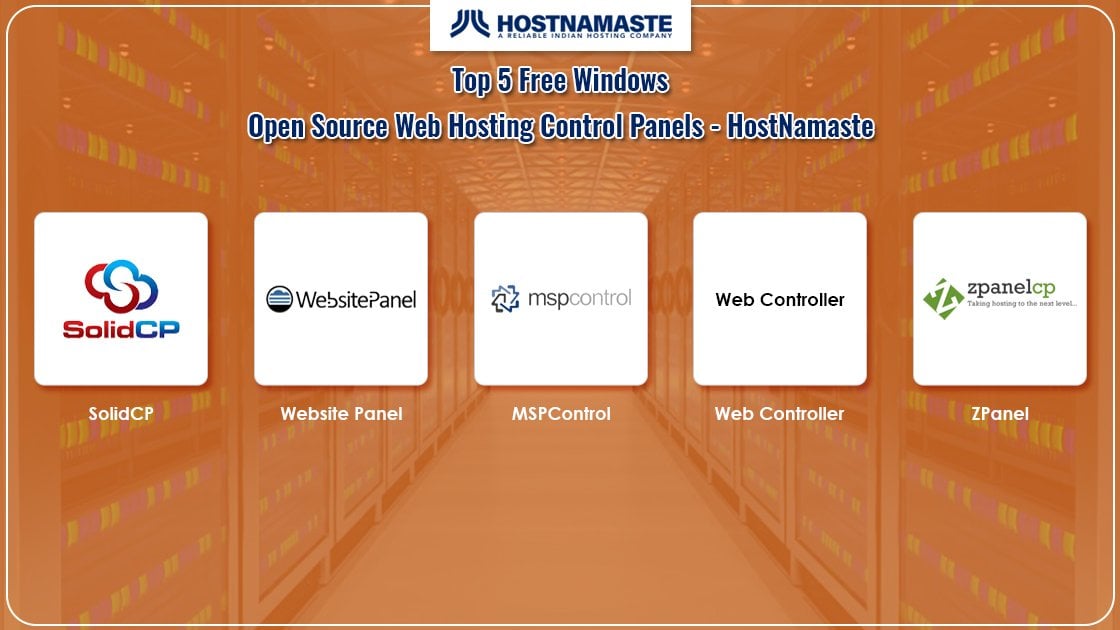 A quick, robust, and secure control panel is the primary feature to consider before buying any web hosting services. It should come along with all the features that are needed to manage your DNS server, web hosting, mail servers, and resellers impeccably.
If you, or your business, are into the management of servers, then you would require a simple and highly effective tool to monitor and supervise the hosting infrastructure. Web hosting control panel is one of the effective means to manage procedures related to routine operations of hosting infrastructure.
The Windows Control Panel is an intuitive tool that anyone with little technical knowledge of control panel can use. Before you select one for your needs, you will need to understand it and its role in the hosting system.
A Control Panel can be thought of as a device that aids the user in the installation, as well as administration of applications, and domains on their dedicated server. This is a massive asset for eCommerce website owners in order to monitor the sales of their website.
We have compiled a detailed guide that will give you all the information on the free and popular Windows open source web hosting control panel in the market.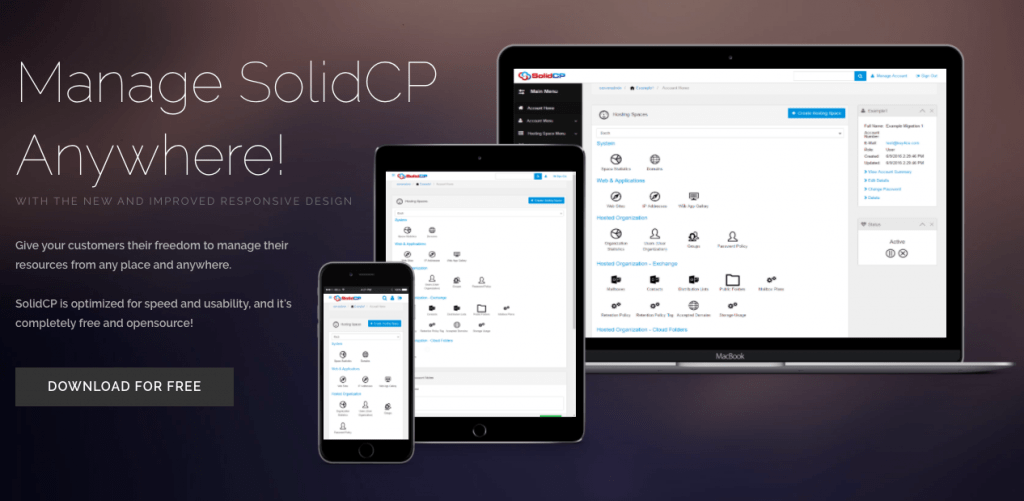 SolidCP is one of the most popularly and commonly used web hosting control panels in the market. Macro Tiggelaar is the co-founder, and CEO of this company. This software offers comprehensive support for Server 2019 as well as enhancements to Simple DNS.
It works with all the major enterprise software. Some of the attractive features of this web hosting control panel are its responsive design. Solid CP is designed to be responsive to all types of devices and offer ease of usability.
This tool offers a superior level of safety to its users. It is user-friendly and intuitive. Your employees can learn it easily without any hands-on training. Solid CP is ideal for anyone with little technical knowledge.
Another interesting feature of this control panel is that it offers a multi-server panel. With this functionality you get the ability to manage multiple servers using a single server. This makes it a preferred option for all those website owners who are looking for a tool to manage innumerable web servers on their website.
Solid CP is made as well as managed by a team of industry experts. These experts have experience of more than ten years in developing innovative, high-performance, and best-in-class website tools for businesses.
The software is released in various versions till date. The latest version of the software is 1.4.6. It was released on March 03, 2020. This version is available with fixes for SimpelDNS, and Smarter Mails.
It is loaded with a variety of feature enhancements for Exchange, and RDS. Most importantly, the latest version of Solid CP comes with a brand-new feature for Hyper V To Failover Clusters. It enables users to use customized private network subnets. Some of the earlier versions of the tool are 1.4.4 that was released on September 02, 2019 and Version 1.4.3 on April 30, 2019.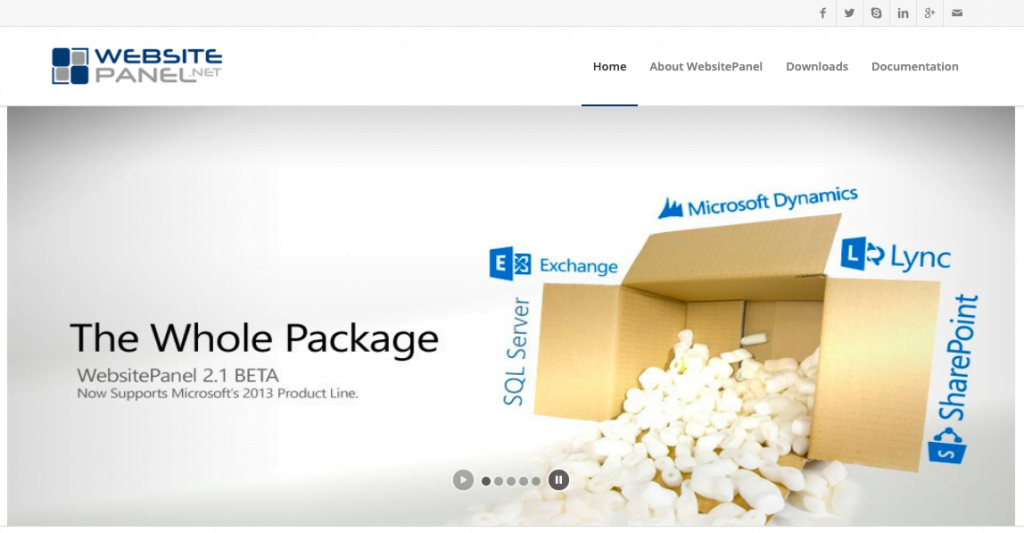 Another effective web hosting control panel that we have in our list is the Website Panel. It is a full-fledged portal designed especially for the use of Cloud computing organizations, and IT service provider firms in the market. With this tool, business owners can mechanize the provisioning of the complete suite of Windows server services.
WebsitePanel is a flexible, and robust, and open source platform that provides a simple point and click control over most of the commonly used Windows server applications such as Hyper-V Deployments, OCS, SQL Server, SharePoint 2010, IIS, Exchange 2010, etc.
There is a multitude of ways in which your Website Panel software can help a business to grow. It is a multi-tenant, enterprise-level automation tool that offers enhanced support for Private Cloud Servers. With the help of this tool, you can centralize the administration of the web hosting infrastructure. The tool also lets you distribute resources across several user accounts.
The website Panel is completely free to use. It is open source software that can be customized completely. You can easily develop features that will benefit your community or organization. You can even take complete advantage of contributions made by people in Website Panel community.
This is free software that does not charge you any licensing fee. You can easily change the platform according to your business needs. When you become a website panel contributor, you can even form alliances.
Website Panel is the most affordable and elaborate control panel tool that is designed to serve the business needs of both the small scale as well as large scale service providers. This makes it ideal for businesses that have a restricted budget.
With this tool, you can easily expand your business without any artificial constraints. You will be provided with competitive pricing. Website Panel is your ultimate solution to manage the web hosting administration.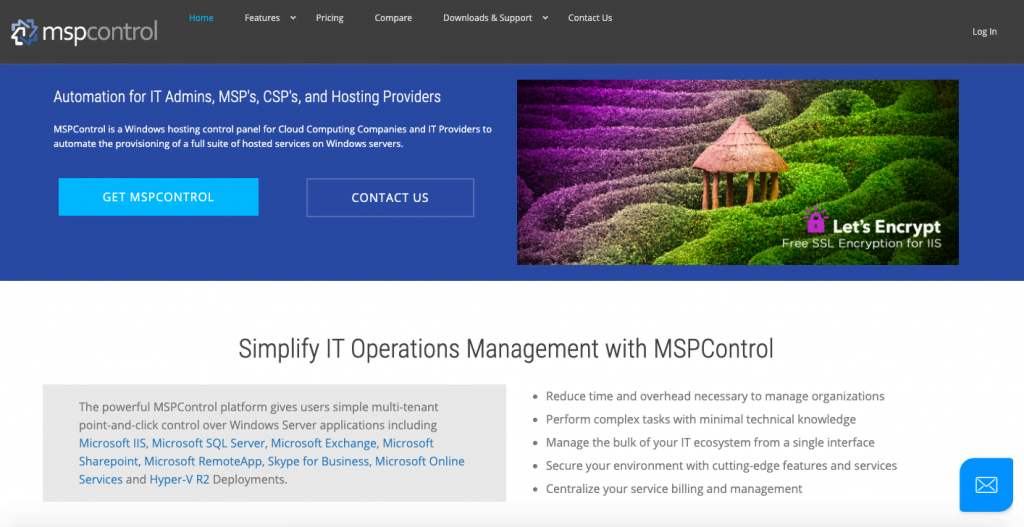 MSP Control Panel is one of the essential requirements of an eCommerce business to monitor the progress of their website at every instant. This tool helps in managing the domain hosting in a rapid, protected, and powerful manner.
The best part of this open source Control Panel is that it provides a user-friendly means to manage as well as organize the website from a convenient location efficiently. In this way, it increases the productivity of a business.
MSP Control Panel is widely recognized throughout the globe. It is developed in PHP language. All the features that this software provides are free of cost to its users worldwide. MSP Control Panel is sophisticated, faster, and secure than other commonly available control panels in the market.
The tool offers effective support for DNS Management and IPV6. It is a strong contender in the list of free open source control panel. With its easy integration, it performs magic on both small as well as medium-sized servers.
MSP Control Panel ensures effective monitoring and management of a website. It provides a reliable approach to manage as well as administer your servers. MSP Control Panel can manage and optimize several servers at once with great ease. The software comes with advanced technology-based inbuilt plugins that offer a maximum level of control to the users.
You can be assured to get the maximum level of security and exemplary file locking system, and free of cost automated backups. The software offers robustness, and a high level of support of DNS Management so that you can manage your installed apps with a high level of accuracy, and convenience in a very short period.
This software is beneficial even for users who lack sound technical knowledge and expertise in web programming languages such as JS, MySQL, PHP, and fundamental web servers.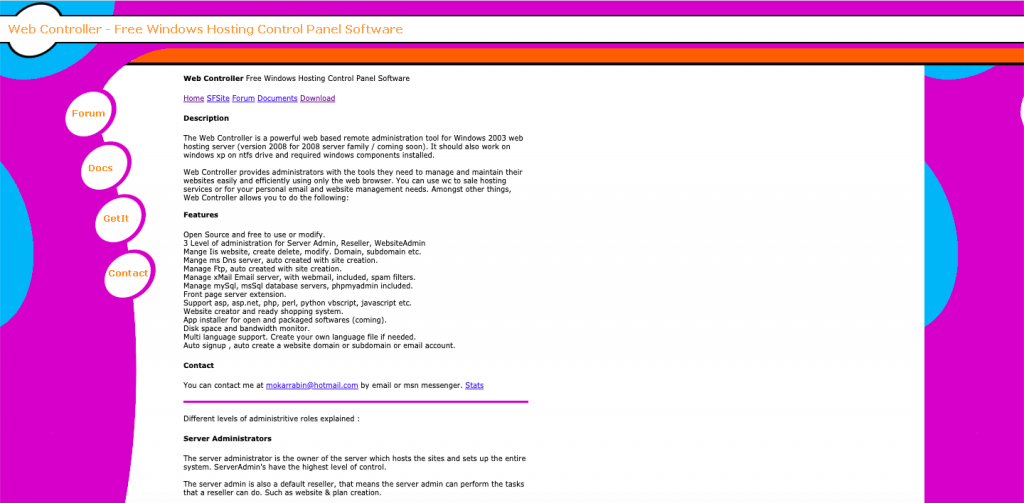 Web Controller is another free to use and powerful Windows Hosting Control Panel tool. This web-based remote administration software is ideal for use on Windows 2003 web hosting server. With the required installation of windows components, this software also works on Windows XP on NTFS drive.
Web Controller provides the necessary tools to the administrator to manage as well as maintain their websites efficiently and easily with the web browser. This tool can also be used for the personal email requirements and management of your eCommerce website. Here are a few ways in which a web controller tool helps a user:
This is an Open source tool that is free to use, and modify

Three levels of administrator roles are provided by the tool. These are the server administrator, Resellers, and Website Administrator. The server admin is the owner of the server that hosts the website and installs the complete system. Resellers are responsible for creation as well as the administration of the website. Each reseller can create and manage one or many web admins and website. Web admins are the main owner of the websites that are installed by the reseller. They can control every aspect of the website. Web controller web hosting control panel is designed to offer authority to manage the website with the lowest level of external intervention.

Manage the website, create, modify, remove, domain, subdomain, etc.

Manage FTP, auto-created with the creation of the website

Provides front page web extension functionality

Offer support for asp, asp.net., python, perl, PHP, javascript, VBScript

Support offered on multiple languages. If required, you can create your language file

Monitors the bandwidth and disk space of the website

Website creation functionality

Ready to use the shopping system

Ability to manage MySQL, phpMyAdmin, and my SQL database server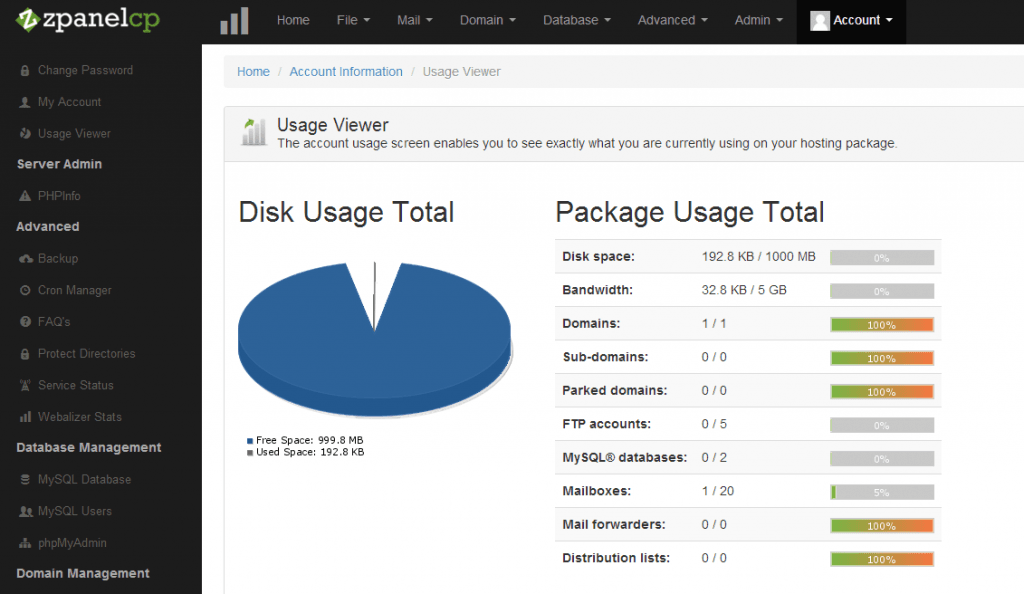 ZPanel is a web-based hosting control panel that is coded in PHP language for Windows, and *NIX host Operating System. It is another widely used and popular web-based control panel on our list. It is a kind of repository used for the storage of ZPanel 6.x.x code. It offers support for a wide range of languages.
ZPanel is a PHP coded web hosting control panel that is a replacement of the old version of the SVN repository stored over at sourfourge.net. This installer offers a centralized place for the storage, version as well as the distribution of ZPanel installers. With it, you can also upgrade server scripts.
This open source Control Panel is mainly focused on the administration, and management of the servers. It has the ability to monitor multiple servers without any issues. In terms of its management capabilities, the tool offers a maximum level of control to its users. It provides a superb level of security to users and various advanced level free of cost functionalities such as automated backups, file locking system, and IP protection.
The software is sophisticated, and faster as compared to JS Script. ZPanel offers effective and easy integration and works remarkably with Linux systems. It offers remarkable security to its users. The software also provides extensive assistance to DNS Management. You can install the apps on this software with great ease.
ZPanel is light in weight software that optimizes on a single interface. It can be installed with minimal hardware, and software requirements. It has various built-in plugins that aid in quick and efficient initiation of front-end.
Talking about the installation, ZPanel can be installed in a single click. This one-click installation makes the application convenient and simple. Even a person with not much technical knowledge about the various programming languages, like JS, MySQL, PHP, and web servers can install it easily.
Windows Control Panel Features Matrix
Here are the features of the top five windows control panels:
Solid CP
Single and Multi-Server Management

It is a free app that can be downloaded from any location

Responsive Design

Managed by professionals for over ten years
Website Panel
Portal for IT providers and cloud computing firms

Facility to automate the provisioning of a complete suite of Windows server services

Point and click over Windows server apps that include SQL Server, IIS, Exchange 2010, Lync, OCS, and SharePoint 2010
MSP Controller
Responsive remote terminal

Offers an extensive range of productivity-improving tools for web hosting providers, web developers, web designers, and more

Sophisticated and simplistic

Provides effective management and monitoring
Web Controller
Open source software. Free to modify, and use.

Multi-language support

Level of Admin for Server Admin, Reseller, Website Admin, etc.

Bandwidth and Disk Space monitor
ZPanel
Provide a central place to store, access, and distribute ZPanel installers, and upgrade script form

Powerful and flexible web server administration tool written in PHP for Windows and NIX Host Operating System.

Offer heightened security
Conclusion
Here we have the complete list of our top five open source web hosting control panels. All these control panels have a common thing in them, i.e., they are widely known for their management and conduct. These are the best open source, and free control panels that we have shortlisted for you.
The knowledge of these most popular and efficient Windows control panel will help your organization to decide the best one that meets your business needs effectively. It will simplify your task to choosing the most appropriate web hosting software to serve your business requirements effectively. Buy Cheap Windows VPS and install any of the above free windows hosting control panels today.
Related Web Hosting, VPS Blog / Web Hosting Business News: