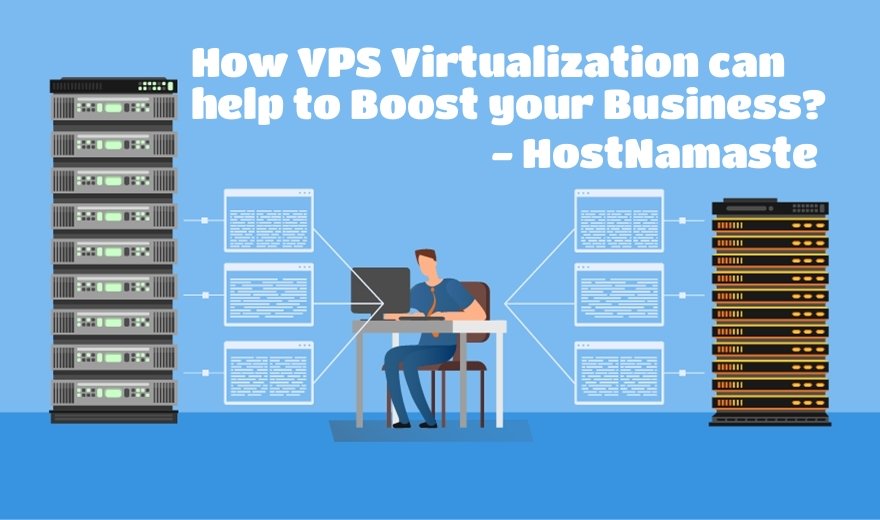 The VPS server is a great hosting option for those who have a website with a high number of visits. It is also valid for those who have needs that are not met by Shared or Reseller Hosting. When using VPS hosting, your website has an exclusive use of server, which is created using Virtualization technologies.
Before proceeding to the fact that how VPS Virtualization can impact positively on your business, let us see some basic aspects regarding this.
VPS – What is a VPS Server?
VPS, it stands for Virtual Private Server. The idea of ​​a VPS Server is very similar to dedicated servers. VPS Virtualization allows you to get more computer resources compared to web hosting, but pay less than a dedicated server. In addition, computing resources become autonomous and mutually independent. That is, loading one server does not affect the loading of other servers. Since each virtual machine has its own resources, on it you can run your own operating system and your own set of programs to solve a single task.
Here we present to you the details of VPS management levels, offered by all companies that provide VPS server plans. The overwhelming parts of companies provide three types of VPS server management plan: Unmanaged VPS, Semi-managed VPS and Managed VPS.
• Unmanaged VPS Server: 
Unlike a managed VPS server, in the unmanaged model, the customer is fully responsible for running operating system updates, in addition to application settings and more critical changes. This is a good option for those who are searching independency when using VPS servers. In that case, it is good to think of an Unmanaged VPS Server plan.
• Semi-Managed VPS Server: 
In a semi-managed VPS server, there is a certain level of management by the hosting company. The semi-managed model requires extra knowledge on the part of the user. There are some basic features that hosting companies provide. At that point, it will depend on each company that provides hosting on VPS servers. Semi-managed VPS Server is an extension of the plans related to unmanaged VPS services.
The main advantages of both models (unmanaged and semi-managed), professionals can highlight the reduced cost. As the user is responsible for managing own VPS server, this ends up reducing the cost of the service.
• Managed VPS Server: 
With managed VPS server, companies are responsible for most of the services within the servers, which include periodic software updates and operating system maintenance. In a managed VPS server, users do not have to worry about specific maintenance issues. As this is all monitored and managed by the support of the company where the plan was contracted.
Therefore, this plan can be indicated for users who do not want to worry about updates, software maintenance or network settings. In general, managed VPS provide a simple control panel, as most critical settings are made by third parties (either by support or automatically through software). Difference between Managed VPS vs Unmanaged VPS
Server Virtualization Benefits for Small size Businesses
Small business must solve the main task – to survive. To do this, it must be cost-effective, and cutting costs is just as important as maximizing profits. If initially launching a website on a web hosting is a reasonable solution, then over time the resources of the web hosting package will become insufficient. And there may still not be the opportunity to pay for a separate dedicated server monthly. In this case, before knowing about KVM cloud, moving from a web host to a KVM VPS becomes an ideal solution.
Server Virtualization benefits for Medium size Businesses
With business growth, other challenges arise. It is required to store financial statements and databases in the cloud to provide secure and convenient access to them for employees of different branches. Configuring VPN is impossible without combining real local networks into virtual domains.
Creating a domain in the cloud allows you to deploy Active Directory on it and provide your employees with flexible and granular access to resources and documents controlled by group policies that are necessary for work. In addition, one of the points worth paying attention to medium-sized businesses is the optimization of IT infrastructure in order to reduce costs, ensure centralization of database storage, and precise control of access to them. Server virtualization allows you to perform these tasks by configuring a terminal server.
Server Virtualization: What does corporate business get?
Very often, corporate business comes to an understanding of the need for change quite late. When certain work processes have already taken shape, the structure of the corporate network has been built and the responsibilities of employees of all departments, including the IT department and accounting, have been distributed. People quickly get used to doing work in the most convenient way for themselves, which is not always the most effective for the company.
• Lack of capital costs:
As the business does not need to worry about buying and replacing equipment and components, these costs are borne by the cloud service provider.
• The development speed of new modules or software:
Since cloud virtual servers for developing, testing code and transferring it to servers in operation are created and deleted almost instantly, as opposed to a long period of assembly and configuration of physical servers.
• Business continuity:
Since the location of all systems in the cloud provides ease of management, the convenience of backing up and restoring data if necessary, without any problems for the consumer.
• Renting cloud storage:
It ensures the security of all business data and users personal data. So talk to the professionals, know about Cheap Linux VPS Server, and hire this one for your business.
Conclusion
As you can see, Server Virtualization has tangible benefits for a business of any size, from small companies to large corporations with hundreds of employees. The main advantages of virtual servers in the cloud include the speed, convenience, and relative cheapness of renting and managing such servers. Compared with the purchase and maintenance of dedicated servers in data centres.
In addition, centralization and convenient backup of critical data, as well as precise access control to data and resources are an important factor.