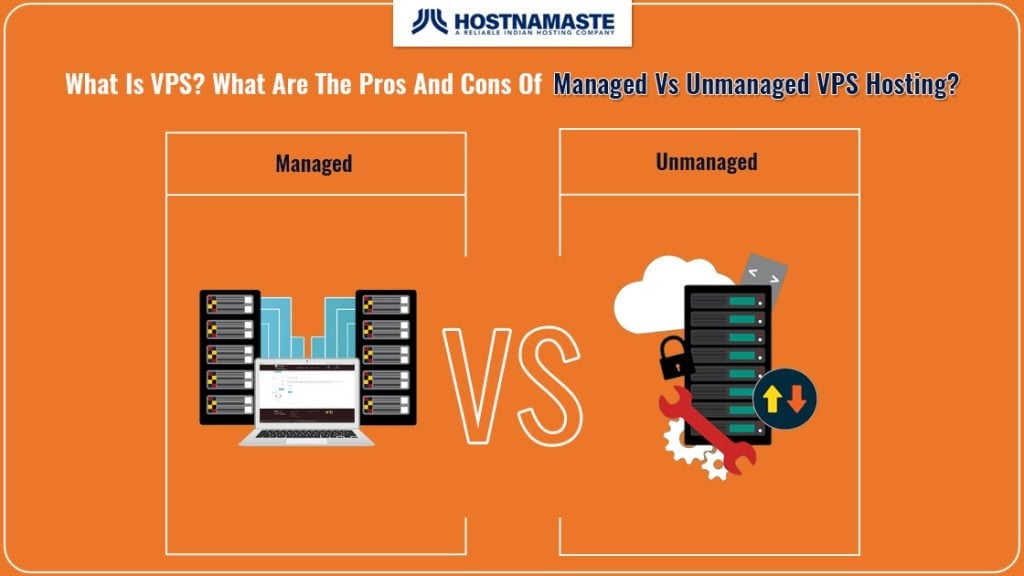 Your new business started small, and over the period of time with appropriate nurturing and marketing, it expanded well. The business has grown in terms of income, and even shown an increase in website traffic. However, if the increased traffic has reduced website speed, then it means your business has outdone the hosting plan that you started with.
The needs of an evolving business also change with time, and thus you need to choose a different hosting plan. At the beginning, as your business was small, you chose a shared hosting package. However, now your needs have changed, and you need to choose Virtual Private Server or VPS hosting services.
Table of Contents: What Is VPS? What Are The Pros And Cons Of Managed Vs Unmanaged VPS Hosting?
Hide
What is VPS Hosting?
To understand VPS, first you need to know other web hosting extremes. Shared hosting is the basic form, where a single server is divided into multiple accounts. Customers share server resources like CPU, RAM, and disc space. Start-up businesses choose this as it fulfils their needs at a lower cost. The drawback is that the customization of website is limited, and when the main server gets affected, every consumer sharing the server also gets affected. 
Dedicated hosting is another web hosting form, where the entire server serves just one customer. They get total control to customize and configure. Dedicated servers offer a potent solution for websites enjoying massive traffic and run heavy apps. Undoubtedly, you have to pay high for dedicated servers.
VPS hosting is a hybrid approach, where a single server gets segmented into quite a few virtual private servers. This doesn't mean you have to share the resources because each VPS has its own operating system and functions. A Beginner's Guide For VPS Hosting
VPS even offers customization, and users get to scale up their disc space, RAM and CPU as per their needs [increased traffic and operating more apps]. VPS is growing in popularity among medium to large-sized organizations, which aim to take advantage of a dedicated hosting plan at a relatively lower cost. 
Benefits of VPS Hosting
• Root access: With a VPS hosting plan, your server stays isolated from the other servers, even though it is hosted on the same physical location. VPS is a connection between dedicated and shared servers, so it includes the features of both. Thus, you have entire root access to manage the server and customize its resources.
• Scalability of resources: The moment your server is up, resources like operating system, RAM, and CPU are instantly provided. These resources can be scaled as per your incoming traffic needs. Remember, resources are scalable, but not the hosting package.
• Security: VPS hosting is private like dedicated servers, so your website gets top-notch security. Even though other websites are sharing the same physical server, their IP addresses differ. 
• Performance: You get HDD and SDD hard drive, but the majority of businesses choose SSD. Actually, SSD enhances the speed of the website, which enhances overall site performance and Google search ranking. 
Drawbacks of VPS Hosting
• In Theory:
In theory, VPS hosting is a great option to enjoy a dedicated server without the associated cost. However, some potential problems can occur with VPS. From a financial standpoint, it is significantly costly than a shared server. If your site does not need a dedicated hosting plan, then this cost can be prohibited. VPS hosting is not as expensive as dedicated servers. 
• From a Service Viewpoint:
Some web host providers offer VPS hosting without the proper allocation of resources. If a specific website uses a large number of resources, then down the line this can cause greater issues. The physical server is still shared, disallowing you to use maximum disk space and RAM. 
VPS usually uses several web applications like e-commerce forms, chatting software, forums, and other security apps. If the webmaster cannot professionally control these apps then they become uncontrollable due to the heavy traffic they draw. To avoid such an issue, check how many customers are active on the physical server simultaneously.
Few issues may be encountered, especially when web host provider does not deal with VPS properly, but if they do then it is a good option [if you can afford]. 
What are the types of VPS Hosting?
When you go in search of a potent and reliable VPS hosting package, you will come across two terminologies, namely Managed VPS and Unmanaged VPS. VPS hosting is available in two forms, managed and unmanaged. So let's explore what is the difference between both these. 
What is a Managed VPS?
Managed VPS means the web host takes care of every server-related problem. Even if you are aware of the technicalities of server management, you will find that managed VPS hosting will make your tasks very easy, and thereby giving you utmost convenience. It is just like an auto-pilot mode. 
When a plane is placed on auto-pilot mode after takeoff, everything like monitoring altitude and speed, making needed adjustments whenever necessary in its flight path to ensure plane flies safely is taken care of. A significant workload is taken off from the pilot's shoulder. 
Similar to the role of an auto-pilot, the web hosting company's expert team maintains the resources on your server, monitors 24/7 to identify and repair glitches, as well as makes upgrades and updates, accordingly.
What are the Pros and Cons of Managed VPS?
Pros:
• Round the clock monitoring offers calm as well as guarantees 99.99% uptime.
• Malicious malware, viruses, and spam get identified and filtered without touching your site. 
• Users don't have to be tech-savvy to setup and configure the VPS server.
• You get a high level of scalability in terms of resources like bandwidth, RAM, and CPU.
• Customize your server to accommodate more traffic and make tweaks to enhance server performance.
• Server monitoring and maintenance are cost-effective because you can spend more time attending core tasks.
Cons:
• Managed VPS plan is little more expensive than unmanaged VPS
• Definite storage and bandwidth limits.
• Insecurities with managing providers [not an expert].
• The option to choose a managed VPS hosting plan will depend on your needs and website.
• Do you plan to make income or are using it as a personal blog, then website content matters.
• If your website holds heavy content, but you are not tech-savvy, then choose managed VPS.
• However, if you plan to learn technical stuff, then you can choose the self-managed [unmanaged] VPS option.
Unmanaged VPS hosting is where responsibility is on the users. The web host is not liable for managing and updating the server. Unmanaged can also be termed as self-managed VPS. You have to do everything ranging from server setup, software configuration to VPS monitoring. 
As soon as the web host provider delivers network connection along with a virtualization platform, his duty ends. It is just like you switched off the auto-pilot mode on an airplane. Now, the pilot is in total control of the plane. It is a pilot's training and skills that guide on the flight path along with an ultimate safe landing. 
Similarly, in unmanaged VPS hosting there is a need for a tech-savvy and high-skilled person with a modest knowledge of configuring and managing VPS. Besides, some other apps and services accompany VPS. However, the user will enjoy unlimited freedom to work on the server. 
What are the Pros and Cons of UnManaged VPS?
Pros:
• Autonomous control on memory, bandwidth, usage, storage space, and software installation is the key advantage of unmanaged VPS.
• Customization of the server according to your precise needs is possible [within T7C of hosting provider].
• A cost-effective solution, as there is no need to purchase, accommodate, secure, and power the server.
• No need to depend on unresponsive support
• More suitable for businesses that need high bandwidths. 
Cons:
• Little knowledge is needed to setup, maintain, and monitor the server, which is not perfect for beginners or non-tech users.
• As you need to set up from scratch, lots of time gets spent that can be used to perform tasks associated with business development.
• Constant monitoring of server and application is exhausting for users. 
• Unmanaged VPS is not a great option for beginners with hardly any technical skills as it can be a huge obstacle in their task to setup and run a business. For such users, managed VPS is the best, where the web host handles the technicalities. 
• On the other hand, users with technical skills find unmanaged VPS plan appealing, especially when they have to set up services like WordPress CMS, LAMP stack, and configure features like Firewall, SSL certificate, DNS & backup settings, CDN, and more. However, if you are on tight-budget, then unmanaged VPS is the only option available. 
From the Web Hosting Provider's Perspective – Is UnManaged VPS better? 
The key benefit of customers choosing unmanaged VPS from web host provider's perspective is they get to save a lot of customer support. Customer service is not needed because there is no need to offer software and account support to clientele choosing an unmanaged VPS hosting plan. This justifies the low cost of choosing unmanaged VPS services. 
The core difference between Managed VPS and UnManaged VPS
The two most important differences are:
1) In Managed VPS, the regular maintenance and up-gradation of the server are handled by the web host company. In Unmanaged VPS, the web host company only takes care of physical server maintenance and guaranteed uptime.
2) Managed VPS is a little expensive, but a good option for start-ups. Unmanaged VPS is relatively cheaper, but perfect for experienced users. 
Weighing Your Options
Now, you are familiar with managed and unmanaged VPS hosting services offered by any web host provider. Which VPS hosting plan to choose depends on what the customers want to choose and what the clientele is prepared to compromise? The key consideration will also be the cost. 
Managed VPS is costlier than unmanaged but in the near future, this price gap will dramatically narrow down. Users can trade risk assurance and reliability costs. Moreover, if server setup and configuration takes time intended for business tasks, then managed VPS is preferable in terms of time management. Another crucial question to ask yourself is 'Are you at ease managing your VPS security or have web host provider handle the risk management?'
If your purpose for website designing is to earn income with high-bandwidth online apps, then make sure to choose a VPS plan, which can deal with bandwidth-load. This is an aspect to consider while choosing the web hosting company. 
Even consider the VPS hosting providers managing capabilities. If you are unskilled, then your website will not run efficiently, especially if the glitch it runs into has not been taken care of. Even though web hosting providers hire experts to resolve the technicalities in the server, it is better that you check it before you sign up and avoid downtime. 
A good web host provider can disrupt or brand your website because the kind of hosting you choose does not matter. It is the website accessibility and uptime that matters, as it depends on the main server's availability. 
VPS hosting is very economical and efficient. It offers exclusive benefits to your website. Just like a dedicated server, in VPS, the server's physical resources like RAM don't get shared. You can thus gain access to dedicated server powers and features at low prices with the VPS hosting plan. OpenVZ vs KVM VPS
If your website is not an e-commerce site, then choose VPS. When your website is evolving and you feel that it will be unable to handle the features of shared hosting, but you are unable to pay the high cost of a dedicated server, then VPS hosting is advantageous. 
Conclusion
Choosing between managed and unmanaged is easy. Both have their advantages and so consider the main features highlighted in this article. Managed VPS is excellent because of the tech-support provided, so is a great option for first-time website owners and small businesses. They are specifically helpful if you lack tech-skills or manpower to handle the maintenance task.
Managed VPS saves valuable time, which can be transferred in doing core business tasks. Unmanaged plans are suitable for large businesses as they gain more control over their sites and even have an IT department.  
Choosing a VPS hosting plan is a huge decision website owners need to make. With the options available, it is vital to ensure that you choose the right package suitable for your website's unique needs – whether it is a managed or unmanaged VPS hosting plan!