Nowadays, social media channels have turned out to be one of the best places to advertise and promote your business. No matter if you are a freelance web designer or a huge web hosting company, there's always an opportunity for you to reach more customers through your social channels and build your brand on social media. However, choosing the right platform and employing the best marketing strategies for better results might be time-consuming. 
But no worries! In this article, I'm going to walk you through some essential tips to leverage your social media presence for web hosting. But first, let's see how social media will help your web hosting business grow!
Table of Contents: 5 Essential Tips on Social Media For Web Hosting - HostNamaste
Why Should You Use Social Media for a Web Hosting Business?
As mentioned above, being on social media platforms increases your chances of being seen. But this is not the only reason why you should promote your web hosting business on social media. Actually, your social presence will help you: 
Build trust, 

Engage with your potential customers, 

Get feedback from people all over the globe and improve your services, 

Support your potential customers, 

Build brand authority, 
And more. But how to promote a web hosting service on social media? Let's see!
Also Read: 11 Lesser Known Facts about KVM VPS Hosting 
How to Promote Web Hosting on Social Media?

Now, it's time to use social media channels to get more customers in your web hosting business. In the following, you will read about 5 essential tips to improve your social media strategy. Let's get started!
#1) Choose the Right Platform
Well, the first and the most important step is to choose the right platform. Undoubtedly, being active on social media takes a great deal of time. It needs you to create and curate content, engage with your audience, and always stay updated to recruit better strategies and since each social channel has its own marketing strategies, it'd be better if you choose one as your main channel. 
For this, if you believe your social media team can create astonishing visual content and infographics, choose Instagram and use Instagram growth services to grow out there. And if not, Twitter and Facebook are better choices.
#2) Create a Perfect Content Calendar and Post at Best Time Possible
To better manage your social channels and never run out of ideas, create a social calendar and organize your content in an appropriate way. If you are using Facebook, Twitter, or LinkedIn, I suggest you share your blog posts on your social channels on a regular basis. This way, you will not only remain active on your social channels but also drive traffic to your blog posts. So, you can attract more real customers. 
Apart from this, using a social calendar, you can post event-related content on your social channels and use the proper hashtags to drive more traffic to your posts. To be more specific, take a look at the following Instagram post: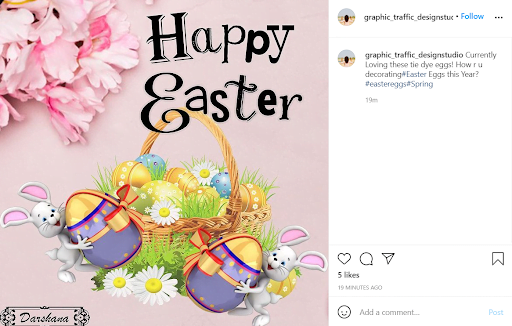 This way, you get more chances to be seen, get more engagement, and hence, increase your sales conversion. So, take every single event as an opportunity to reach a larger group of audiences. 
Read More: 13 Proven Ways To Come Up With Killer Blog Post Content Ideas
#3) Cross-Promote Your Content
Well, each social media network has its own audiences. Of course, there are some people that use all social media channels, but they might not necessarily follow your web hosting business on all channels. So, use this as an opportunity to generate leads on all networks and drive more traffic to your website and social accounts. 
For instance, if you have created an informative online video editor about web hosting and shared it on your YouTube channel, go ahead and reshare it on Twitter and Instagram. This way, your followers on Twitter and Instagram notice that you have a marvelous YouTube channel and hence, you'll get a great number of subscribers. 
#4) Engage with Your Audience
As mentioned before, one of the most important reasons for being active on social media is to engage with your potential customers, offer customer support, and get their feedback. For better results, I recommend you to communicate with your followers and engage with them as much as possible. Make sure that you: 
Reply to all their messages, 

Reply to comments, 

Answer their questions properly, 

And also give positive responses to the negative reviews and comments. 
All in all, remember that without your followers and customers, your business means nothing. So, thank them for supporting you and perfectly address their considerations, even if you are not offering customer services on social media channels officially. 
#5) Run Giveaway Contests and Reward the Best Reviews
A great way to win the marketplace on social media channels is to run a web hosting giveaway contest. As you already know, in this era, a vast number of people are starting their own online businesses and they all need a website to manage their business flawlessly. So, if you give them a chance to win a web hosting service, they will definitely take part in your contest and then, become your customer. 
But how to win the contest? Well, here are a few points to keep in mind: 
 The prize of the contest should be one of your services. This helps you convert more followers into customers after the contest is finished. 

 As a rule to enter the contest, ask your followers to write a review about you. By doing so, you'll get a huge amount of comments and feedback about your business that helps you improve your services.

 Share the best review on all your social channels and show how satisfied your customers are with your services. 
Also Read: Social Media Branding | An Ultimate Guide To Build Brand Using Social Media 
Keeping all these points in mind, you'll not only get organic followers on your social channels but also the ones that will follow you for the contest will remain your follower after the contest with a higher probability. So, make sure to employ all these simple yet important tips. 
Closing Thoughts
To sum it up, social presence helps you grow your web hosting business in a shorter period of time. Apart from this, it allows you to build a close relationship with your potential customers and always have their feedback to improve your services. By the way, getting attractions might be a bit tricky, which is simply solved by using the hacks and tips I mentioned here. So, read the article meticulously, and feel free to leave us a comment if you have any questions.