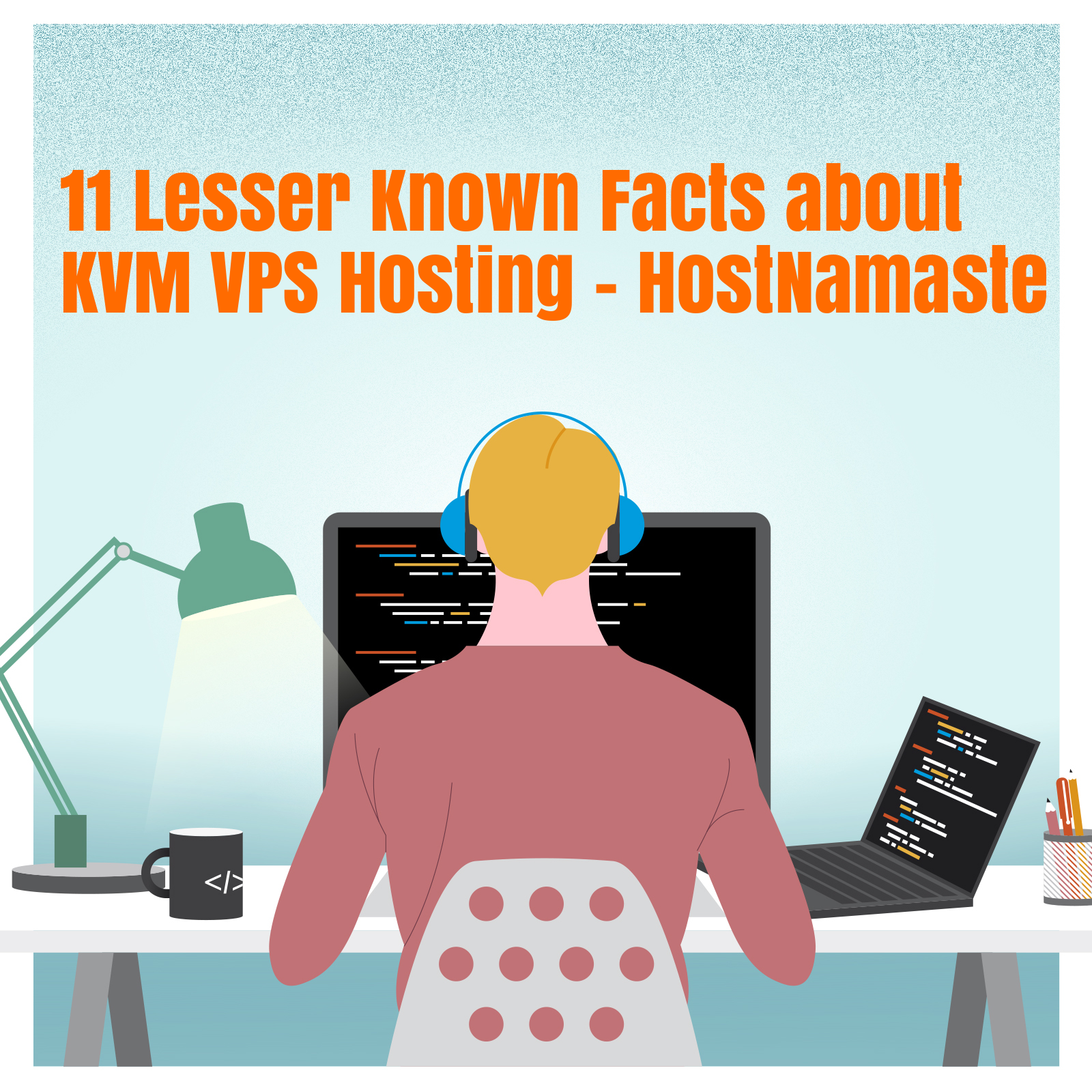 If you are somehow under the assumption that the whole website is hosted on a single platform, if that is so, then perhaps you might be mistaken. There are various platforms that are involved in this whole dynamic. To make the readers understand and fully grasp the understanding of Hosting services, we're going to bring in-depth knowledge on KVM VPS hosting in this article. First, let's explain the advantages of VPS and clarify what KVM actually is and stands for.
Internet hosting is already on the brink of becoming a cheaper answer in the world of technology, in which we are seeing innovations along with the development of the Internet. Web developers with a wide majority support VPS hosting. VPS Hosting is quicker and more reliable in stark contrast with shared hosting plans, in order to register their very own online presence. Certainly, it has a multitude of advantages over a few other internet hosting environments in order to follow up and be able to provide reliability, safety, and efficiency.
It should be remembered that the largest breakthrough in web hosting to date is server virtualization, where one personal computer has the capability of several virtual servers. Choosing a suitable KVM VPS solution is essentially the foundation in which the built-in functionality of a pair of internet hosting systems, dedicated internet hosting, and shared hosting servers, falls into effect.
Here are the 11 lesser known facts about KVM VPS Hosting that you aren't yet familiar with. It is vital to grasp the proper understanding of every nook and cranny of a KVM VPS Hosting, in order to implement it effectively on your websites.
1) Acronym for Kernel-based Virtual Machine
KVM can be termed as an acronym for Kernel-based Virtual Machine, a virtualization technology integrated further into the standard Linux kernel. A kernel lets you control the kernel mostly on the root of the node, which makes it extremely easy to operate many operating systems. KVM includes hardware to power its very own virtualization extensions, and this should not be troublesome given the fact that the majority of the non-Atom Intel processors, along with the AMD processors arrive with all of these extensions.
2) Virtualization through a Hypervisor
Virtualization is done with the aid of a hypervisor in a Kernel-based Virtualization Machine. There can be multiple kinds of hypervisors that conform to different specifications in KVM VPS Hosting environment. The KVM hypervisor is deployed on a server that functions at a device virtualization stage and allows the central server to control and host virtual machines. The KVM virtualization devices are integrated into the regular Linux kernel that allows it to function as a hypervisor. The kernel can function as a second-level hypervisor because the guest machine is filled that has its own kernel.
3) Difference between KVM and OpenVZ
OpenVZ is a container oriented virtualization for Linux. OS virtualization ensures that several simple modules reside on the system once and are used by all visitors similar to the identical kernel. Every server operates and runs precisely like a server that operates on its own; the container can also be reconfigured individually and has root access, IP addresses, users, memory, procedures, files, applications, device libraries, and application settings. You use the capital more effectively in this manner.
KVM, but on the other hand, involves a total virtualization approach. Through KVM, Windows VPS and Linux Virtual Machines will operate side-by-side within the same hardware. Every virtual machine seems to have its own virtualized hardware: individual kernel, network card, drive, graphics adapter, and so on. As it has its own virtualized hardware, the virtual server can operate on its own. OpenVZ Vs KVM VPS Difference.
4) Standard VPS V/S KVM VPS
KVM VPS Hosting has extra advantages to those provided by traditional VPS Hosting companies. It arrives with a relatively high availability feature that will make it possible to create a server in a few minutes. More often than not, the KVM VPS hosting packages are equipped with free SSD storage, which decreases the likelihood of engine malfunction as opposed to the HDD. You will have a stable system that guarantees continuous power and solid operations with a 99.99 percent uptime response. KVM Data centers are secured only with the finest HVAC architecture and state-of-the-art network switches.
5) Sole Ownership
Our VPS hosting provides root access, by means of which in return you can directly access the server. Virtual web hosting is highly secured than shared servers, as it is private from others via high-end virtualization techniques. This system provides anyone with the liberty related to own the server machine that is simply similar to a dedicated server. However, at a lower price, it is worth it. Whenever anyone personalizes any VPS server, you attain devoted computing resources. In conjunction with that, the ability to pick the operating system that serves essential mission-critical software. Each VPS customer will have their very own IP address as well as a mail server, which enables the client to avoid spamming threats.
6) Cost-effective than alternate Solutions
VPS hosting can be expensive when compared to shared web hosting, but the benefits are still considered far better than the price factor. In addition, thanks to the actual development of technology, it is expected that the values of the KVM VPS Internet Hosting Service will descend in the immediate future. This was anticipated that you can find a variety of service providers offering the finest KVM VPS internet hosting services at low rates. In addition, VPS packages come along with the control panel, in which they revise and keep the output of one's website at the top. We deliver secure and easy VPS hosting at a low price for your technological usage. Your VPS will be stable, quick, and easy.
7) KVM VPS is Highly Scalable
The strongest KVM VPS packages will also be extremely scalable and adjustable. In this hosting dynamic, data is collected on scalable servers. KVM VPS servers can also be increased or decreased. Whenever possible, together with the traffic, events are correlated with external VPS customers that will not impact your processes, since you have your personal and private space to eventually wind up being capable of working with.
8) Offers Brilliant Customer Support
There is a range of service companies delivering dedicated tech support teams to their customers all around the clock. VPS hardware, especially KVM with computer applications too, strives to be carefully supervised by knowledgeable experts. That's why it is usually able to solve almost any sort of potential problem intelligently. A strong business has a squad of professionals working around the clock to help you handle the servers. You should call them if you have any problems and the service providers can support you to fix any problems. If you ever make the decision to purchase a KVM VPS Hosting, the team will surely provide you technical support by phone, Live Chat, and email as well as answer any questions that you might have.
9) Flexible functionality like no other
KVM VPS Hosting strives at offering the kind of performance other virtualization techniques have failed to provide so far, at such affordable rates. It is your sole responsibility that the KVM VPS package that you opt for, as well as the provider you're purchasing it from, ensures the level of flexibility that you require. The KVM VPS hosting service must be trustworthy and able to provide robust results. Ultimately, balance the quality of the plans provided by various hosting companies and then go for the most flexible and scalable option. Although cost need not be the driving factor, it is also important to opt for policies that can help you save money over the long run.
10) Support for Virtualization
If you have a system that facilitates Virtualization, you can get there yourself on your home computer; KVM Virtualization could be performed on any device running any Linux OS and processor that supports Virtualization. The Linux kernel edition 2.6.20 KVM system can be integrated further into the mainstream of the Linux kernel. (KVM) is a total virtualization framework that helps the Linux operating system to operate mostly as a hypervisor.
11) Backup Solutions for KVM VPS
There are hosting providers that offer backup facilities for their KVM VPS packages as well. Granting the customers liberty to secure and providing them the permission to retrieve and access their data conveniently allows them to carry-out a much more robust and secure KVM VPS experience. In order to make the website free of data-heft risks, KVM VPS providers ensure that backup policies are set into motions and adhered to.
Conclusion
Are you considering choosing from one of the finest hosting platforms? It is noted that a large majority of organizations struggle with success as they fail to perceive the capacity to have enough knowledge in the selection of the proper strategy. It's important to identify the appropriate KVM VPS hosting service that offers you a bigger proportion of everything you need for your website and it is about time you opt for a premium provider that will ensure everything you've hoped for and more!