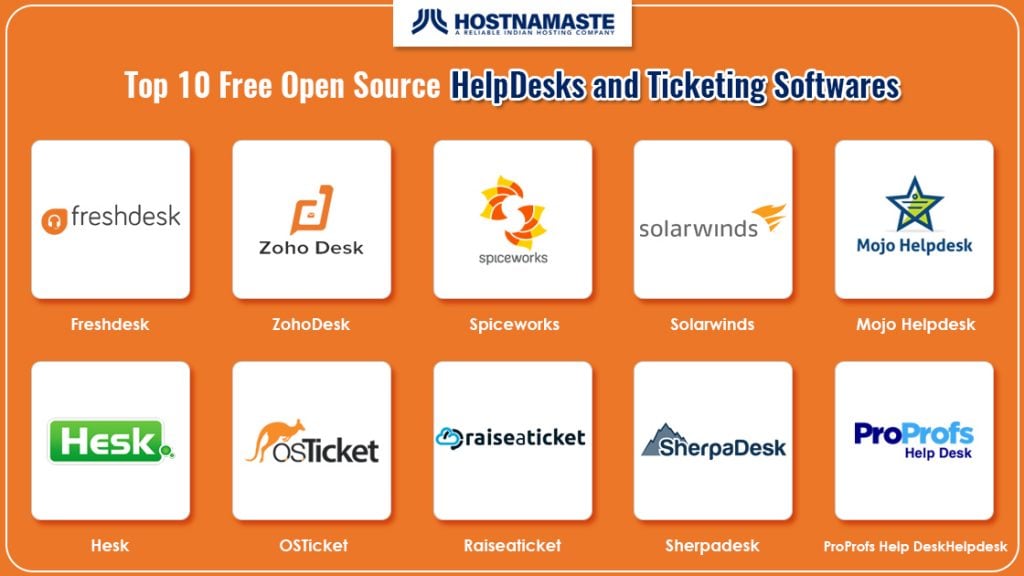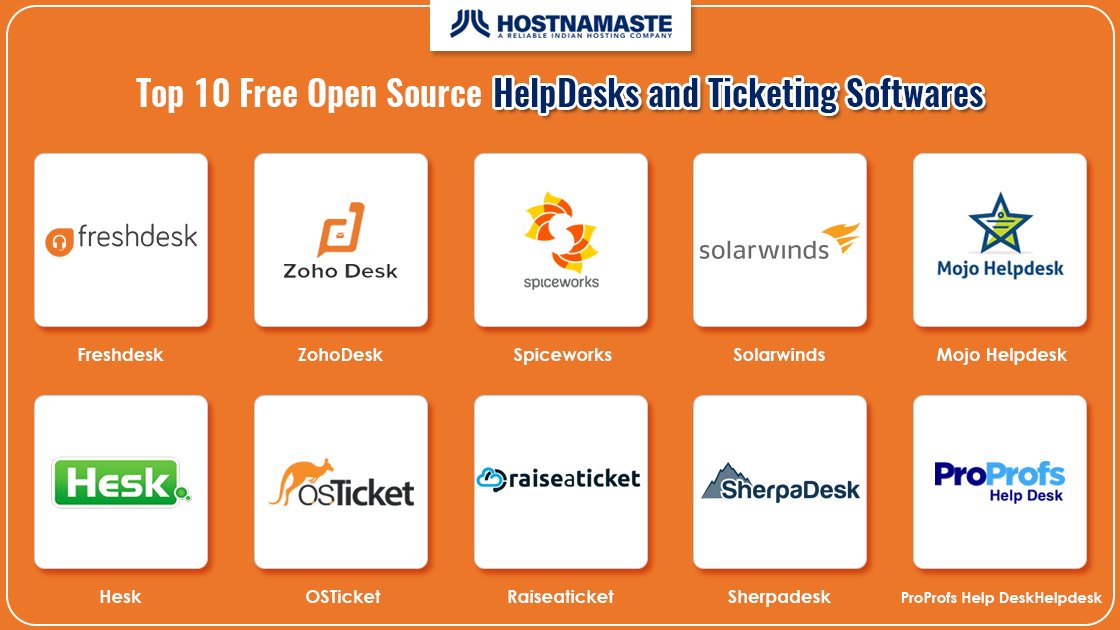 Helpdesk apps are designed to document, maintain, and keep track of the issues that are faced by customers of a certain brand. It is a central database that records the instances of customer concerns and the issues resolutions offered.
Helpdesk software helps businesses to improve user experience. These web applications have changed the way of dealing with problems and customer issued. The helpdesk & ticketing software reduces the IT service loads, and rapidly resolves consumer issues. 
What are Helpdesk and Ticketing Systems?
The helpdesk software is used not only to provide technical support and troubleshooting services to customers. It is also used by IT teams to resolve internal issues and complaints. The ticketing system helps to efficiently capture, handle, and track client's problems right from the start till the end. 
Tickets are small documented instances which store all customer interaction with their support agent. The ticket gets shared with the support agent and customer from the moment the customer contacts the support agent with a query, until it gets resolved. Every interaction gets stored as updates on the ticket. The moment the problem gets resolved, the support agent closes that ticket. 
Important features that add value to your business
• Point of contact – It defines how the client can gain access to your support. It can include social media, message, phone, email, etc.
• Ticket Management System – Saves and maintains customer queries in ticket forms. It allows for timely follow-ups and issue resolutions. 
• Self-service Feature – Consists of inbuilt knowledgebase including myriads of FAQs associated with customer queries.
• Intelligent Automation Mechanism – Customers ask repetitive and predictable questions, which get detected and intelligently automated, thus saving time.
• Social Integration – Supports integration with social media networks like Twitter and Facebook. This helps to get updates or product feedback.  
Major benefits of help desk & ticketing solution
• Efficiency – Customer issues get quickly submitted and resolved. It improves the overall productivity.
• Organizing – The software multi-tasks, allowing staff to prioritize and organize problems accordingly.
• Customizing – Businesses can configure the software as per their needs.
• Auto-assign feature – Tickets get arranged and assigned automatically to the team responsible for resolving. 
• Security & Scalability – As the majority of helpdesk apps are cloud-based. Your customer database always stays protected.
You will need to choose the right software for your business. The one you choose should have all the necessary features for automating your business. To make it easy for you, let's looks at the top 10 ticketing and helpdesk tools to choose from.
Top 10 Free and Open Source Helpdesks and Ticketing Softwares: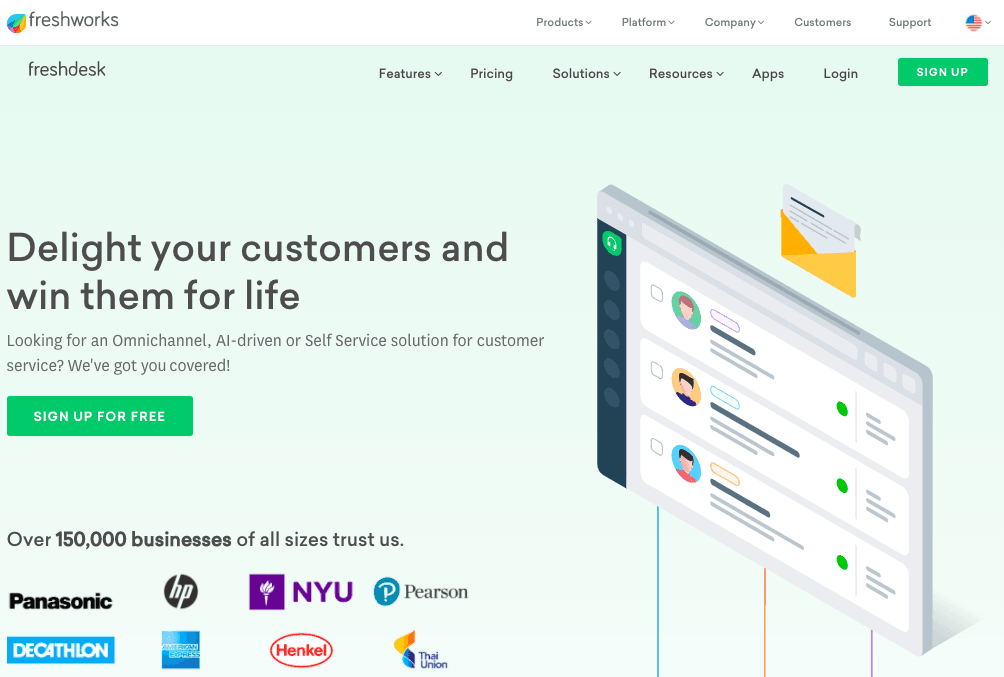 FreshDesk software is multi-channel and multi-lingual help desk solution. It allows automating of workflows, managing SLAs, offering self-service, and evaluating metrics to help you stay on the top of customer support. The free version includes reporting, knowledge-based management, social media ticketing, and email ticketing.
Open & closed ticket status can be tracked in real-time. FreshDesk offers 24/7 email support and 24×5 phone support for a free version. The paid plans include Blossom, Garden, Forest, and Estate that includes features like service level agreement management, surveys, event-based triggers, and chat-based support.
Pros –
• Sprout plan allows unlimited users for free
• Offers intuitive mobile and web interfaces
• Self-service feature
• Apps for Android and iOS
Cons –
• Standard reports can be improved
• Dashboard customization has its limits
• Spam message cannot be detected effectively
• Best software for seamless and stellar customer support!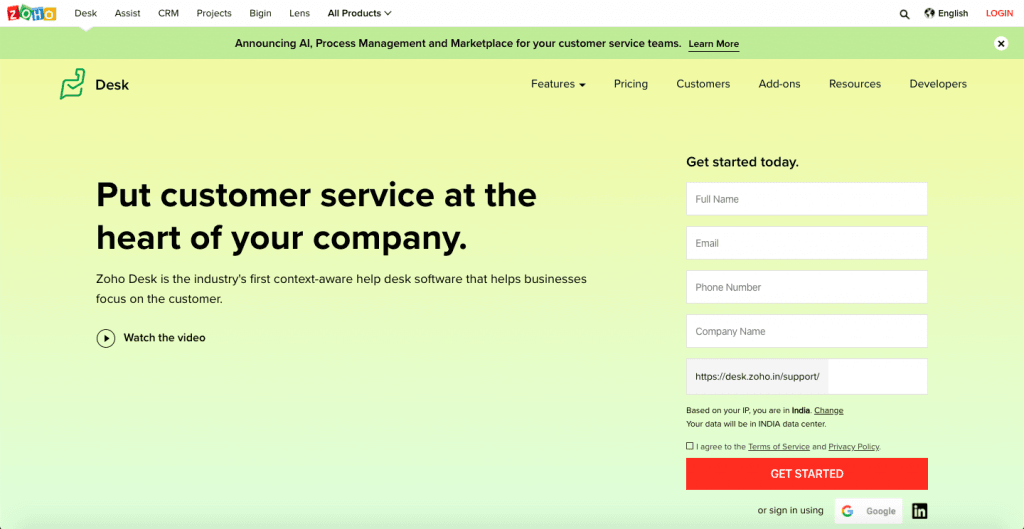 Zoho Desk, a cloud-based solution that offers features like customer support portal, ticket management, report creation, and contract management. It allows interacting with different media from a single point.
You can configure workflow rules and automate tasks like, service escalations, ticket assignments, and notification timing. Schedules reports, the graphical dashboard for customer satisfaction analysis and happiness ratings are also provided. In short, Zoho Desk is capable and user friendly. 
Pros –
• The knowledgebase can be created easily
• You can setup a community forum
• Allows a wide range of integrations
Cons –
• Ticketing interface has scopes for further improvements
• Configuration and customization takes some time on Zoho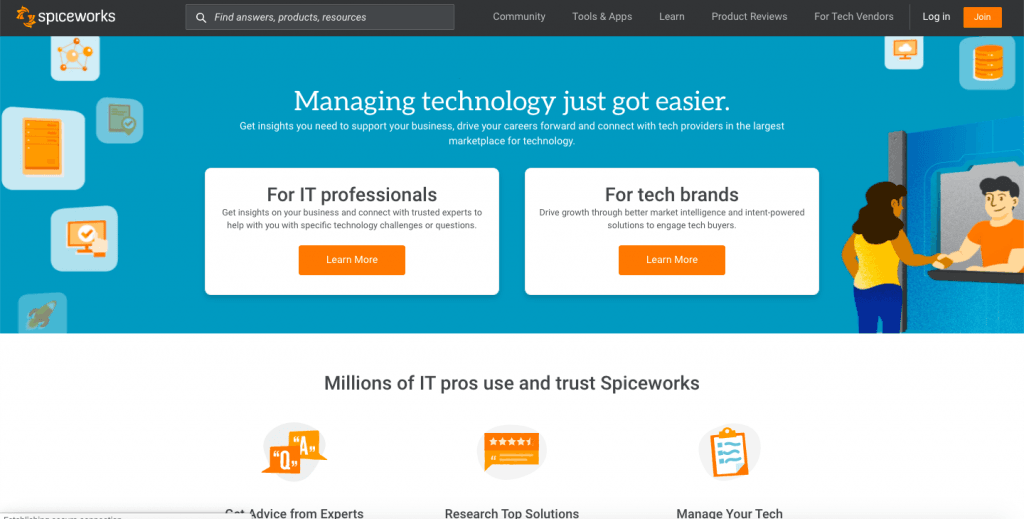 Spiceworks is focused on network monitoring and project management. The current updates are designed to help IT departments deal with any relevant requests that employees and customers throw their way.
It does not support the ITIL [Information Technology Infrastructure Library] guidelines like Freshdesk, but it has everything to help companies in increasing productivity through solid ticket management & automatic response capabilities, intuitive self-service, user portal, and comprehensive knowledgebase features.
Spiceworks Helpdesk does not have any ticket limits. No charges for storage or support, and for hosting or adding multiple locations. You can choose an on-premise or cloud-based version. 
Pros –
• A totally free tool with the vast and diverse user community
• Easy customization
• Active Directory users can be managed with ease
• Inventory scanning feature allows doing PC search quickly and easily. 
Cons –
• It has all basic features, but if your organization needs a comprehensive suite, then Spiceworks might not fulfill your requirements as efficiently. 
• Supports MS Windows only, so if you have a Linux, then it will not be compatible.
• The Mac version is unavailable.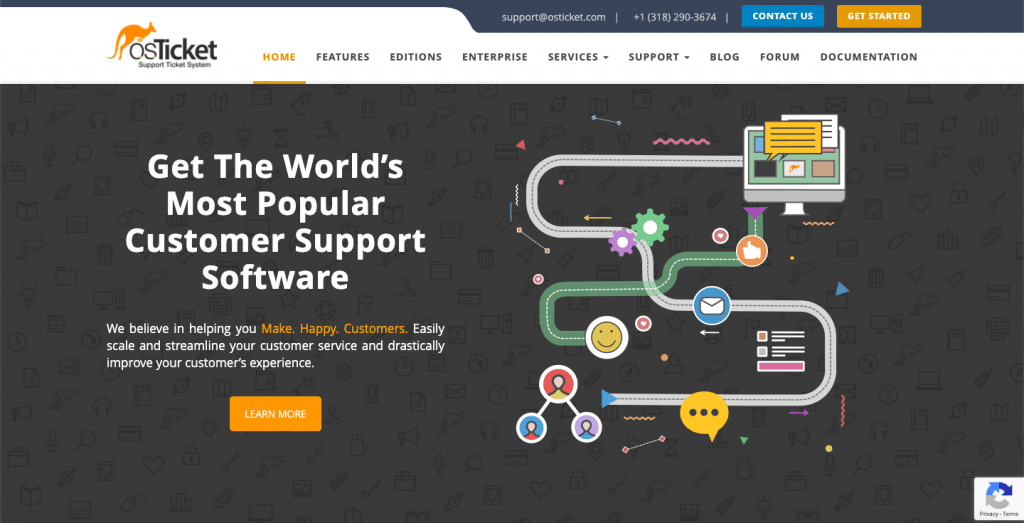 OSTicket's autoresponder feature allows setting workflow according to ticket nature. It allows unlimited SLAs that can be associated with ticket filters, different departments, help topics, and notifications on missed due dates. You can even add a video, image, or logo to customize the ticket for every department, and address recipient personally. 
It allows for streamlining the tasks of routing tickets to precise department or agents. Triggered actions can be configured, like sending ticket rejection, or automated canned responses. To accelerate the response time, you can configure help topics. 
Pros –
• Offers unlimited SLA agreements 
• Allows automated canned responses
• Autoresponder allows configuring workflow as per ticket nature.
Cons –
• Not suitable for big problems where resolving of issues take some time.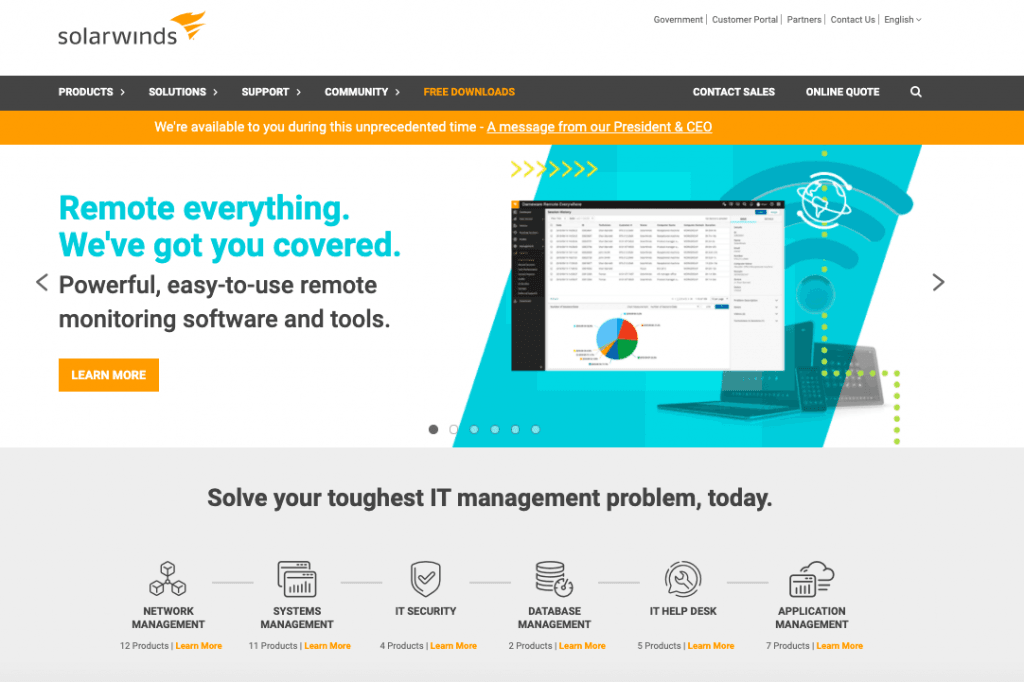 The interface of this app is user-friendly and easy to install. Large text buttons make customizations and navigation easy. Patch Manager feature easily separates the issues and assigns the tickets to the right departments.
Ticket management activities like ticket creation, prioritization, and assignment can be automated. Solarwinds has a web-based dashboard that offers self-service options and submits service requests. 
Pros –
• Quick response
• User-friendly and reliable
• Patch management
• Asset reporting
• Tracks tickets based on department, user, ticket status, and issues
• Locate the previous ticket to understand the resolution offered, and use it on future tickets
Cons –
• Lacks mobile app for iOS
• Email notifications are cluttered, at times
• Little click heavy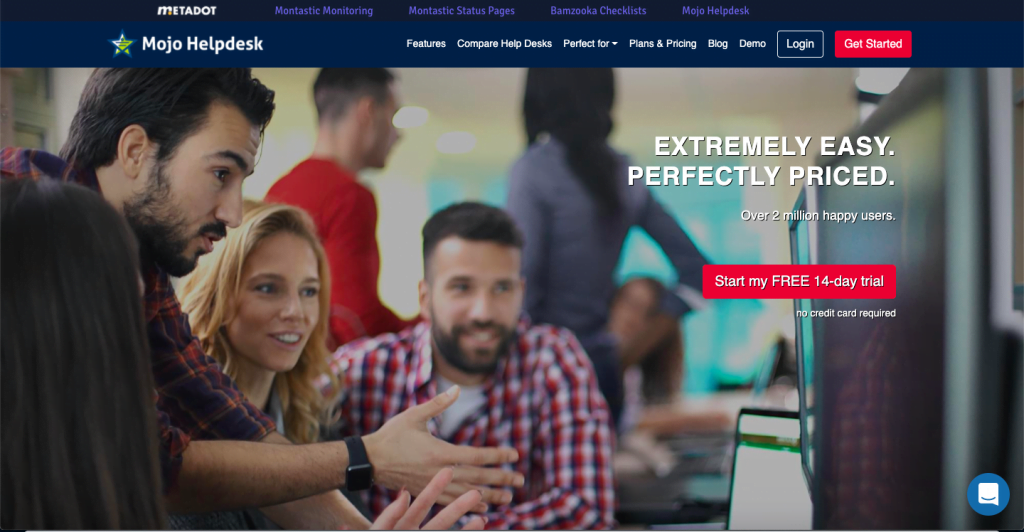 The main highlight of the Mojo Helpdesk is that all your incoming requests are centralized into a single hub. The interface is similar to Gmail, but only on its surface. In its core, Mojo is a potent tool that integrates totally with G Suite.
Using a Gmail account, you can directly log into the Mojo page. The software allows using custom forms, creating a self-service portal, and centralizing requests. Other well-chosen functions in this slim package include automation options, email integration, and conversation-like threads. You can choose a free plan to get an idea, but it has its limitations. 
Pros –
• Easy to use
• Multi-platform support
• Unlimited customized ticket forms
• FAQ type formatting alternative
• Handy knowledge base portal including videos, links, FAQ's, etc.
• For testing, you can turn off the knowledge base content 
Cons –
• Limited branding option
• Cannot control the creation of duplicate tickets, which can impact metrics while reporting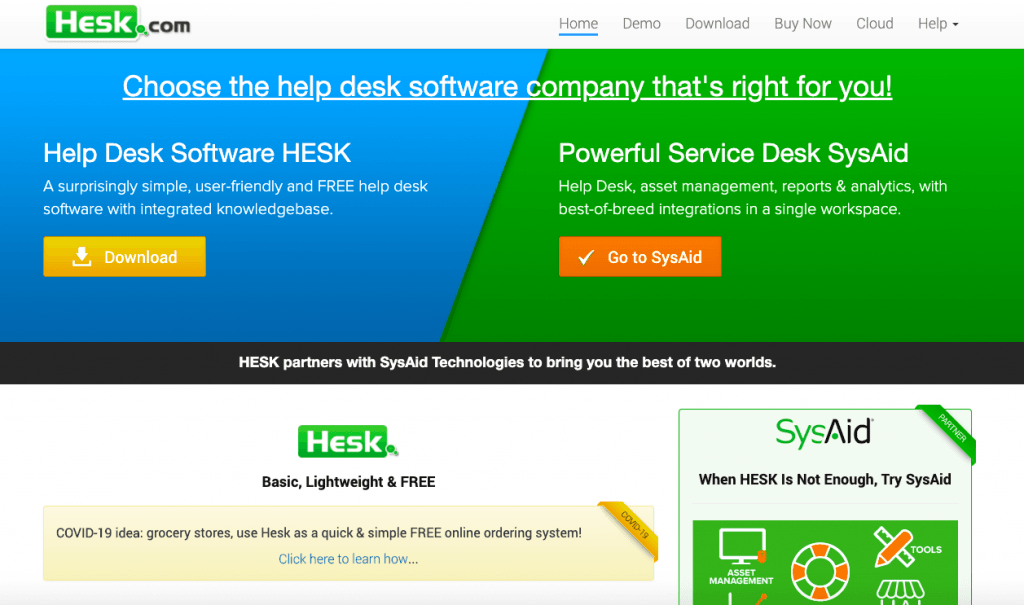 Hesk is a lightweight option with easy to use simple interface. Beginners can easily handle the app and the total setup process takes a few minutes. Web-based tickets can be managed via an app. It can be configured and customized as per your business needs. 
Pros –
• Prioritizes and categorizes all the tickets
• Creates a knowledgeable base
• Easy to setup
• Intuitive interface
• Lightweight 
Cons – 
To remove the tag 'Powered by Hesk' you will have to pay.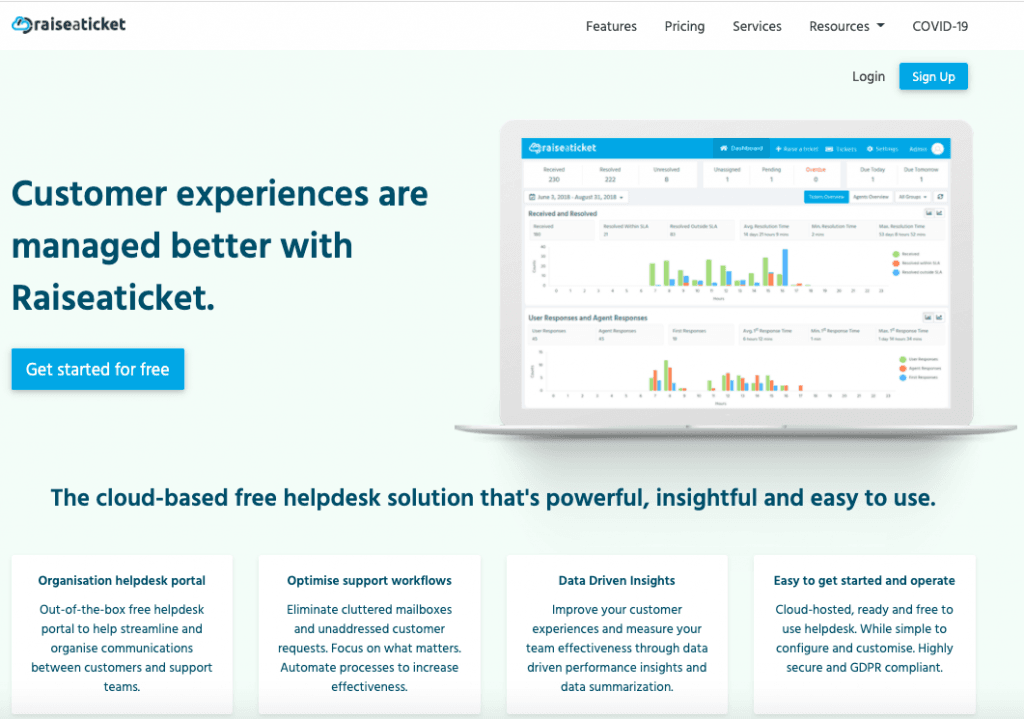 Raiseaticket – Web-based helpdesk software has been offering top customer care in sectors like logistics, aviation, enterprise, technology, and government. The system is capable to deal with the multi-company web along with multi-team and email customer support activities. Its strong dashboard includes a wide arrangement of reporting tools that can help to monitor support operations, supervision, and management.
The unified portal helps to transfer the requests between agents and departments that can deal with customer specific queries. Simultaneously, the possibility of tickets getting ignored or remaining unaddressed gets eliminated. 
Pros –
• New users can easily get the hang of it with the intuitive UI
• Training is offered via webinars, documentation, and in-person
• 24/7 live representative and online support
• Has more features than the basic ones offered by other ticketing solutions
Cons –
• Ticket quota is limited
• Get a 360-degree view of customer support with free Raisaticket helped system. Enhance customer satisfaction and experience!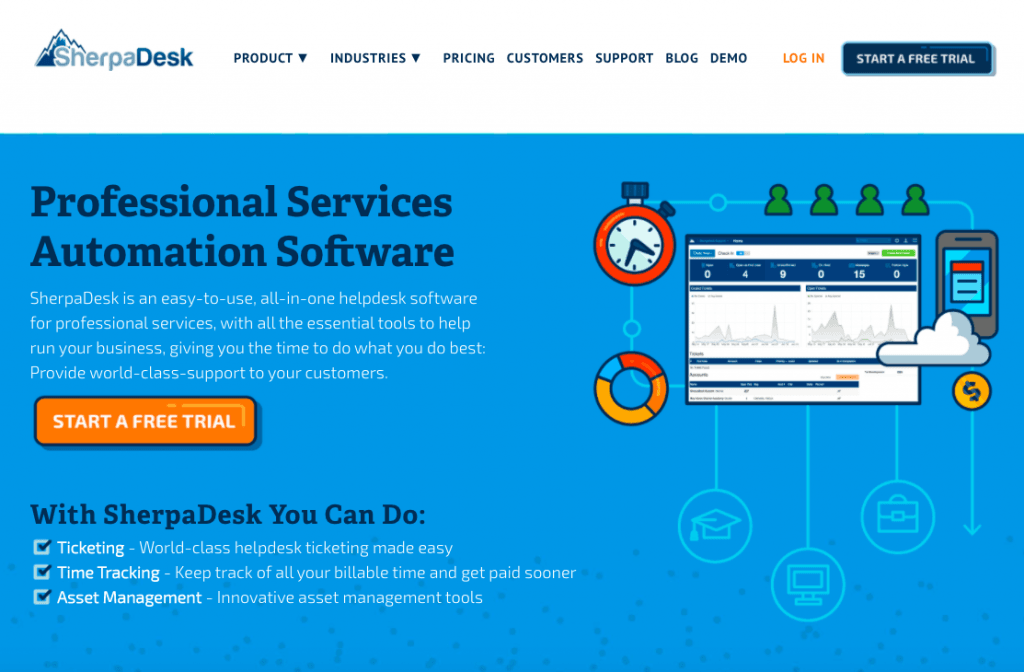 SherpaDesk is cloud-based PSA [Professional Service Automation] solution, which integrates the core processes of every business within a single platform. You can capture billable and non-billable employee's time, monitor the project's productivity, and track customer service exceptions. You can even opt for a mobile version, which allows technicians working on the field login their time and expenditures. 
Pros –
• You can setup email dropboxes, hardware outages, priority problems, etc.
• Group similar tickets and route issues to a specific technician for fast resolution
• Fulfil SLA guidelines and create teams success reports
• Event notification and ticket types can be configured to avoid addressing queries of important customers. 
• Self-portal for personalised support experience
Cons –
• Needs an intense learning curve
• The interface looks great, but takes some time to understand navigation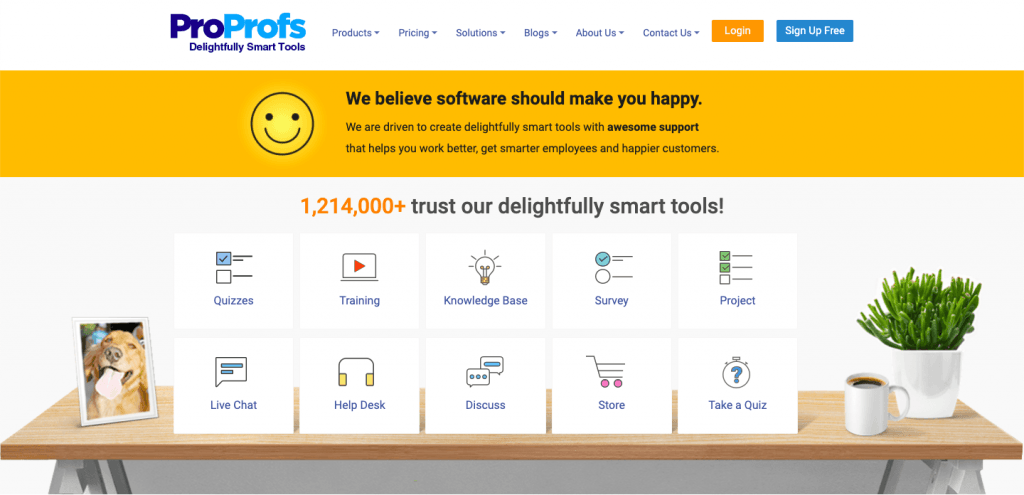 ProProfs Help Desk – A cloud-based customer support solution features a knowledgebase, shared inboxes, and chat options for seamless interaction and quick issue resolution. This results in great customer satisfaction as well as experience.
Customer support inboxes get managed automatically, and the mails get categorized using priorities and internal notes. This allows timely expert responses to customer issues or queries.
Knowledgebase functionality helps to reduce 80% ticket requests.
Employees can access guides, manuals, tips, and documentation with this inbuilt knowledgebase. They get familiar with customer's problems and offer intelligent solutions. Smart reports, surveys, and live chat are other remarkable features.
Pros –
• Shared inboxes for collaborative teamwork
• Track, prioritize, and solve customer queries on-time
• No unattended, unresolved, or missed tickets
• A scalable and reliable solution
• Inbuilt knowledgebase
• Real-time NPS and customer surveys
• Monitoring & tracking agent's performance
• Optimized for mobile phones
Cons –
• Needs social media integration
Help Desk ticketing software pricing plan
Most of the helpdesk apps offer a free trial for 15 days or a month. If you feel satisfied, then you can switch to an upgraded pricing plan. Every price package differs. The free trial is available with all the advanced features for a limited period.
Other packages are charged annually. The prices are based on their included features. You can choose help desk software based on budget, SLA features, number of support agents, integrations, language support, scalability, analysis & reports, and support channels. 
Latest 2020 trends in Helpdesk Software to help your business stay ahead
Installing helpdesk ticketing software is not sufficient. You will need to be familiar with the latest 2020 trends to get a competitive edge. The key 2020 trends you need to follow are –
Employee experience is crucial for the success of your business
Customer experience is the main focus, but even employee experience must not be ignored. Remember, customers are unable to understand the solution quickly. The support team has to explain to them several times. Every time they do it, the client comes up with some more doubts. If the support team loses their cool and started yelling……you lose a client forever!
This is not right. An unsatisfied employee will never be capable to offer great customer service. Therefore it is necessary to concentrate on employee experiences. Ensure they are happy with their work.
In the near future, AI will certainly gain popularity
Automation is getting popular in customer support, but you must remember to maintain a human touch with every customer reaction. Sending automated personalized solutions to customer queries can be managed with AI, which is used in helpdesk solutions.
People skills for delightful customer support
The helpdesk staff will need to learn and perfect the people's skills. After every agent-customer interaction, the customer-support experience has to be efficient. Companies need to offer sufficient training to their customer service employees to empower their people skills. They need to get insight and ways to implement them in real-life situations. People skills include empathy, good judgment, patience, active listening, and solid communication skills.