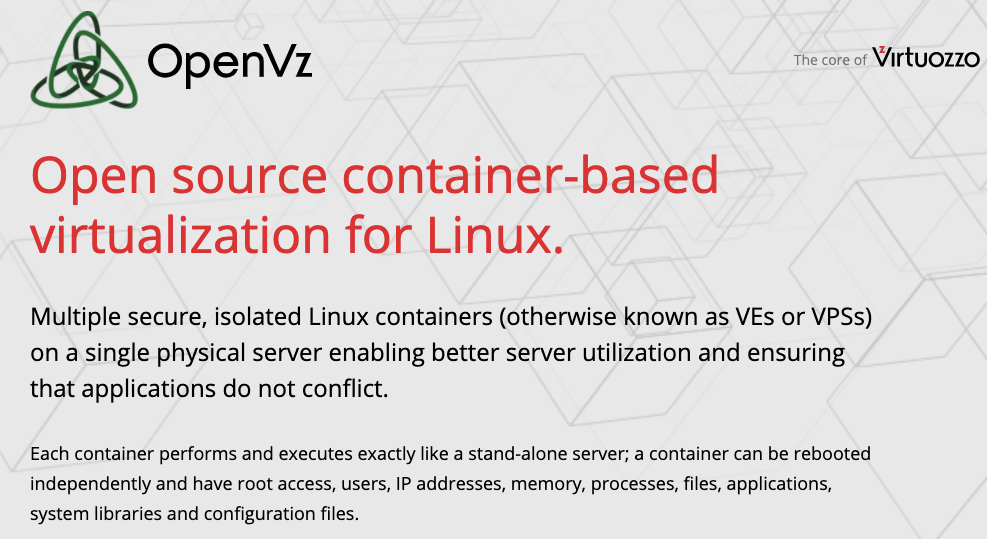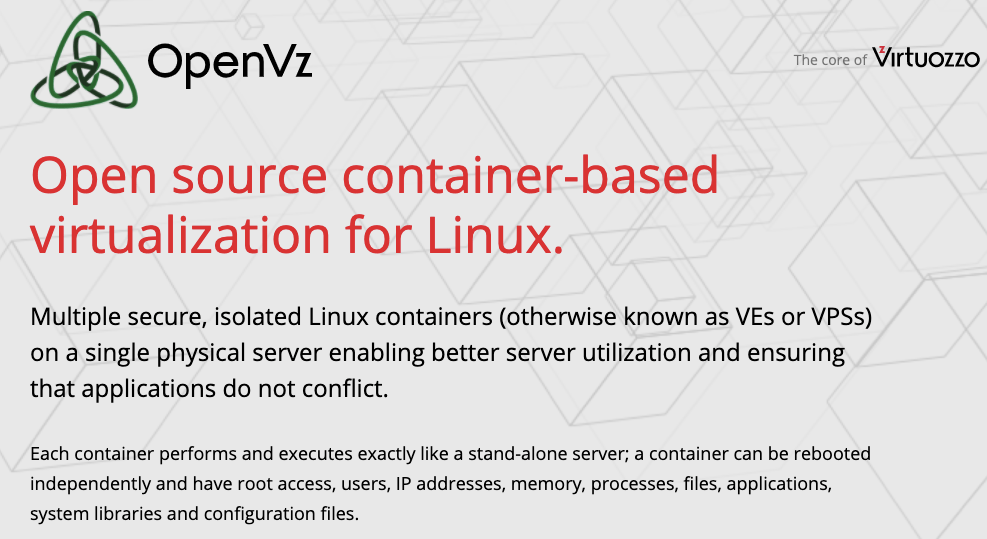 What is OpenVZ Virtualization? – All You Need to Know about the OpenVZ Virtualization – HostNamaste
What virtualization is right for me is a concern that sometimes occurs when a customer is looking at a VPS. When you've measured RAM and disc space requirements, it becomes essential to take a look at what web host virtualization provides. Before we start talking about the authentic definition of Virtualization, let's begin with a simple introduction about what VPS actually is and stands for.  
 VPS stands for a virtual private server, which clearly indicates that a singular system is segmented into different servers that each operate like a dedicated machine. Although VPS hosting is somewhat similar to shared hosting given to the fact that many accounts are housed on a central server, VPS web host ensures that you are provided dedicated services for your website and isolates the sites from those that are hosted on the same network. Even more so when you operate an eCommerce business, it is incredibly important that you maintain a functional website or you might enrage the consumers and miss out on making your business thrive.
What is OpenVZ Virtualization and Why is it Important?
Now that you're aware of a Virtual Private Server and its core meaning, you can commence with your knowledge of OpenVZ Virtualization. OpenVZ Virtualization can be termed as an operating system-level server infrastructure that is mainly based on the Linux kernel and OS. This is a container-oriented virtualization approach that helps website operators to deploy many, separate operating system instances on a web server. 
 OS level virtualization ensures that certain basic modules reside while still on the system and are utilized by all visitors identical to the same kernel. This ensures that every other container shares a certain upstream Operating System but also runs as a stable, discrete Linux container. Every container operates and runs precisely as a stand-alone server; the database can be rebooted individually and has root privileges, accounts, IP addresses, memory, processes, data, applications, device libraries, and configuration data. 
 This approach ensures you provide more powerful OpenVZ tools and use the resources far more effectively. It is a Linux-based virtualization framework that can run Linux-based operating systems namely Debian, Fedora, Centos, and many more. It absolutely needs both the host and the user OS to operate Linux. Even though OpenVZ utilizes a specific Linux kernel fix, but because it doesn't use an overhead for valid hypervisors, it's extremely fast and incredibly effective. With that being said, not acquiring the downtime of a true hypervisor is what makes OpenVZ superior and faster than its competition in the market.
Virtualization and Para-Virtualization
An OpenVZ technology is considered to be quite significant for users as from the viewpoint of the operating system, the virtual machine has its own Para-virtualized or virtualized hardware in complete virtualization. This hardware is known to power the kernel, only allowing the Virtual Servers to have a separate one. This may not be the situation for OpenVZ – the virtual server itself does not contain the hardware, it does not have a PCI or some other network, nor does it require a new network card. OpenVZ doesn't have its individual kernel either and the apps that are run together are functioning under the host kernel. 
 For those readers that fail to understand the importance of OpenVZ Virtualization, it is vital to grasp the uses of full virtualization and Para-virtualization. There is a layer between the OS and the hardware that is acknowledged as the hypervisor in complete virtualization. The h hypervisor is optimized to merge resources inside the system to generate high rivalry between the different instances of the operating systems. 
In the case of Para-virtualization, the hypervisor functions rather differently, enabling the multiple guest operating systems to collaborate rather than compete. Each guest of the Operating system is conscious of the virtualized world and complies with the hypervisor to achieve virtualization. It's an OS-level software implementation that uses the kernel to split the OS into partitions known as the containers. The kernel itself would be accessed by a variety of VPS. The OpenVZ services are split into two committed and burst resources. 
 Dedicated services are just what the OpenVZ VPS is assured to get if it requests for them. While on the other hand, Burst services are accessible from surplus power in the device. This structure of virtualization enables one VPS to rent or utilize resources owned by other VPSs that are currently not being optimized. Burst services will help you satisfy the need for additional resources in the short term. However, you are even allowed to terminate your processes whenever you feel the necessity for it. 
Pros of OpenVZ Virtualization
The main strength of OpenVZ is the effective utilization of resources. It saves a considerable amount of memory and CPUs. Around the same time, it helps in better output even though it does not operate complete virtualization emulation on various kernels.

Some of the benefits include the ease of its configuration, usage, and management. It is also the most inexpensive container per VPS.

Improved and simplified implementation of OpenVZ, because there is no additional element of virtualization between the host and the VPS that ensures that there is practically no overhead for the designated CPU, memory, and plate properties.

The OS assigns the part to the OS as it provides a low memory impression. This sets an outstanding judgment on OpenVZ for limited memory VPSs.

OpenVZ is usually a good choice for someone who does not have unusual requirements.

OpenVZ has lower overhead prices and easier maintenance. Along with this, the configuration is rather convenient to get a hang of.

Upgrades to software can also be supported by separate launches of a range of containerized micro-services. This versatility makes minimal dark releases and rollback improvements at the micro-service stage.

With OpenVZ, you will reap the privileges of a dedicated server without any disadvantages. Build a container for each program to allow more effective use of existing equipment. This methodology can be deployed fully in a transparent way for the betterment of the users utilizing OpenVZ.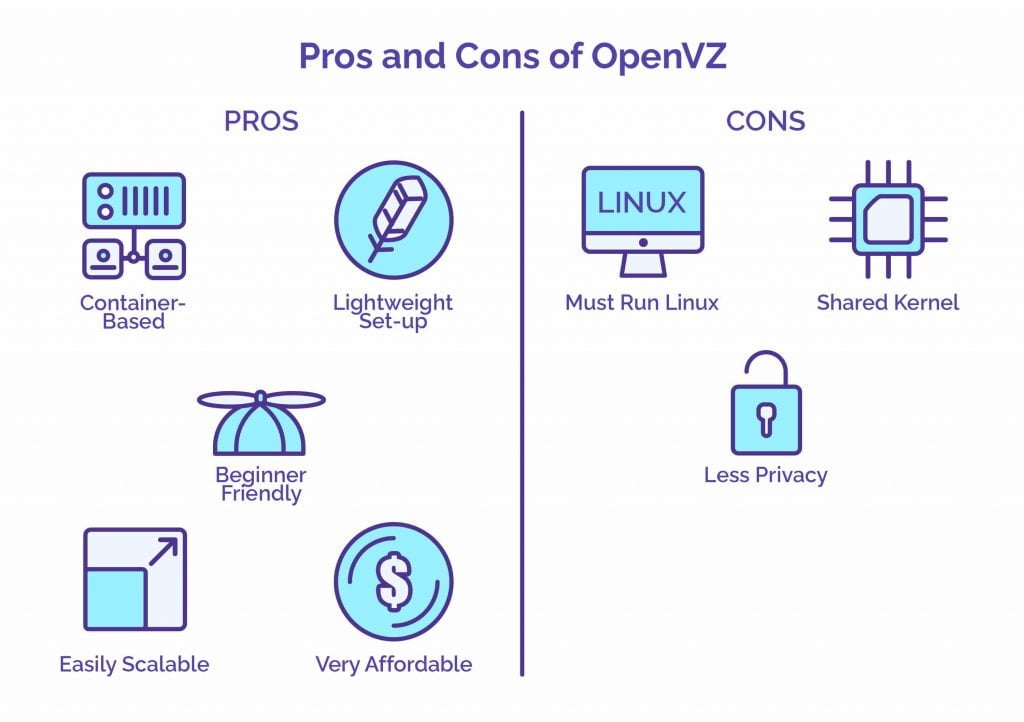 Cons of OpenVZ Virtualization
The drawbacks are due to the lack of versatility that OpenVZ has. There seems to be a possibility that if a single kernel crashes, every VPS instance operating on the same host will be impacted.

It is not possible to remotely integrate the OS. It is limited to the Linux OS only by restricting its functionality.

In OpenVZ Virtualization, the functionality does allow the user to take advantage of complete virtualization technology. Instead, one piece is shared by each working system.

Not every bit module can be reached. OpenVZ users have also encountered that it is also difficult to configure the VPS setup.

As with all other virtualization operations, the CPU and the device port are shared between all VPSs in the network.

Another downside is that OpenVZ VPS is vulnerable to over-selling by disreputable hosts who over-sell services to certain accounts.
Reasons to use OpenVZ Virtualization
 The main reason OpenVZ is successful is due to the fact that it's open-source. Although it lacks some of the versatility over its commercial virtualization rivals, OpenVZ is as strong as the industry leaders to support several Linux virtual machines on Linux servers such as the Red Hat Enterprise or CentOS. Overall savings and equal efficiency are a difficult combination to overcome for new developers or hosting providers.
 Although you do not need to be a well-trained web developer to run OpenVZ as your virtualization platform, you may need to understand how properly program and function on Linux servers. Due to the difficulty of setting up server applications, it is strongly suggested that site owners or bloggers wanting to set up an OpenVZ virtualization, must contract a professional server programmer before attempting to set up a server directly. Communicate with your hosting company if you need a recommendation on how to approach the programmer for this extremely specialized service.
However, it goes without saying that you need to pay close attention to those aspects before optimizing the virtualization of OpenVZ. Even if you're not acquainted with containerization or virtualization, or also lack the overall control of web servers in general, OpenVZ is definitely not the right option for building virtual machines for you. The main drawback with OpenVZ is that it limits access to any computer that has not been already virtualized. As a consequence, no actual (or physical) devices can communicate with OpenVZ.
Impact of OpenVZ
Development and CI/CD
 Containerization provides some major advantages for CI/CD and development operations, namely for DevOps. The main challenge during the implementation of the program is the stage at which the completed code is passed to the testing and manufacturing phase. Sometimes the program that runs perfectly for the developer does not work during implementation testing. Containers are ideally designed for application creation since you can identify all aspects of the application environment inside the container. This ensures that if the program is running in a prototype container, it will run in a final output container that suits it. Testing can be carried out with containers without affecting existing programs. Container initialization is much faster than VMs, enabling the on-demand implementation of CI processes and faster test cycles. Updates to the program can also be supported by individual updates of a range of containerized micro-services.
Big Data and Containers
Methods for moving and transferring the data with containers can be streamlined. A new process container could be built virtually on a data storage container, or a data container could be created and packed on a process container. Most of the Big Data is simply Small Data hidden inside large volumes of irrelevant data. A minimalist method can easily retrieve a small dataset and transfer it to a different machine; for instance, a GPU for processing purposes. Certain methods may be categorized by both volume and form, in addition to requiring more space for exponential growth processes. Data scientists can quickly explore and learn about big data technologies with the help of OpenVZ Virtualization. The end-users are granted fast and stable access to share a broad data program.
Server Consolidation
Recognize the Linux server that is optimized to serve a variety of utilities. You will then have downtime for every service while on an OS upgrade or a failover cluster setup for each service to minimize the downtime. After utilizing OpenVZ, a server may be separated into multiple containers, one for each operation. Live migration for containers helps you to transfer the applications to another cloud and return them to the system after updating. Maintaining a different physical server for each program is usually a positive strategy, increases accessibility, and enhances reliability. Separate servers, though, tend to higher storage and collocation prices, and new hardware is frequently underused in this situation.
How do I know if OpenVZ is suitable for me?
There are other alternatives in the market; one of the biggest rivals of OpenVZ is KVM. The selection between any of these virtualizations is a matter of business and personal requirements. Small differences will have a significant effect on the virtualization experience. You should certainly take a shot at OpenVZ virtualization if you are starting fresh and requiring a kick-start entry to VPS Hosting. 
 You will gain enormous benefits as OpenVZ makes it easy for Linux users to introduce virtualization without any problems. OpenVZ with its reduced overhead costs and easier maintenance and configuration is the perfect option. OpenVZ is fully open source and seems to have no license fees or other such charges involved with the use of the software. Therefore, if you are a little tight on the budget, OpenVz virtualization can be a viable alternative to other services on the market.
All you need to do is pay attention to the hardware specifications of OpenVZ and recognize whether or not you can conveniently accommodate them at your convenience. In order to run OpenVZ, hardware virtualization should acquire support for Intel VT, or the AMD-V must be provided on the hardware. At least 4 CPU cores and 8GB of memory with 32GB of SSD-powered disc space are suggested. These hardware specifications can vary depending on the number of VPSs you choose to run on the node and the number of resources each VPS requires.
Conclusion
 If you're a developer, a reseller of hosting services, or even an owner of a small-scale enterprise, there is no other alternative superior to OpenVZ. This specific type of virtualization technology is far more comfortable to maintain and is one of the rare virtualizations that are termed user-friendly. Everything you needed to know about OpenVZ has been stated above with due diligence. This article aimed to provide an overview of VPS, virtualization technology, OpenVZ pros and cons, its impact with specific use cases, as well as the reasons to implement it. We hope we helped to clear any misconceptions you may have regarding OpenVZ and this article provided you enough insight to reach an informed conclusion.