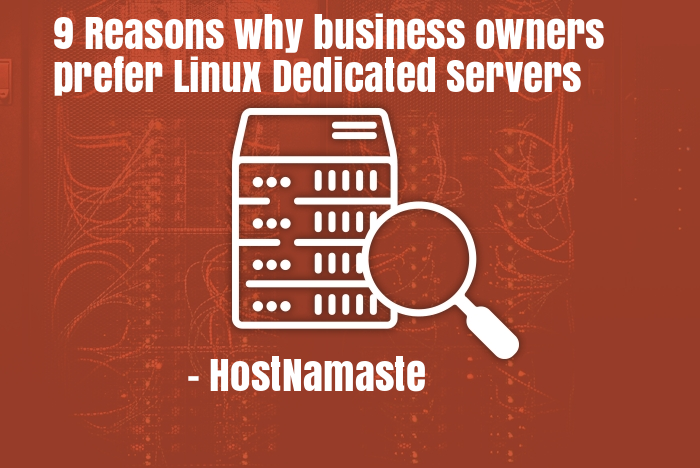 Over the decades, for many organizations, Linux has arisen as one of the most favored web hosting frameworks. The UNIX-based as well as open-source platform is known as more integrated with technological developments. What draws website designers and operators to Linux is its broad community of frameworks, software, and server modules. While selecting a server for your company, a number of factors come into play, notably budget and safety. Yet your company is the most critical consideration amongst everything, at least that's my personal belief.
You must always keep in mind that because your organization depends on it, there is very little sense in trying to cut costs on having a server. Like a missile, Linux dedicated servers took off in the hosting industry. It has continued to become highly popular and is now known as among the most requested dedicated servers in the context of sustainable development worldwide. When did Linux start to evolve?  Why did it suddenly become so important? Right now, I'm confident you must be mulling over various questions in your head.
Table of Contents: 9 Reasons Why Business Owners Prefer Linux Dedicated Servers
Hide
Why Linux is preferred as opposed to Windows?
The time has come when individuals demand lightning-fast progress and continuity with a tight budget.  Windows-powered servers are incredibly costly and are not a match for the speed and technologies of Linux even after imposing a high upgrade fee.
Linux is based on Unix and Unix was initially invented to bestow an efficient, secure and consistent but simple to use environment. Linux technologies are largely regarded for their durability and stability, with many Linux servers operating on the Internet for years avoiding malfunction or even restarting.
Study results suggest that at best 90 percent of the strongest computing advancements are programmed inside Linux. If you need high quality and luxury experience on computers, Linux has proved to be competitive with Windows in all respects. If you research the efficiency and reliability of online companies, at least 9 out of 10 businesses will be operated by a dedicated Linux server.
Linux is usually the option for start-up firms, whereas Microsoft is traditionally the preference for big established businesses. Firms in the center of start-ups and major companies must be aiming to use the VPS (Virtual Private Server). Both Windows and Linux are providing VPS hosting platforms. A VPS operates its very own replication of an OS, making it possible for the customers to update any program installed on the accompanying host.
Proceeding on the discussion, in this blog article, we're addressing nine reasons why companies are using Linux dedicated servers.
1) Cost-effective Servers
Open-source programs including Linux are accessible to the public and that implies that the web hosting providers simply will have to spend on the technical help to deploy and manage it. Professional service expenses are usually shared between all web-hosting users, and therefore the price is comparatively minimal. A dedicated Linux server provides a range of free software optimized for fast and easy integration.  Computer and server software including a DNS server, FTP, and the webserver can be installed and used free of charge. Linux often facilitates common open-source content management (CMS) frameworks including Drupal, WordPress, and Joomla.
Linux has long been an extremely successful operating system for software developers and professionals.  This is despite the reality that Windows, its main competitor, provides a range of customer-friendly functionalities. One of the key factors behind Linux' success is its cost-effectiveness.
2) Recommended for eCommerce Websites
Over the years, Linux Budget Dedicated Servers have become highly preferred by operating eCommerce websites more easily and effectively. Today, hundreds of thousands of people utilize eCommerce sites; thus, only a server that is powerful enough to support such a vast volume of traffic is effective in preserving the accessibility and efficiency of the sites. Linux dedicated servers guarantee that major websites, which typically need a bunch of workload from servers, run seamlessly and as effectively as anticipated.
This is why the Linux operating system works smoothly to a significant extent even through massive cyber-attacks. Microsoft as well as other specialized operating systems, on the other hand, relies on an in-house group to issue security updates and repair vulnerabilities.
3) Top-notch and impenetrable Security
While you're searching for an unbreachable level of security, the only thing you could do would be to pick a dedicated Linux server. As I said earlier, it's an open platform. In addition to being inexpensive, open-source engineering is difficult to be vulnerable to major cyber attacks.
As being open-source, Linux dedicated servers permit anyone on the system to reach the configuration files. If you have access to the course code, it can manually check for any glitches or problems and, then, everyone can continue to repair them.
4) Brilliant Flexibility
The Linux architecture is highly flexible and adaptable to a number of scenarios. Typically, the websites include the use of programming languages like Php, Mysql, or Perl, that is why it is preferable to pick Linux OS versus Windows for web server hosting, as Windows does not enable such programming language. The Linux-based technologies enable the optimization of computer and server software together with embedded systems. Cloud system developers are needed to mount the necessary elements only, saving storage capacity on the corresponding physical servers.
The shell provides a stable framework for operating other applications. It has the kind of programming which allows you to repeatedly run programs, configure server administration functions automatically, and generate better tools and features. This is the simplicity that enables Linux a more secure environment than other technologies. Protection can be improved in Linux by changing security measures and protocols. 
5) Robust Performance
Linux is especially suited to just about any other platform present on the market in terms of functionality and results. It will handle multiple clients within the same database with little complications. Linux is indeed suitable for networking applications. It could be used in combination with a variety of devices even without difficulties. Whenever it comes to managing a large volume of server traffic, Linux dedicated servers are unmatched.
Linux provides a variety of features and tools that help you to accomplish tasks such as server management, user extension, program installation, networking, disc management, and performance monitoring. You can either build programs from the source code or load binary files with Linux.
6) No need for Reboots
Another of the greatest vulnerabilities in Windows is the reset of the system for updates. But so far as Linux is involved, no system reboots are expected, regardless of the size of the upgrade kit! Within Linux, a system or software configuration file may be changed without any need to reboot the program. Whereas, Microsoft Windows entails an obligation to reboot even after a small fix. If it's a driver upgrade or a device upgrade, you'll therefore need restart frequently. Linux also has a secure process control mechanism.
7) Linux Servers are more Stable
Linux has long been seen as a robust operating system with fewer risks of failures and malfunction. In comparison, Linux does not require to be rebooted since it also results in reduced downtime. It is built on UNIX, so UNIX has been developed to have a stable and resilient environment. It's unsurprising that many dedicated Linux servers are already operating without any kind of malfunction for years.
8) No Licensing Fees
For Windows, an organization that uses Windows servers often pays for an operating system or purchases a monthly software license. Instead, if you don't incur any license costs, you can optimize the money on far more urgent problems. In conjunction, the implementation and upgrade of such servers is often very inexpensive and easy. Rest assured, in terms of pricing, there is no better choice than a dedicated Linux server.
9) Open-source Applications
However, as with other technologies, systems work best with equally built applications. This entails that a business running a Linux server ought to be able to use Open Source Web Hosting Control Panels And Applications Effortlessly. It is possible to use a Linux server for Windows programs, but instead, an additional layer of effort is needed to integrate open-source code with Windows for revenue-oriented technology.
Conclusion
The Linux server is cooperative with every company, irrespective of company size and design. So, if you're an eCommerce vendor or even just beginning with your online company, Linux fits perfectly well for you. In essence, choosing the correct Linux server implies you get all the tools you need to run – from computing power to memory to the disc drive. We believe that this blog can assist you to think strategically and select a hosting deal that requires you a competitive advantage over your rivals.
It's possible that picking the right dedicated Linux server package might not be a remedy to any web development situation, although it is preferable to most server hosting platforms, especially Windows. Linux technology can help you introduce managed servers in a smooth and cost-effective manner to maintain the reputation of your company on the market. Linux is extremely versatile and can be tailored to suit the unique server specifications. It provides various tools and features that make it simple for you to execute server managerial functions. It is also a very stable and reliable network.