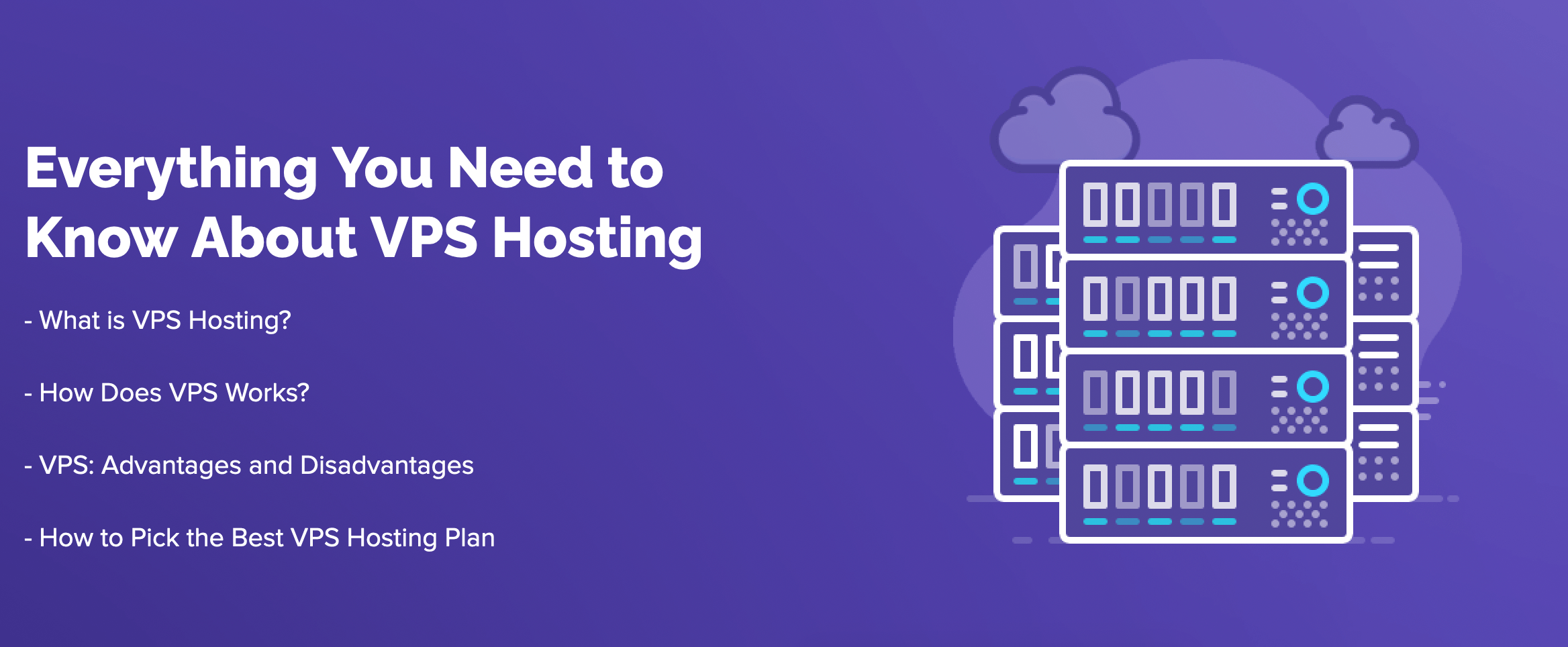 Everything You Need to Know About VPS Hosting – HostNamaste
If you're, in the first place, prepared to make your website working and functioning, it is presumably safe to say that you are also delving into buying web hosting such as VPS hosting. However, purchasing web hosting seems like a battlefield for those who are just starting to explore creating websites.
There is a library of new and unfamiliar terms and acronyms falling from the sky. And one that you will hear and see a lot is VPS or Virtual Private Server. VPS hosting is one of the most well-known hosting services you can select and opt for your site.
It's, for the most part, often selected by website owners and webmasters who have a fair amount of traffic that goes beyond the extent of shared hosting plans. However, it does not need the help of a dedicated server. Does it sink into you already? If not, worry not. In this post, you will learn everything about VPS hosting.
What is VPS Hosting?
Before we go in-depth about VPS hosting, first let us spell out what VPS stands for – Virtual Private Server. Let us define the word server first. To put it simply, a server is an authoritative computer that keeps all of the files and data that creates your site.
For example, when a person enters your domain name into his or her browser, the server will put your site to the searcher's screen. On the other hand, for the virtual facet, Virtual Private Server utilizes virtualization technology to divide the server into multiple servers.
It is like a piece of machinery that works or operates like several multiple servers. Now for the word private. It means just what it entails. Meaning, what's yours is yours. You don't need to share CPU, RAM, or any files with others.
Overall, a Virtual Private Server Hosting provides you with exclusive resources on a single server with multiple users. It is a more stable and secure solution compared to shared hosting where you can't even get a private server space. Not to mention, it much more affordable and offers stellar flexibility compared to shared hosting.
How Does VPS Works?
Virtual Private Server hosting offers users a virtual server that resembles a physical server. But, as a matter of fact, the server is being shared among multiple servers. With the help of the virtualization technology, your server hosting establishes a virtual layer over the OS or operating system of the server.
This virtual layer then splits the server into segments and permits a user to install their own software and operating system. For that reason, a VPS hosting is both private and virtual since you have the entire control over it.
Getting a Virtual Private Server hosting allows you to establish your site within a stable and secure environment with insured resources such as CPU cores, memory, disk space, etc. With that in mind, you won't have to share your server with others.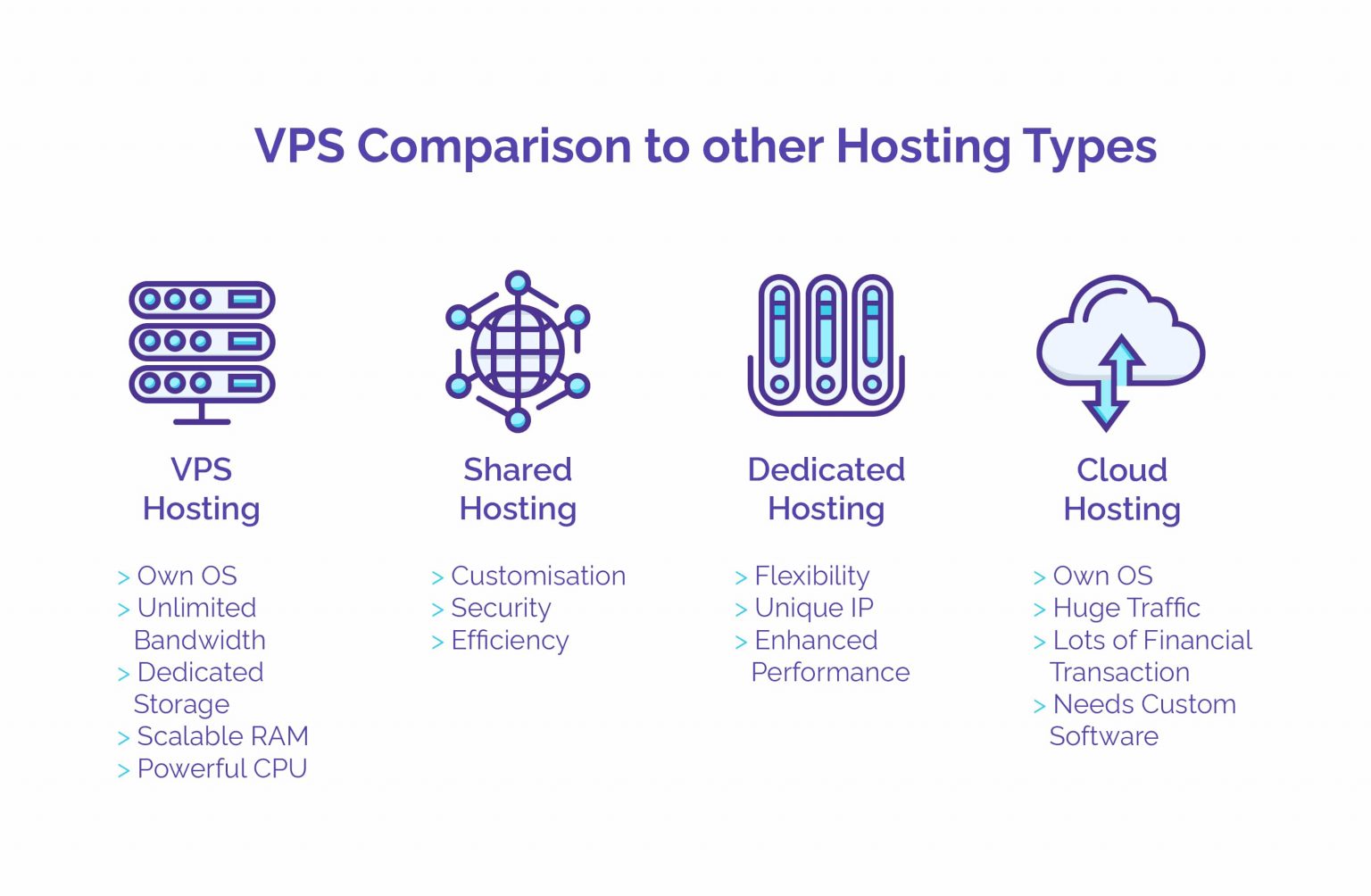 To genuinely understand and fathom how virtual private server works, it is of the utmost importance to become aware of the basics of web hosting. Here is a concise breakdown of the differences between VPS, dedicated, and shared.
VPS Hosting
Virtual Private Server falls between dedicated and shared hosting. If you opt for VPS hosting, there'll be other sites hosted on the very same hardware as yours. However, what sets it apart from the other two is that it is a big one.
By that we mean, your site is, for the most part, the only domain allotted to your virtual compartment. Thus, you get to have your own OS (operating system), unlimited bandwidth, dedicated storage, scalable RAM, and powerful CPU.
With a virtual private server, you can get tons of benefits and advantages of a dedicated server, for a reasonable price.
The most common type of web hosting and goes well for start-up site owners are, more often than not, Shared Hosting. When you buy a shared hosting account, you are also sharing essential and all-important resources such as RAM, CPU, and hard drive space with the other site owners who are also leveraging that shared server.
To better understand what shared hosting is all about, let us use an analogy. Consider a shared server as a vast and enormous apartment complex. , and all of you share the same sentiment. That is to have a place to stay into, like your site's data, but purchasing a big family home would be too costly for your budget.
Sharing utilities and common areas in an apartment complex aids in keeping the costs down, which is also true for shared hosting. Going back to shared hosting, since other site owners are also using the same shared server you have, your web interface will be uncomplicated to navigate because website hosts set up and control the server for the users.
Unfortunately, there are several drawbacks to shared hosting, well most likely because you are sharing critical resources to other owners. For example, when a site owner on your shared server gets a towering spike in traffic, that could impact the performance of your site.
But if your goal is to get your site off the ground and do not have that much traffic volume, then shared hosting is an excellent way to introduce yourself to the online world.
Dedicated Hosting
For the most part, dedicated hosting is, without a doubt, the contrary to shared hosting. Instead of sharing costs and resources with the other site owners, you have one system that's for your website only.
Does it sound great to you? Well, it may cost you more than shared hosting, but you get the complete control over your resources. Plus, you can opt to personalize software to align with your needs.
Dedicated hosting is suitable for sites with vigorous technical demands. Say, for instance, this type of hosting package could be best for you if:
You're installing your own OS (operating system).

You have a huge traffic volume on a daily basis.

You're managing lots of financial transactions.

Your site needs custom software.
Cloud Hosting
Cloud hosting uses one server. However, it's more of a cluster server that works in the cloud. Meaning, every server in the cluster keeps an updated copy of your site. So, if one of the servers is, for the most part, occupied, the cluster, by its own nature, redirects the traffic to a website that has less traffic.
For that reason, there is always a server in the cluster that can accommodate the demands of your site visitors. There is no downtime.
It's good to stress that VPS hosting and cloud hosting are not restricted or limited to each other. Rather, plenty of hosting companies provide virtual private server on a cloud framework.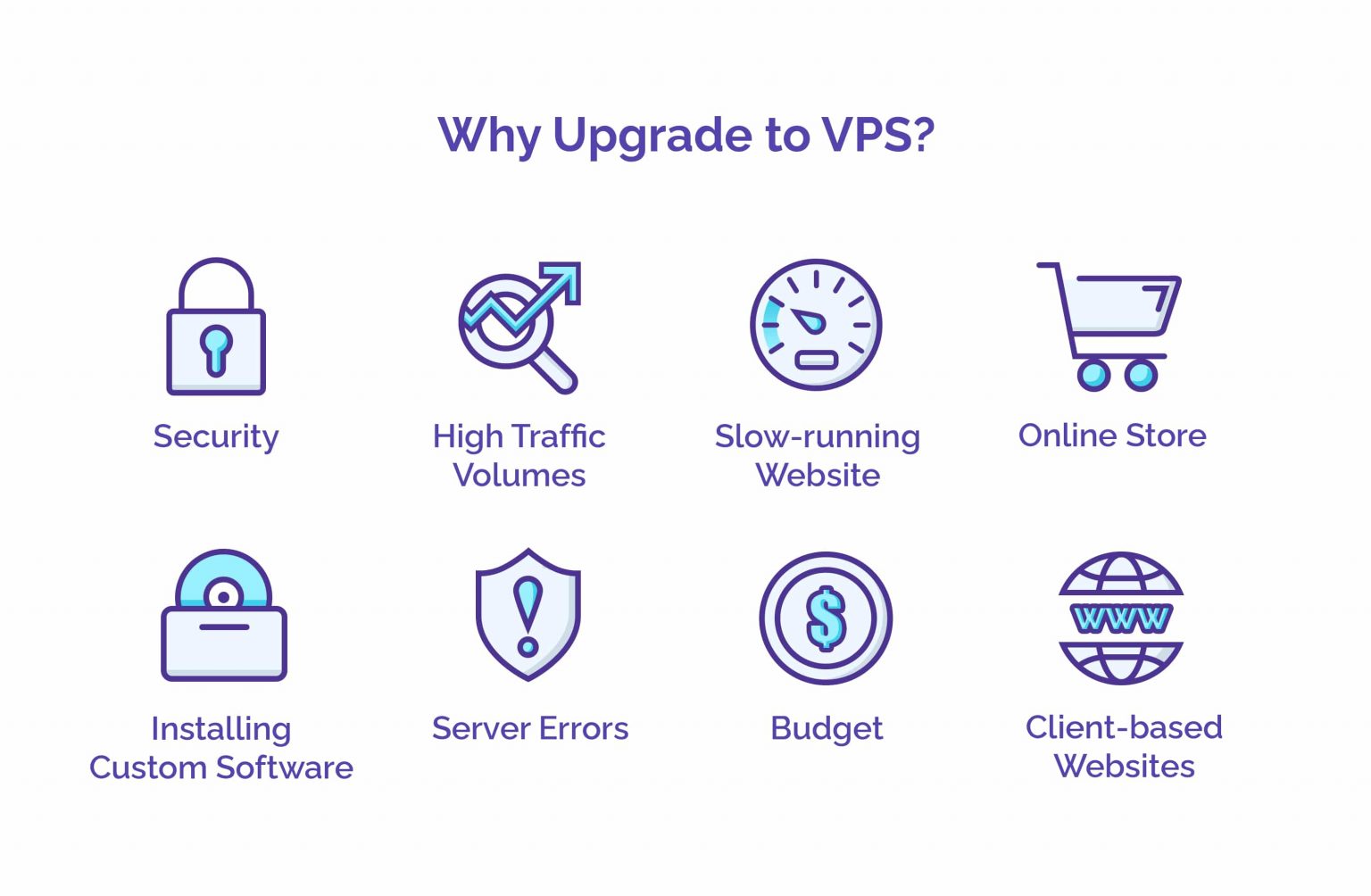 The most excellent way to assess and determine whether you need to upgrade or not to VPS is to monitor your website. For a more in-depth explanation, here's a list of eight indications that tells you when you need to go virtual.
Security
If you are anxious and troubled about your site's security, then perhaps it's time to upgrade to VPS. Upgrading to a virtual private server will boost your site's security features and website reliability, add more backup space, and can make any online payment more secure and convenient. With a virtual private server, you can get substantial resources and excellent security features.
High Traffic Volumes
With VPS, you gradually start to encounter high traffic volumes. It's particularly helpful if you're website is just starting up and do not get a significant amount of traffic. But if your site's readers are continually growing, it may be the time to upgrade.
If you do not want to make your website run slow or crash because it's incapable of handling too much traffic, then switch to VPS. Do yourself and your site a big favor and upgrade to a virtual private server.
Slow-running Website
For websites that consume or takes up massive amounts of RAM, shared hosting may not be the perfect web hosting for you. Keep in mind that as your site develops and you post more and more article, you'll start seeing a decline in your site's loading time.
When this happens, it is a sign that you're reaching the limit of capacity or in the realms of your limits. As such, consider going virtual. Upgrading to a virtual private server will allow you to remove obstacles when hitting specific restrictions on your website without worrying about slow site speed.
Online Store
When you have or planning to have an online store, consider upgrading your web hosting plan to a virtual private server. Why? It's because virtual private server enables you to have a more dedicated and secure server where you're more likely to meet the Payment Card Industry Data Security Standard.
The PCI compliance test was, for the most part, built by huge credit card brands to secure cardholders against data theft. So, if one of your payment methods is by credit card, do everything in your power to make sure that all of your customers' financial information is safe. Since a virtual private server is more secure and stable compared to shared hosting, it is a much better alternative for e-commerce sites.
Installing Custom Software
More often than not, shared hosting is ideal for site owners who establish their website with WordPress plugins and other common programs. If need to have custom software, then consider a hosting option that lets you have more control over it.
Likewise, a few standard taxes, integrative programs, bookkeeping, billing demands 24 hours server availability and high-speed internet. To be able to employ these apps successfully, you will need to upgrade to a dedicated hosting plan or VPS.
If you have a shared server, you will only come across frustrations when you know that advanced actions are not allowed or that applications don't support these apps to run correctly. Rather than resolving this possible problem, upgrade to a virtual private server and you'll instantly have more control over your actions.
Server Errors
Does your website run into server errors too often? When your site runs into errors, it is more likely that your audience is also. So, while you can resolve these issues immediately, then do it. Keep in mind that there's no room for errors especially if you are running an e-commerce site. Avoid such server errors by upgrading to a virtual private server.
Budget
It's good to stress that dedicated and shared server are much costlier than VPS hosting. Therefore, if you want to boost your bandwidth, enhance your security features, and have more RAM, then a virtual private server is the most affordable option for you.
Client-based Websites
Do you build and develop websites for your clients? If that's the case, it may be pricier to buy an individual shared server again and again. Moreover, it can be hard for you to manage and monitor each domain from different accounts.
But with a virtual private server, you can manage lots of domains and all the while ensuring that you still have sufficient RAM for each website to run correctly.
Virtual Private Server may be the perfect solution for you if that is the hosting service you, for the most part, need. To understand more about VPS hosting, listed below are the advantages and disadvantages of running a VPS hosting.
Advantages
VPS hosting is less costly compared to dedicated server hosting, and unlike in shared hosting, the virtual private server accommodates many users onto a single server so that you can still split the cost of the server.

VPS hosting is more reliable and way faster than other web hosting options.

Since crucial resources like processing or memory power are, without a doubt, guaranteed, there is hardly any variation in available resources.

Traffic escalation won't affect your website.

You have the complete control over your server.

You can have more privacy because your databases and files are, believe it or not, secured from other users.

Scaling your website is easy. As your site develops, you can upgrade and improve your key resources like bandwidth, RAM, disk space, and CPU easily.
Disadvantages
VPS hosting requires constant maintenance like system updates and security patches. Though it's not much compared to a dedicated server, you are still accountable for the software compared to a shared hosting plan.

VPS hosting is costlier than shared server hosting.

You need to have sufficient technical knowledge to monitor your server.

Inadequately and inappropriately configured servers can cause more security vulnerabilities.  
How to Pick the Best VPS Hosting Plan
Now that you have learned and fathom what a virtual private server is and why you should upgrade to such hosting plan, let us dig deeper about what makes an excellent virtual private server plan and how you can look for the best hosting provider. For sure, you would not entrust your site with just anyone, right?
There are plenty of service providers available on the internet today, making it hard to choose the best one. Here are the things that you need to take into account before deciding and spen
Managed Services vs. Self-managed
When choosing a virtual private server hosting, most people often have two options in mind: managed service and self-managed service. If you go for a self-managed service, you must be able to manage the applications, troubleshoot errors, be knowledgeable about server administration, services, and software installed on your virtual private server hosting.
On the other hand, if you do not know about these administration skills, then a managed service is perfect for you.
Windows or Linux
If you're hosting sites with Windows-based automation, for example, Microsoft SQL Server and ASP.Net, then go for the Windows Virtual Private Server Hosting. On the other hand, for MySQL and PHP based sites, a Linux VPS hosting is an excellent option.
Some of you may think that this is a no-brainer category, but it's relatively significant. Be sure to get a hosting plan that's compatible and applicable to your operating system.
Reliability and Uptime
The virtual private server hosting plan that you have chosen should have an uptime rating of at least 99.5 percent. Take note that anything lower is undesirable and unsatisfactory. Check your preferred provider's uptime records before. Or any reviews on other authoritative websites.
Hardware
When buying a virtual private server hosting plan, be sure that the services offered are the best and the latest in hardware. It should include the fastest storage technology – the solid-state drives. Solid-State Drives (SSD) can make your applications run in high-speed.
Customer Support
For the most part, no one can know or anticipate when you will encounter a website meltdown. For that reason, make sure that you buy a virtual private server hosting plan from a company that provides continuous and always available customer support.
Price
Find out or decide the VPS resources that your website needs and then look for a host who can provide you with the best and reasonable price. Make sure that your chosen host can offer you a money back agreement so that you can evaluate and determine the quality of VPS performance and support during the guarantee period.
Backup Service
What if your VPS hosting is, like it or not, infected and contaminated with bugs and you do not have a backup file on your local computer? Imagine you're upgrading your website and then something goes amiss, and you waste all of your data because you did not think of backing up your site?
Just the thought of it may scare you right? Forgetting to back up your site is a common problem for some, which can cost you tons of time, money, and effort. With that in mind, be sure to buy a virtual private server hosting package that makes backing up your website accessible.
Is There Such Thing as Free VPS Hosting?
Yes, there are free VPS hosting that you can leverage. For example, Ohosti, Guhat, 5 Jelly, and InstaFree. However, take note that these VPS hosting services are not as robust and powerful as the paid ones.
Also, it's good to stress that, security is the common issue when you're taking advantage of a free platform. So are performance and customer support. However, keep in mind that these packages are free. They accommodate the demands of some website owners, mainly, those who are creating web apps or for users who want to try VPS hosting before delving into the paid options.
Takeaway
A virtual private server hosting offers you complete access to key resources and lets you have the full control without the need to run or operate your own server. It is a great solution for websites with medium to high traffic volume, e-commerce websites, and sites that are resource-heavy.
But, businesses who await and anticipate a speedy growth can leverage from the strength and support of a VPS service. If you wish to have a stable, business-scale hosting package at an affordable price, it is absolutely worth taking VPS hosting into account for your site.
If you have had your website functioning for some time now and it encountered a few measures of success, you might be familiar with the issues mentioned in this post. If you want the performance of your website to keep up with its development, then you should upgrade to a virtual private server.
A virtual private server can offer you the benefits of a dedicated server hosting and shared hosting but costlier than the latter. Its primary advantage is its ability to give you the full control over the hosting server as in dedicated hosting plan but lesser the cost.
But keep in mind that there may be several issues that you might come across with or encounter if the host can't manage the virtual private server accordingly. However, if the host can manage the virtual private server correctly and has the financial means, virtual private server hosting is an excellent option.