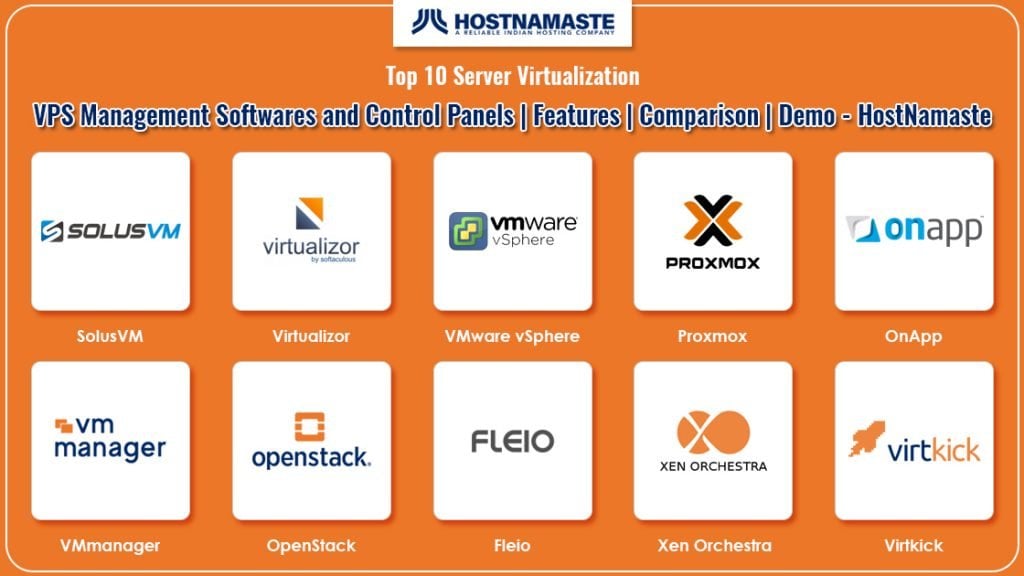 Server Virtualization VPS Management Software and Control Panels
are mainly used to allocate and manage the resources. It is an important part of IT management, as it helps in saving time, space, and money. It is a concept of partitioning a physical server into 'multiple virtual servers' using virtualization software. Nevertheless, each separated virtual server operates on a single operating system.
IT management can be centralized, and data recovery becomes easy in case of any catastrophe. To make it easy for you, we have listed the top 10 Server Virtualization VPS Management Software and Control Panels, which come with full support.
Top 10 Server Virtualization VPS Management Softwares and Control Panels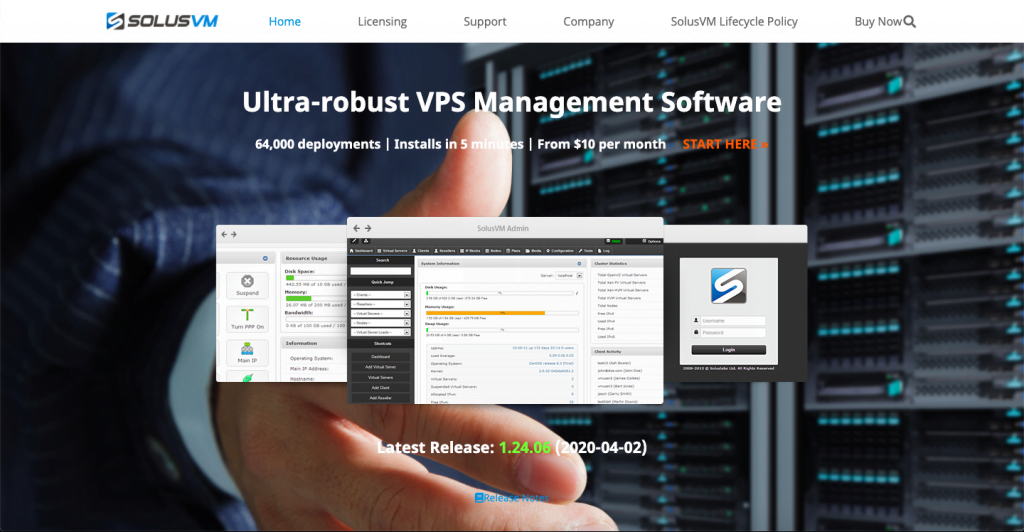 SolusVM: Solus Virtual Manager is a potent GUI-based Virtual Private Server [VPS] management system. It includes full OpenVZ VPS, Xen Paravisualization, KVM VPS, as well as Xen HVM support. The system has an intuitive interface that allows managing a VPS cluster with ease.
The interface is capable of customizations, making it simple to shut down, boot, reboot, suspend, or undo the virtual machines for users, resellers, and administrators. You can integrate the software directly with popular Billing Softwares like WHMCS, Blesta, and Hostbill. You can integrate it with control panel solutions. Users can even create their unique front-end styles and OS templates.
SolarVM is an affordable VPS manager with a free 30-day trial period. Master license price is $10 per month, which allows OpenVZ, and Slave Only license costs $2.50. For annual payments, you get a 10% discount. For more details visit SolarVM's official website. Their support desk is open 24/7!
• SolusVM Features/Documentation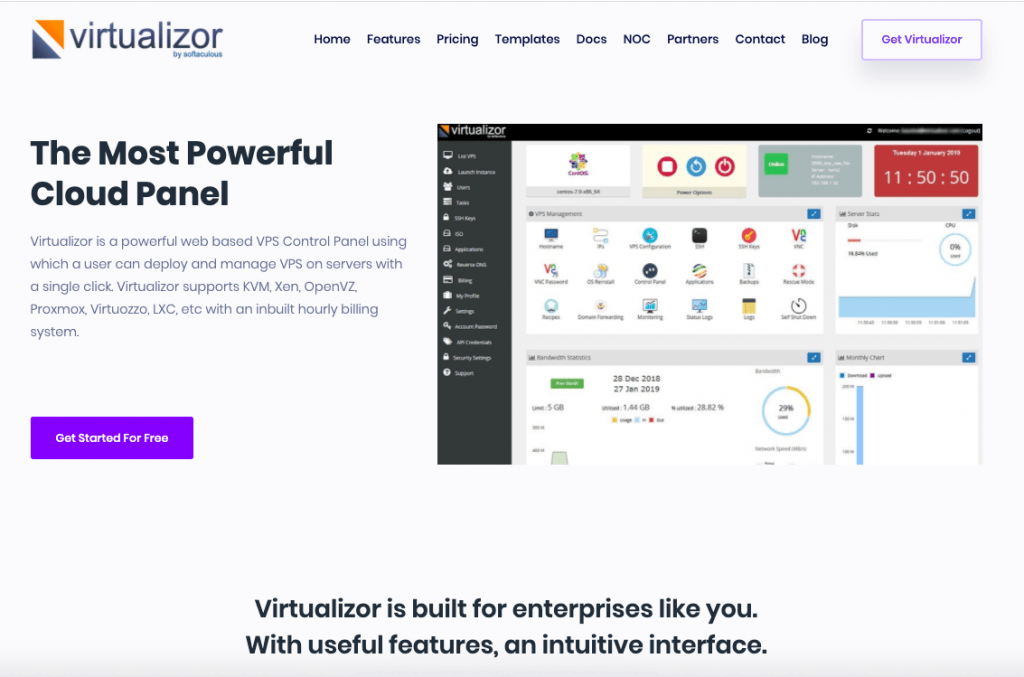 Virtualizor is a great web-based VPS manager. It includes valuable features that power-up your daily business operations.
• It allows for efficiency of clustering, because it eliminates all kinds of terminal errors. With some clicks, servers can be added and removed from the cluster in a few minutes. Monitoring of main or slave server resources like RAM, CPU, and Disk can be done with ease.
• You can use the Virtual Manager for configuring automatic backups [local and remote]. Users can configure the frequency of the backups in terms of hourly, daily, weekly, and monthly.
• The High Availability feature assures great operation performance, without any single point of infrastructure failure. It helps in eliminating the occurrence of server complexity and sprawl.
• Virtualizor supports VPS management directly with 3rd party billing systems like Blesta or WHMC.
• Inbuilt billing panel allows admin to create pricing and plans for resellers. For VMs use, the customers get charged on an hourly basis.
• More than 100 ready-to-use operating system templates offer users a quick start for virtualization.
Virtualizor will reduce the overall operating costs!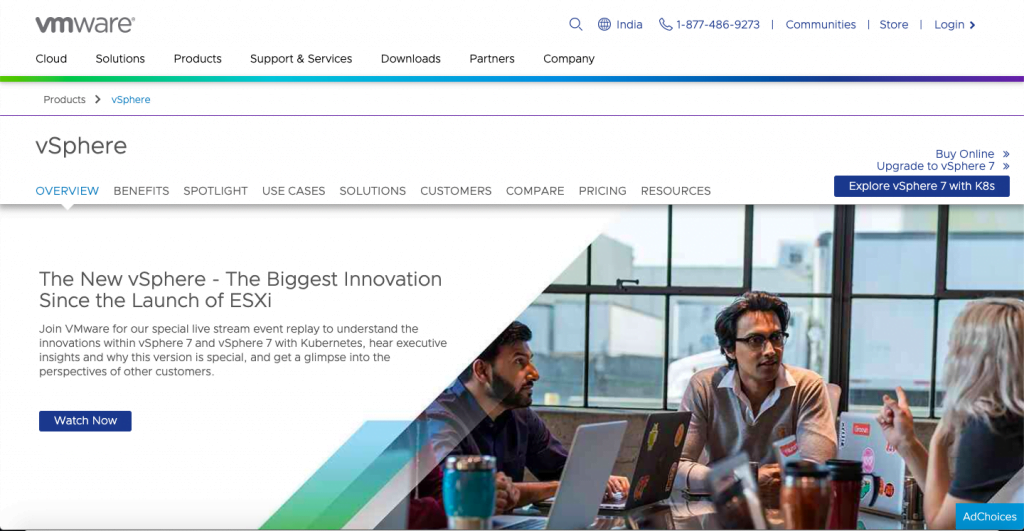 VMware vSphere is a leading platform for virtual management and creating cloud infrastructure. It is perfect state-of-art software suitable for large VPS providers and enterprises. Some highlights of VMware vSphere is that it helps to streamline processes and efficiency, enhance consistency, and improve performance with ease as mentioned below.
• High availability – If a host suddenly struggles with downtime, the VMs automatically move to an alternative ESXI host inside that cluster. Therefore, you won't have to be too concerned about the downtime even during hardware failure, as the VMs will still keep functioning.
• Fault tolerance – Offers consistent availability during hardware failures, as it provides a duplicate copy of the original VM.
• vMotion – Allows VMs migration from one host server to another without any issue about downtime and service consistency, along with total transaction integrity.
• Storage vMotion – Migration of VM files from one to another database is possible without service interruptions. You can keep all the VM and files in one place or in different locations. Administrators can remove VMs from a host, whenever they don't function as expected.
Other features include storage DRS, VDS, virtual SMP, etc. You can give VMware vSphere software a try!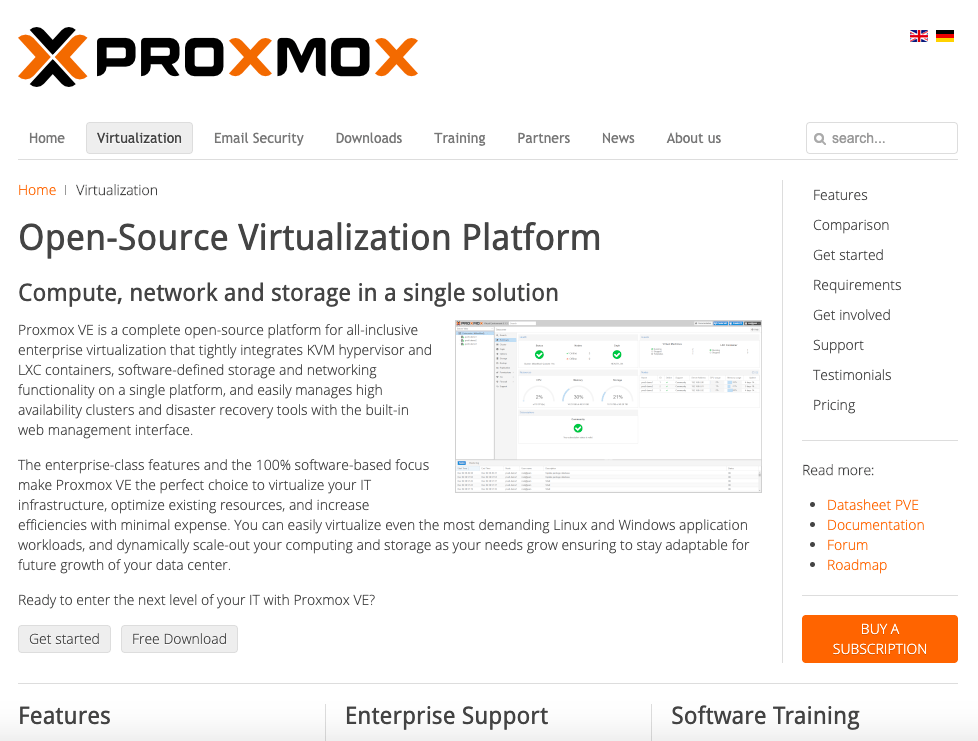 Proxmox Virtual Environment is an open-source solution. You get to enjoy basic features in the free option, but you will need to go for the paid versions to gain access to platform updates, extra features, enhanced security, and support services.
• Supports KVM [Kernel-based Virtual Machine] – KVM allows us to operate in Linux and Windows in VMs, where ever virtual machine has private hardware including a disk, network card, graphic adapter, and more. You can save on cost and power by operating several apps if VMS is installed on one-hardware.
• Linux Containers [LXC] – It is an OS designed for operating multiple isolated LS on one Linux control host. The containers are compatible with the cluster arrangement along with storage resources.
• Online/Live migration – A single VM cluster node can be moved securely to another with an online/live migration feature. Administrators can take VM offline for upgrades or maintenance purposes with ease.
• Scalability – All components are compatible and software-defined. You enjoy the flexibility to build a responsive and scalable application-defined database that fulfills the demand of your business.
• Backup/Patching – Bugs are fixed and security gets updated through Debian, a default repository. You even get an integrated restore/backup solution for guest data and configuration.
If your company wants to create an HCI [hyper converged infrastructure] using the Ceph Storage cluster, as well as streamline the data center, then you can opt for Proxmox VE.

OnApp is an outstanding cloud management platform. Since its introduction in 2010, it has allowed for easy managing and updating of apps. Its end to end features offers great benefits.
• Ready-made OS templates – It saves the installation time and lessens configuration problems. It saves money and maintenance when compared with the traditional servers.
• DR Solutions – DRS feature delivers a comprehensive backup & recovery of crucial files stored on the clouds in real-time.
• CPU Management – CPU allocation is managed with KVM technology. This allows for cloud stability, and leverages available resources.
• Quick Onboarding – Installation is easy and with pre-designed operating tools that can be customized, and its various VPS services [managed VPS or clusters] can be automated to offer a reliable and fast infrastructure.
• Integrated CDN – Content Delivery Network access allows to video stream company based content more easily.
• Autoscaling – Automated utility and billing structures for VMs and servers get delivered seamlessly.
• High Mobility Access – You can access OnApp cPanel from multiple devices. That makes easy for monitoring and managing on the go.
OnApp pricing is affordable and is aimed for improvements. Free VPS Control Panels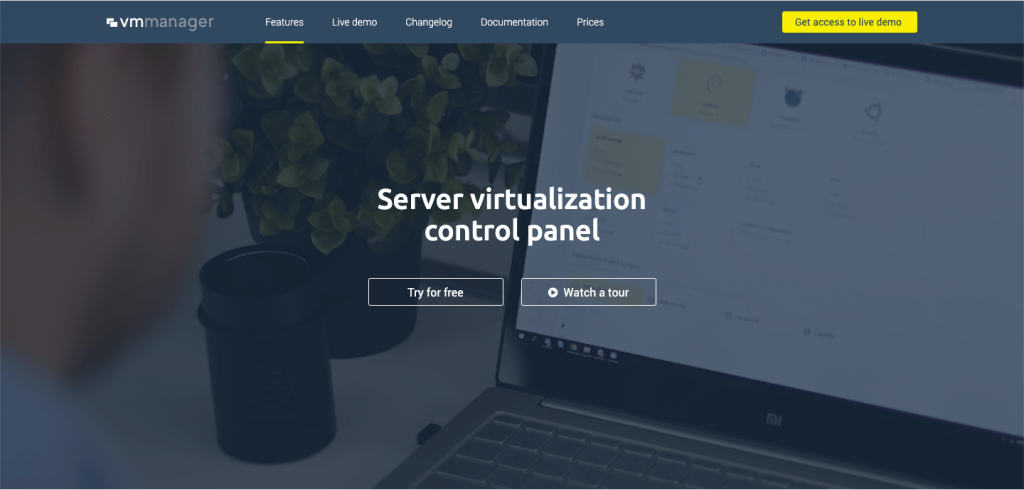 VMmanager has smart UX that help VPS providers and IT infrastructure owners to create virtual machines and integrate billing systems. It is basic, but some other awesome features of VMmanager are –
• Server Virtualization – It supports KVM or QEMU hardware virtualization. Virtual servers are reliable and stable with Libvirt virtualization management.
• VM management – The admin can manage more than 5000 virtual servers. They can easily find the active, deleted, and suspended ones with ease. VM deployment is done on a specified configuration, an image, or on a variant from the billing system.
• Automatic OS Deployment – The pre-designed OS scripts and templates get automated on installation.
• Billing System Integration – BILLmanager helps in establishing an automatic VPS sale, maintain financial accounts, and the client base. The system helps to create invoices, and notify customers having low balance in their accounts. If a customer fails to make the payment on time, the service gets suspended automatically. The built-in ticket system allows offering your customer's customer support.
• Cluster Management – Cluster means the classification of multiple servers in terms of geographical location, functions, and physical equipment. Only a single cPanel can create and manage several clusters.
• Monitoring & Statistics – You can watch the disk space, CPU and RAM consumption along with network load in real-time. VPS provider can swiftly get an idea of, who consumes RAM more or influences neighboring cluster nodes or creates traffic load. It helps to decide on VM migration to another host server.
VMmanager team works continuously and offers updates every two weeks. Issues get resolved 24/7, and the response time is a maximum of 4 hours.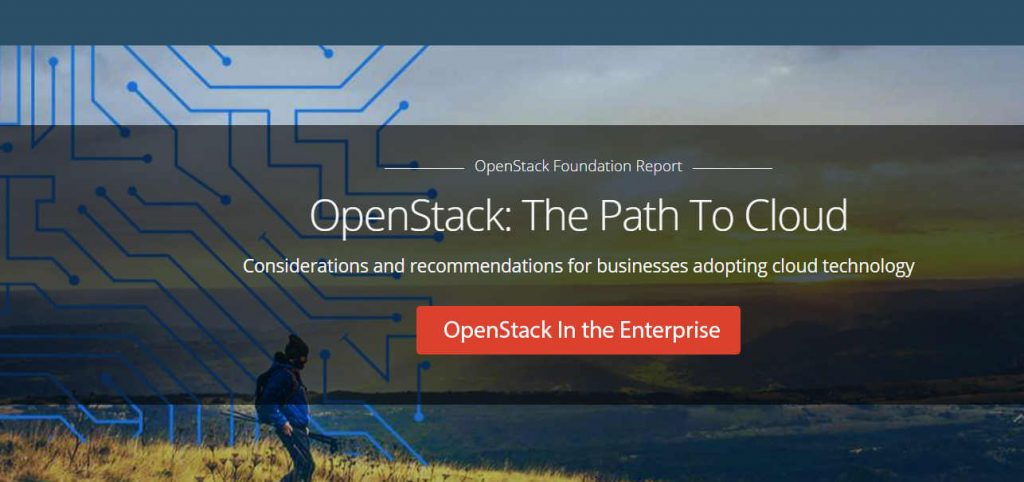 You can build an IaaS cloud infrastructure using OpenStack. The technology can deal with large storage pools and network resources [as a public cloud or private cloud]. A private cloud is a great option, and a majority of developers incline towards OpenStack.
For OpenStack cloud infrastructure management, there is a need to configure individual cloud services. The appealing feature is the scalability that allows adding storage systems and networks over a period of time with ease, due to the horizontal scalability feature.
OpenStack supports different hypervisors like KVM, VMware or Xen. Several virtualization technologies that you can employ are high-performance computing or bare metal. OpenStack infrastructure involves an array of services including –
• Nova – Compute
• Swift – Object storage
• Cinder – Block storage
• Neutron – Network management
• Keystone – Authentication
• Glance – Image service
• Ceilometer – Billing service
• Heat – Cloud template
• Horizon – Dashboard
Users can manage the computing, storage, and networking features via the OpenStack dashboard through a web interface. For OpenStack deployment, the basic requirements are 12 GB RAM, 30 GB disk space, and a supportive operating system like Debian, Red Hat, CentOS, Ubuntu, etc.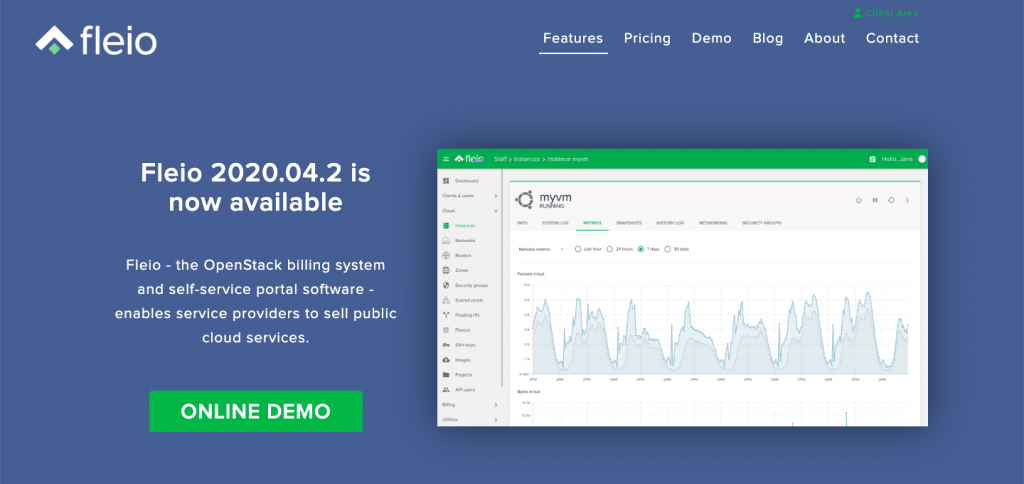 Fleio: It is an OpenStack billing system along with cPanel that helps VPS providers manage public cloud services.
• New users can sign and add their invoicing information. Their VAT ID gets validated online for an automatic tax deduction.
• In a pre-paid billing model, customers get limited cloud resources. To avoid getting suspended after the cloud resources limit gets expired, you can opt for a post-paid billing option
• End-users can create volumes and configure the location, size, resize, boot, and delete them. Snapshots for volumes can be edited and reverted to the previous version.
• Fleio supports pricing rules that can be defined as tiered or linear.
• SSH keys can be added to compute instances during deployment via cloud-init.
• API users can be authorized to manage the cloud resources in their OpenStack project.
• Fleio features can be individually disabled or enabled for volumes, snapshots, backup, API users, PTR, DNS, compute instances, security groups, etc.
• Reverse DNS zones can be configured for IPv6 and IPv4.
• Users can be encouraged to enable the 2-factor authentication process for extra security.
• The new domain name can be ordered, registered, and transferred.
• Fleio currently supports payment gateways like PayPal, Romcard, PayU, Stripe, and PayU Romania.
Fleio is simple, appealing and better for VPS management in the clouds!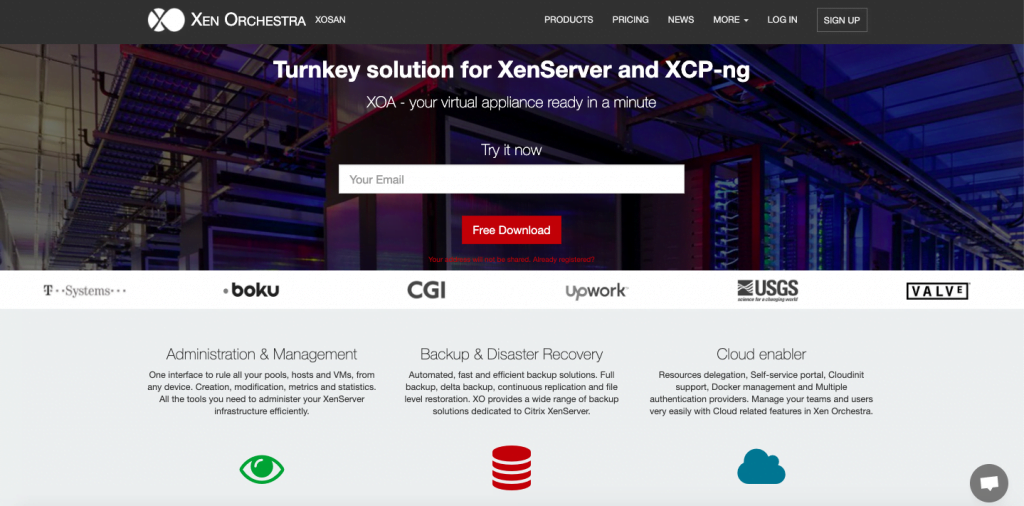 Xen Orchestra tool allows administrating Citrix Hypervisor pools. Installation is simple along with access from any device and anywhere.
• Metrics and Statistics – Gain an overview of a graph to anticipate issues before they turn major.
• Create and Manage Virtual Machines – Use live edition to configure your multiple VM specs and administer the overall infrastructure using batch operations.
• Complete Backup Solution – Backup features include delta backup, continuous replication, rolling snapshot, disaster recovery, and file-level restoration, which need proper configuration for infrastructure security.
• Cloud Initiator – XO offers the essential tools for managing your users and teams easily, at different scales. ACLs, cloud-init support, multiple authentication providers, self-service, quotas, and group management are the features that can make your cloud solution manageable.
• Docker Management – You can organize containers directly from the cloud. Pass the SSH during installation, and set the apps within a container.
• Data Visualization – Identify the bottlenecks and spikes using advanced visualization features.
• Load Balancing – Optimize and distribute the virtual machines load automatically by configuring the thresholds across the cluster.
Xen Orchestra offers ticket systems, remote support, and even monthly updates. It is a life-saver!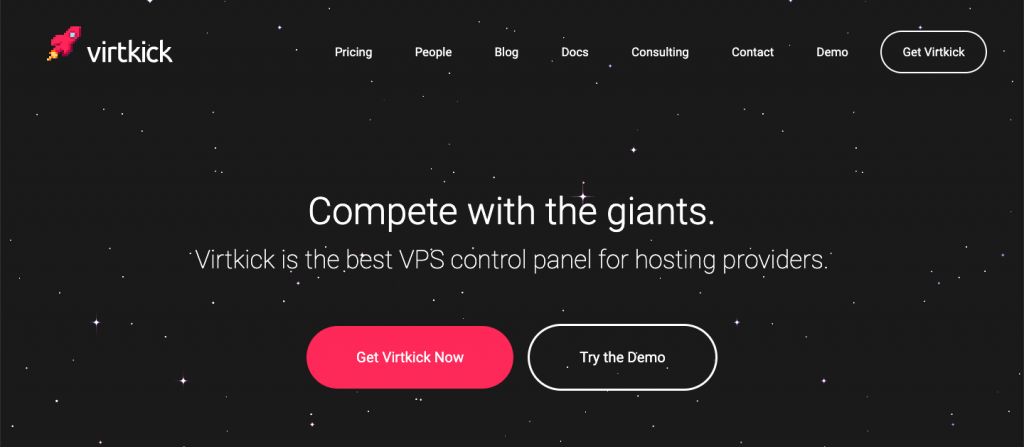 Virtkick claims that VPS providers can compete with giants in their niche. It is a simple process to start –
1. Connect your hypervisors to Virtkick and allow your clients to access via Cpanel.
2. You need not have any concerns about software upgrades. Just concentrate on enhancing your relationship with customers.
3. You will be charged for the subscription. Virtkick is affordable with minimum prices at $49 per month [Fighter] and maximum rates at $99 per month for 5 hypervisors.
Destroyer is a customized pricing package.
Virtkick offers features that are appealing to your end-users.
• KVM virtualization is employed for the best performance.
• The panel can be customized to suit your business [logos or colors].
• Integrate email support for notifications
• Ready-to-use OS templates help to attract customers
• Automatic billing allows streamlining payment process, including gateway charges.
Now, you are familiar with the top VPS management software for server virtualization. All the above software tools qualify in the following ways.
• Allows partition of a physical server into several virtual instances.
• Enables the scalability of virtual environments for easy management.
• Offers access to third-party in-built control panel, thereby allowing VM management from a single dashboard.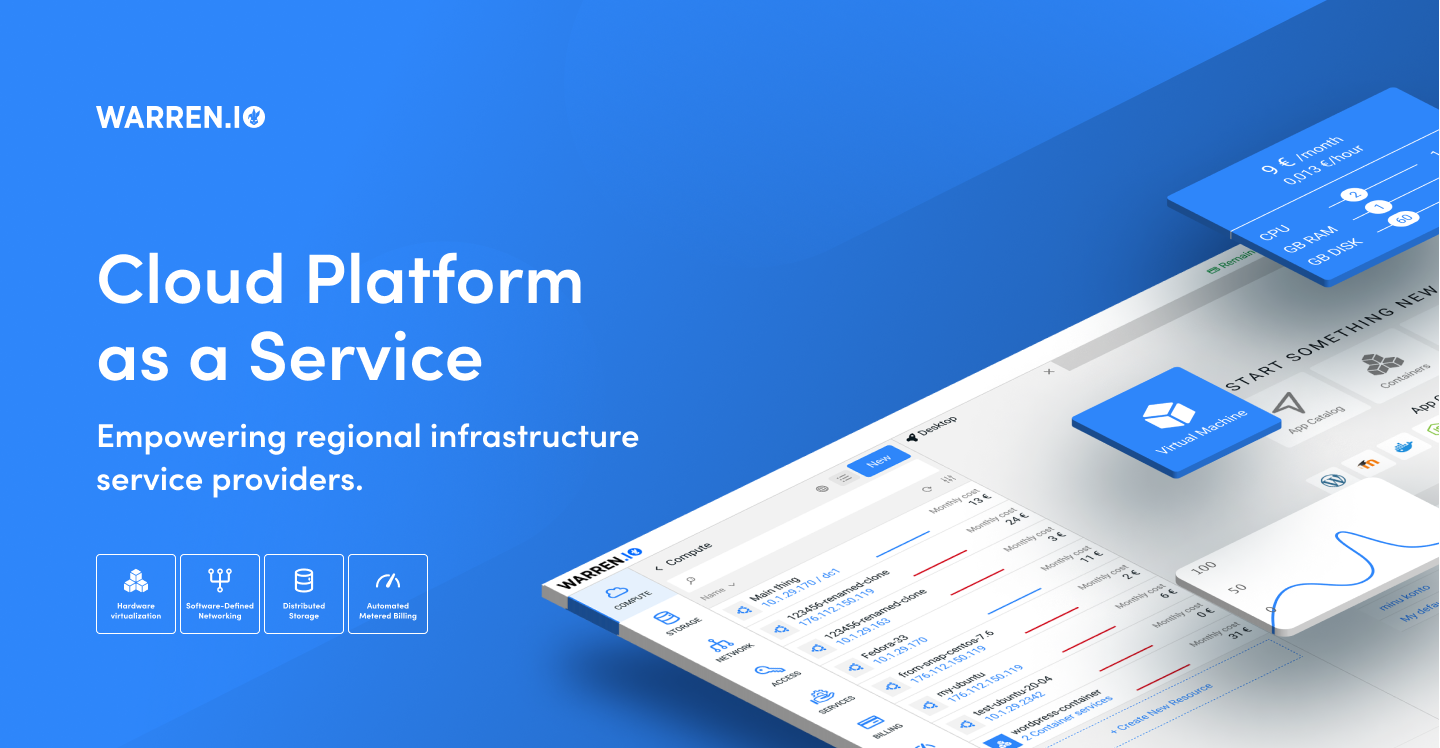 Warren is a complete self-service cloud platform for regional infrastructure service providers. Functionally rich, technologically modern, and architecturally reliable turnkey cloud commercialization solution delivered as a managed service and driven by your success to compete in the global landscape.
Warren is built to target more demanding end users and delivers features like managed service marketplace, multiple data center support, distributed storage with one click backups and live migration across hypervisors. It is also making your day to day operations of running a cloud business much more easier. Read more about the platform and offering at https://www.warren.io
Final Verdict
An ideal VM Management and Control Panel helps to save time, money, and sanity. Choose the software that nearly coordinates with your requirements. It will help your organization to maximize the benefits.