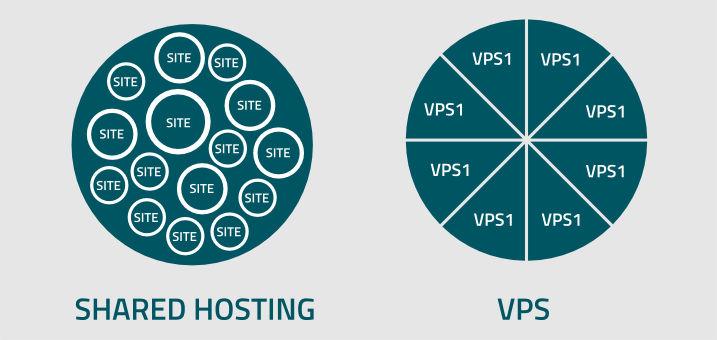 Selecting the proper hosting for your business is a difficult task. It is a very time consuming to chalk out the right hosting services after going through their features and plans. While searching, obviously you will come across two most important hosting services like Shared Hosting and VPS Hosting. These two services come with a plethora of features but make sure that your website will be up and running on the internet. Therefore, before taking a big leap it is important for you to know the features and advantages of these two hosting services.
Shared Hosting is one of the most common forms of hosting available nowadays owing to the cheap price and user-friendly plans for beginners. It is for the amateur ones who are building their websites. Cheap Shared Hosting involves hundreds of users and so the price gets distributed easily and you will get a hosting solution at a much cheaper price.
Every individual using the same server comes with particular Disk Space, CPU, Memory, etc. The entire cost is quite reasonable and every person will have access to it. Although you are sharing the same servers resources you can create your own profile individually and launch the required applications. It is perfect for the entry-level businessman. But the majority of the users started to upgrade it. If there is a huge chunk of traffic on your site, you will obviously prefer to upgrade hosting packages in order to maintain an optimum performance level.
What is VPS Hosting?
VPS Hosting works in a completely different way as compared to shared hosting. It works and functions in a completely different fashion. It is a Virtualized Server that behaves like a dedicated server but actually draws resources from various physical servers. The technology used in VPS is quite similar to Shared Hosting one but comes with the Dedicated Resources i.e Disk Storage, RAM, CPU which is can only be used by the VPS Owner with advanced features and benefits.
When you are using the VPS Server, you will have great accessibility to server resources since you go deep down into the physical server as you go ahead. Using Cheap KVM VPS technology, you will be getting a certain kind of server resources. Apart from this, you have the nack to surge your resources, if the traffic seems to move upwards at a faster rate. A VPS Hosting provides various packages that come with superior flexibility along with several customizable features and support to the growing site.
Majority of the website owners are quite sed to with Shared Hosting. You can easily establish it and comes with a gamut of resources that can sail you through the process. There are certain site owners who likes to stay attached to Shared Hosting. The entire thing depends on the site which you deal with. Suppose you are just planning to start with some portfolio site or you just have started, then you will get a small chunk of traffic. Only you will be inclined to VPS hosting if there is something extra you want to add on your site which is not possible through Shared Hosting. 
The best way to opt for the Types of Web Hosting should be the one you can afford. If you are new in this field, then obviously you will go for Shared Hosting. So, if your site continues to flourish, then it will augment more revenue. With the help of this increased revenue, you can get a strong hosting platform just like the VPS Hosting.
Shared Hosting is a cheaper hosting service available for the beginner's level. But some site owners want to focus on advanced features and opts for VPS hosting. If you consider performance, scalability, and security then VPS can be the best option. However, the features are available at a higher price. Most of the newbies prefer Shared Hosting since it gives various server resources along with various plans to begin with initially. You need to consider the website's needs whether it requires Shared Hosting or VPS Hosting. 
Shared Hosting is safe normally, but there are circumstances where a security breach can take place which is generally known as Noisy Neighbour Problem. It generally takes place because of the mistake or any technical flaw. This can affect other websites since you are sharing a common space. However, OpenVZ VPS ensures the security of your website with strong features. If there is a greater budget for your business then it is essential to use VPS hosting since it ensures safety. It will safeguard the personal data and you need to upgrade to VPS.
Scalability is another important factor that you have to consider. If you expect a good number of visitors on your website per month using Shared Host, then it might bring some issues and you will compel to shift to VPS Hosting. VPS Hosting comes with customizable features that help to scale up quickly and brings more traffic.
Use Free Hosting Control Panels on VPS Hosting
If you are a blogger, you have to deal with several web hosting services. There are various Open Source Free Web Hosting Control Panels available which you can use like ISPConfig, CentOS Web Panel, Webmin, Sentora, Kloxo Mr, Vestacap, etc. These hosting panels are widely recognized owing to the usability and management. You need to pick the one which is more appealing and sustainable for your hosting needs.
Key Takeaways
If your blog has reached that threshold value that it will come out existing Shared Hosting service and you need to look for a higher resource hosting service on the basis of your requirements and budgets. If you choose a VPS Hosting, there is more control over the infrastructure of the server. But it is applicable for those whose websites have seen a significant surge in the traffic per day and the growth is exponential in nature. Also, there are certain improvisations that a blogger can bring with VPS Hosting includes firewall configuration, the ability to install applications, etc. so you better check everything and decide which one is suitable according to your requirements.