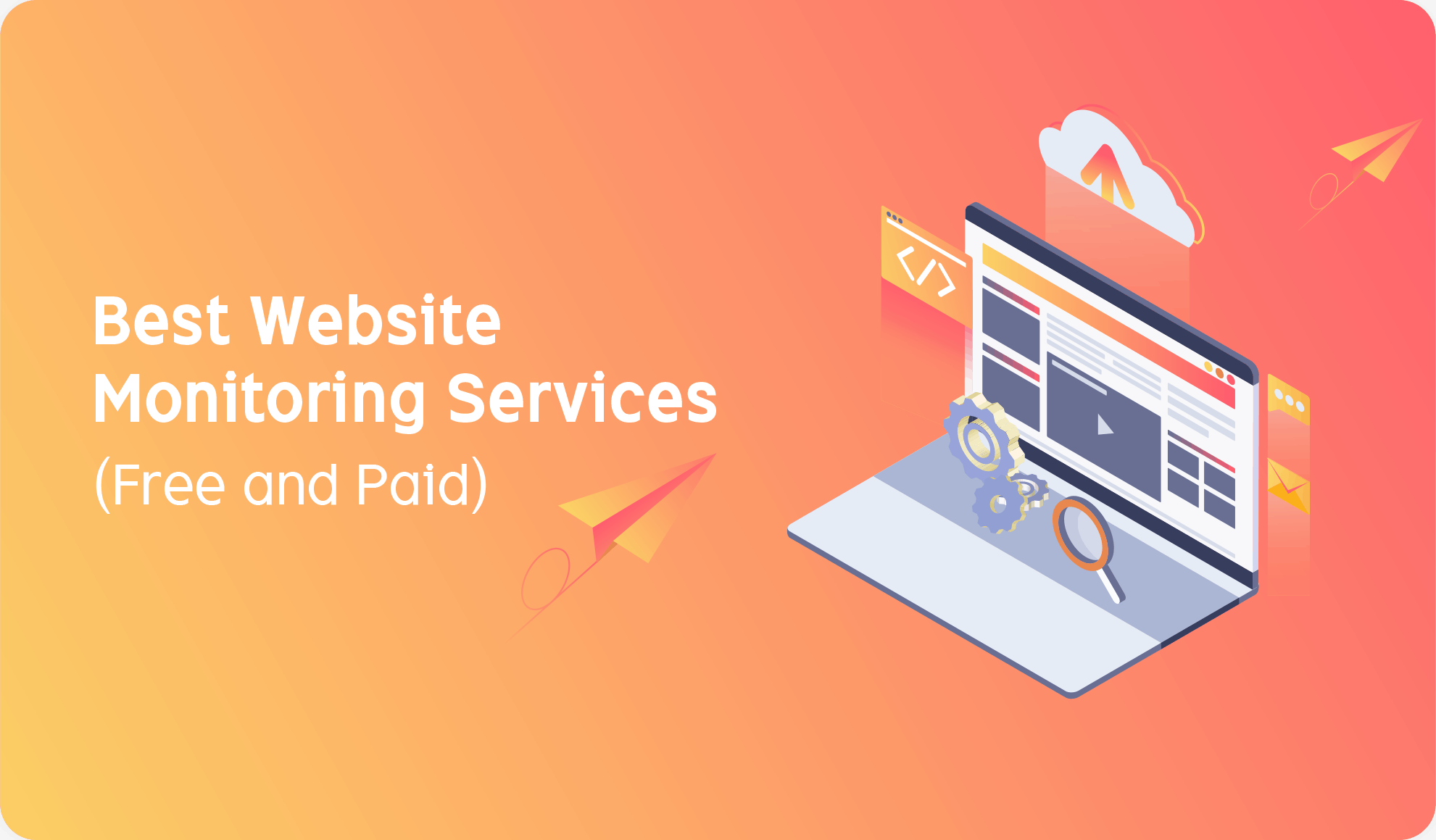 In today's digital world, a business's website is vital to its successful operation. As such, it must be closely monitored and maintained to ensure it's fully functional 24/7, but not all businesses can set up a team that monitors their website, and that's why online services that monitor website uptime exist.
After a bit of research, we've compiled a list of the best online services businesses use to monitor their website uptime. Without further ado, let's get right into it.
Table of Contents: Top 10 Best Website Monitoring Services of 2022 – Top 10 Best Website Monitoring Tools – HostNamaste
Hide
Top 10 Best Website Monitoring Services of 2022 – Top 10 Best Website Monitoring Tools
1) UptimeRobot
UptimeRobot is a unique tool that offers free monitoring service for up to 50 sites per user. It offers website monitoring, ping monitoring, port monitoring, cron job monitoring, and SSL monitoring. This tool notifies you if your website is down or if your SSL certificates are about to expire.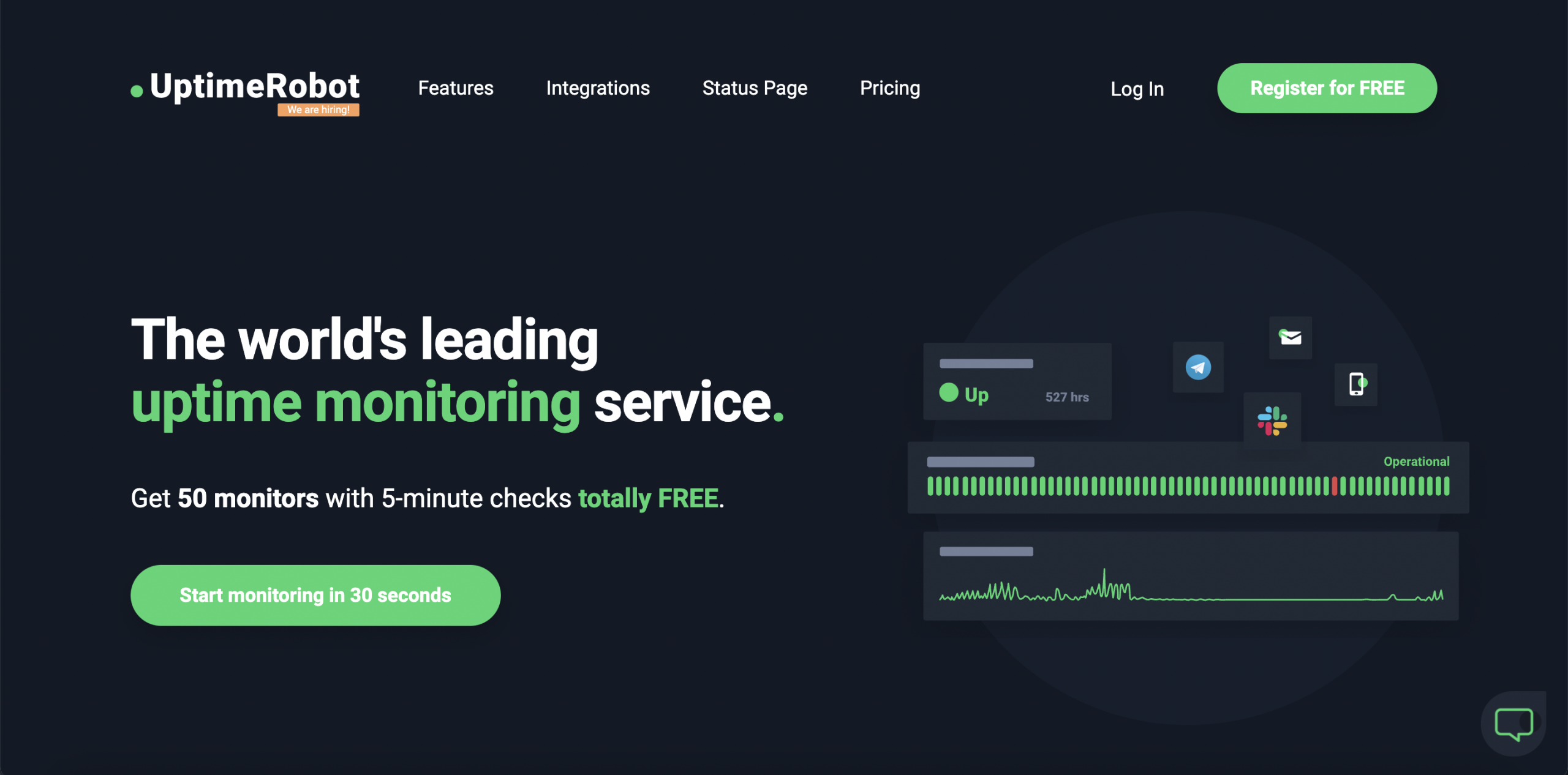 UptimeRobot also provides defacement monitoring to ensure your keywords are intact. For example, if you own a website similar to write my essay by domyessay.com that provides paper writing services to students online, and someone hacks your site, this tool will notify you within 5 minutes.
2) HetrixTools
This monitoring tool helps you keep your website downtime at minimal levels by checking your website, servers, and domain every minute from 12 different locations around the globe. 
HetrixTools comes with a plethora of features and tools: domain expiry monitoring, downtime detection, nameservers change detection, real-time error logging, etc.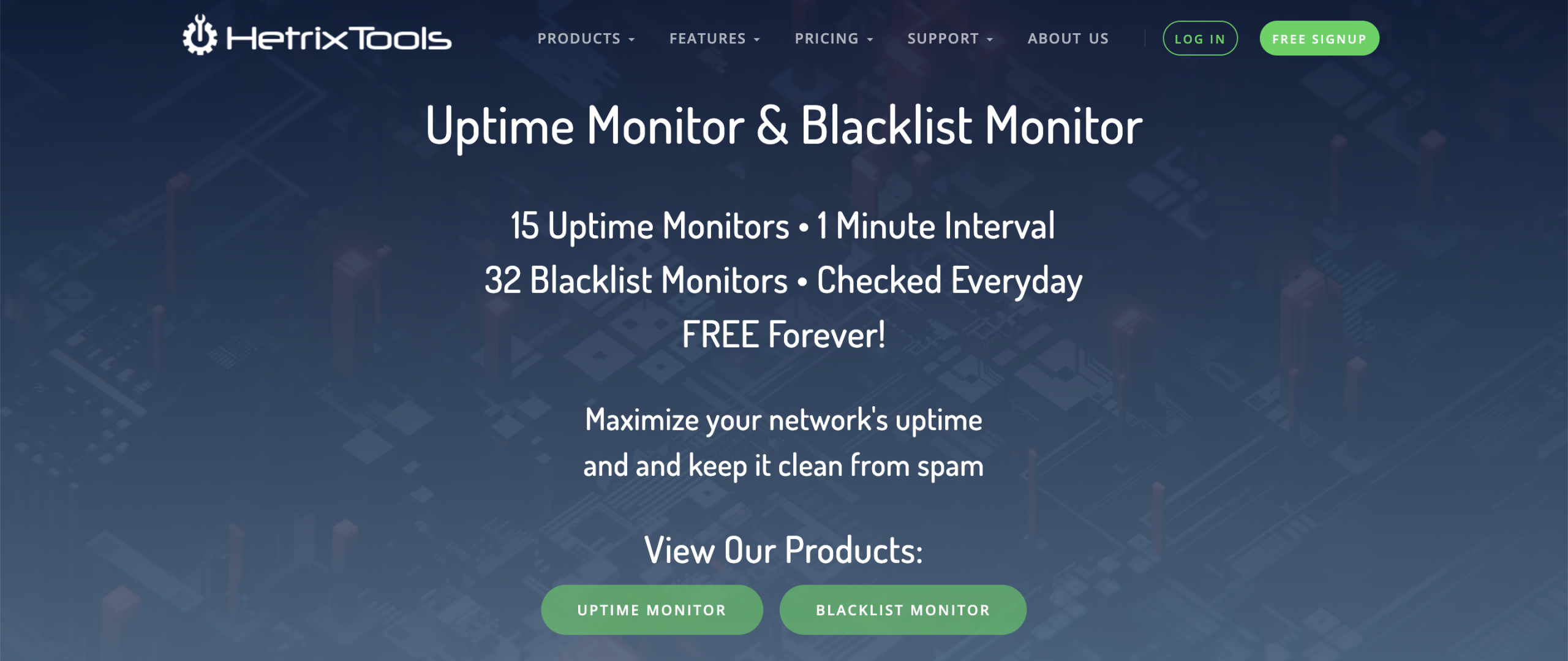 If you use this tool to monitor your site uptime, you'll be the first to know when anything happens to your site, and in real-time too.
HetrixTools can also send notifications to your smartphone via SMS, Telegram, Twitter, Discord, PagerDuty, OpsGenie, Slack, and a variety of other apps.
3) Freshping
Freshping is a simple yet powerful website monitoring service. It monitors 50 URLs per user at 1-minute intervals. With this service, you get instant downtime alerts via Slack, Freshdesk, Skype, Twillo, and Webhook.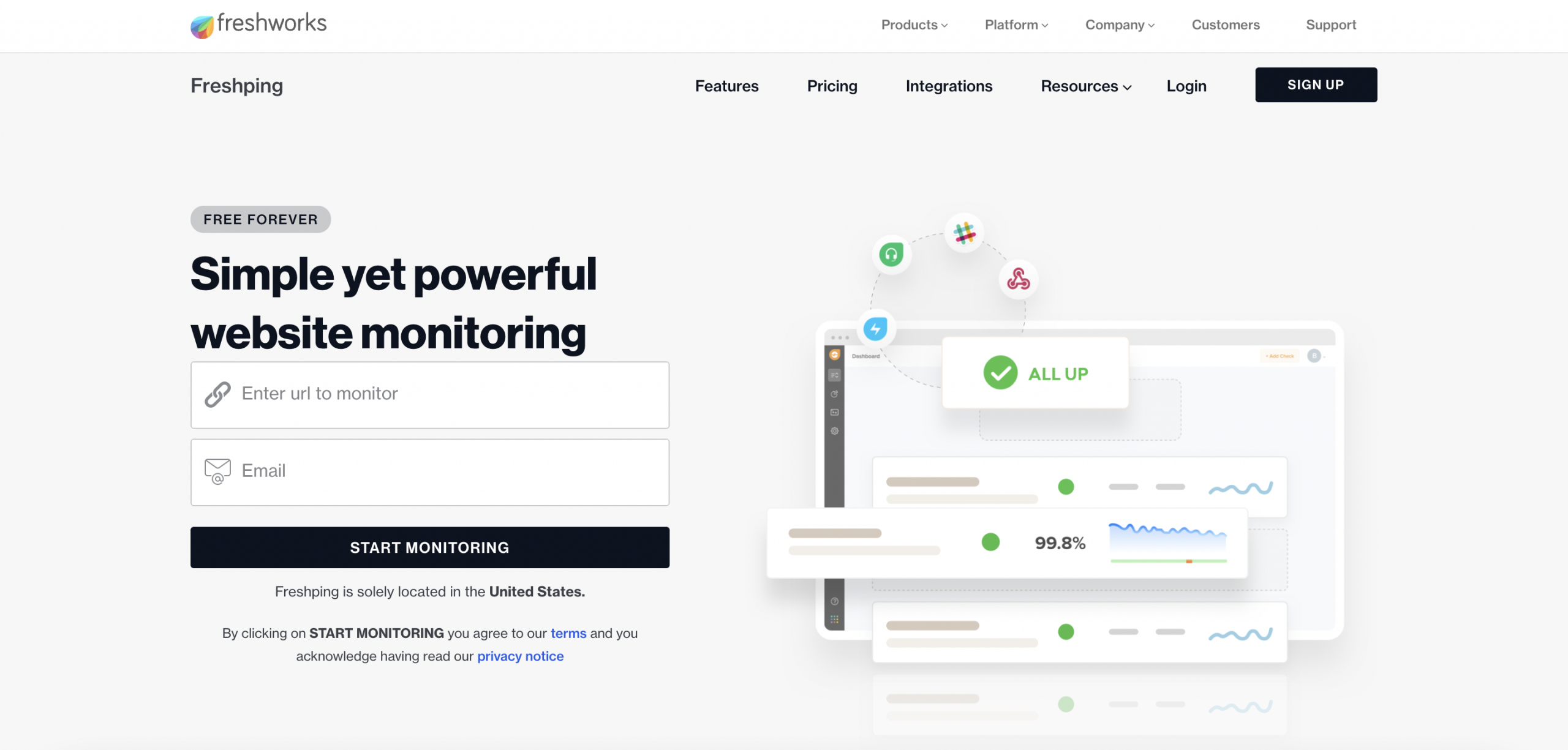 Whatever you're building, Freshping has got you covered. They offer monitoring services for HTTP/HTTPS, ICMP Ping, TCP, UDP, Web socket, or DNS. 
They even throw in weekly site performance reports that help you analyze average response time (ART), Apdex score, and other metrics.
4) Pingdom
Pingdom offers monitoring services from over 100 locations globally. This service's combination of synthetic and real user monitoring offers users one of the best visibility and troubleshooting services possible.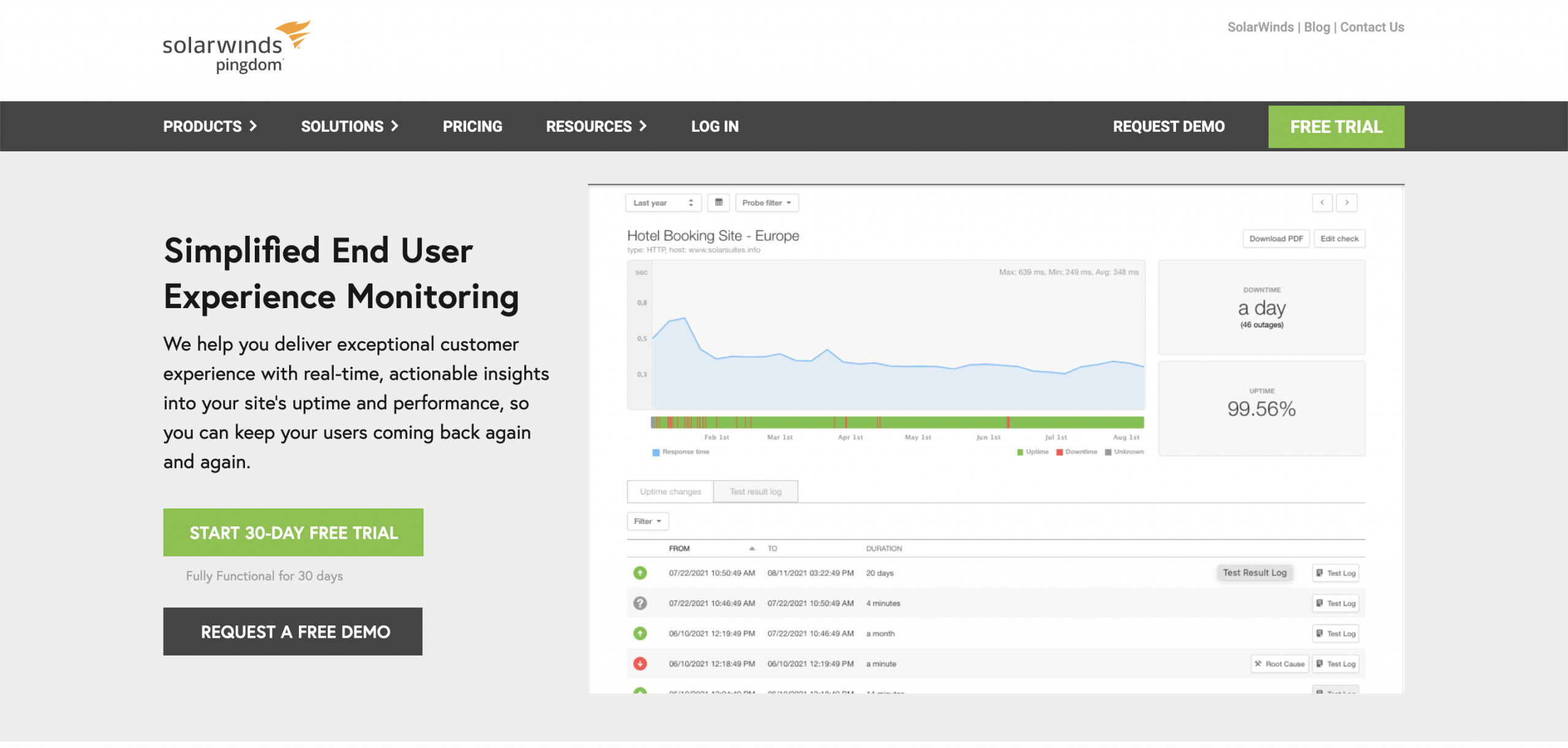 Pingdom's page speed analysis and Transaction Monitoring services will help you truly understand how your users view the site based on browser, device, or geographical location.
Pingdom can be used by businesses, web developers, web hosting provider, and digital marketers. Its services are all-encompassing and efficient, making it a very effective monitoring tool.
5) StatusCake
Both small and large scale businesses use StatusCake to track every single aspect of their web presence. Its features will help your website: 
Rank higher by improving SEO and helping keep SSL certificates up to date;

Load faster by monitoring CPU and disk usage;

Boost SEO and conversions by finding and notifying you quickly about things that help slow your site down.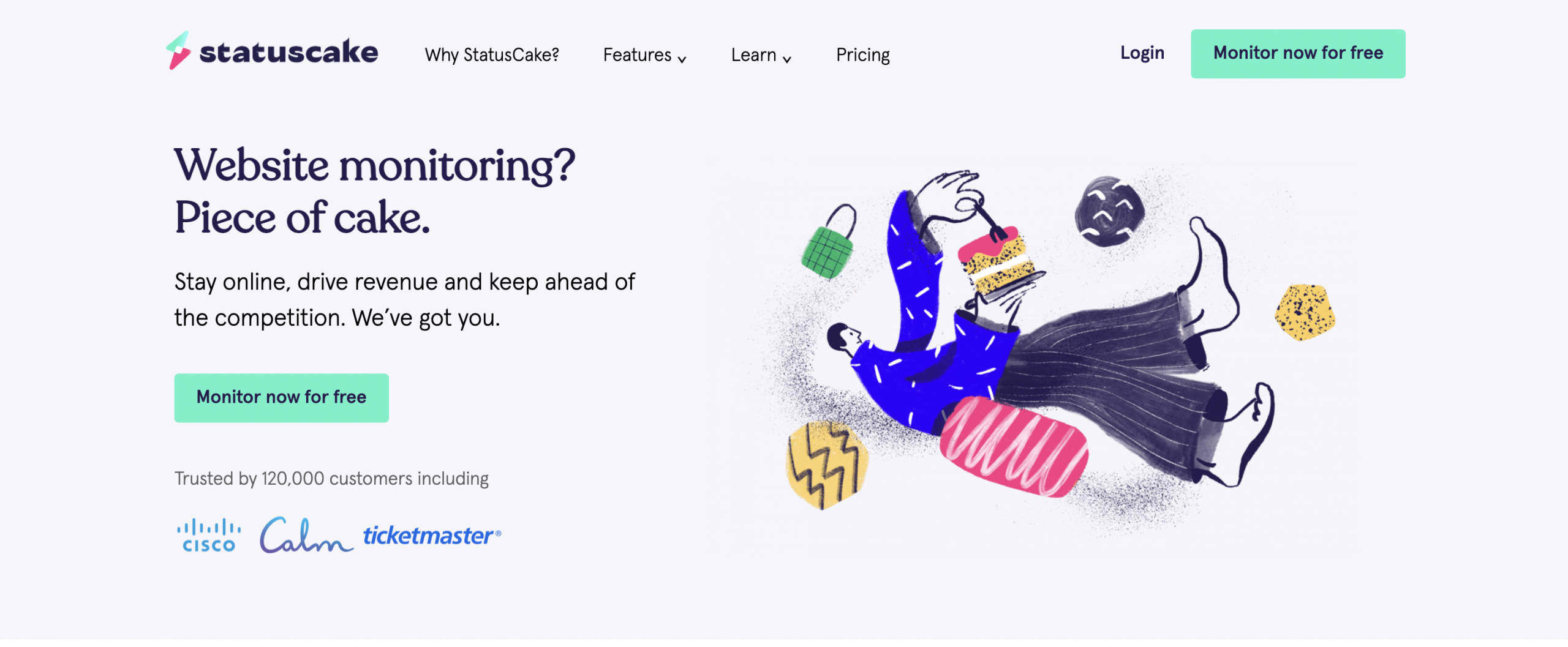 Whether you're a small business or a DevOps team working for a big corporation, StatusCake will give you tools to ensure your website operates perfectly at all times.
6) Site24x7
Site24x7 provides a 6-in-1 package that includes website monitoring, server monitoring, cloud monitoring, network monitoring, application monitoring, and real user monitoring. 
This service is used in large companies for DevOps and IT operations, but it's also suitable for small businesses.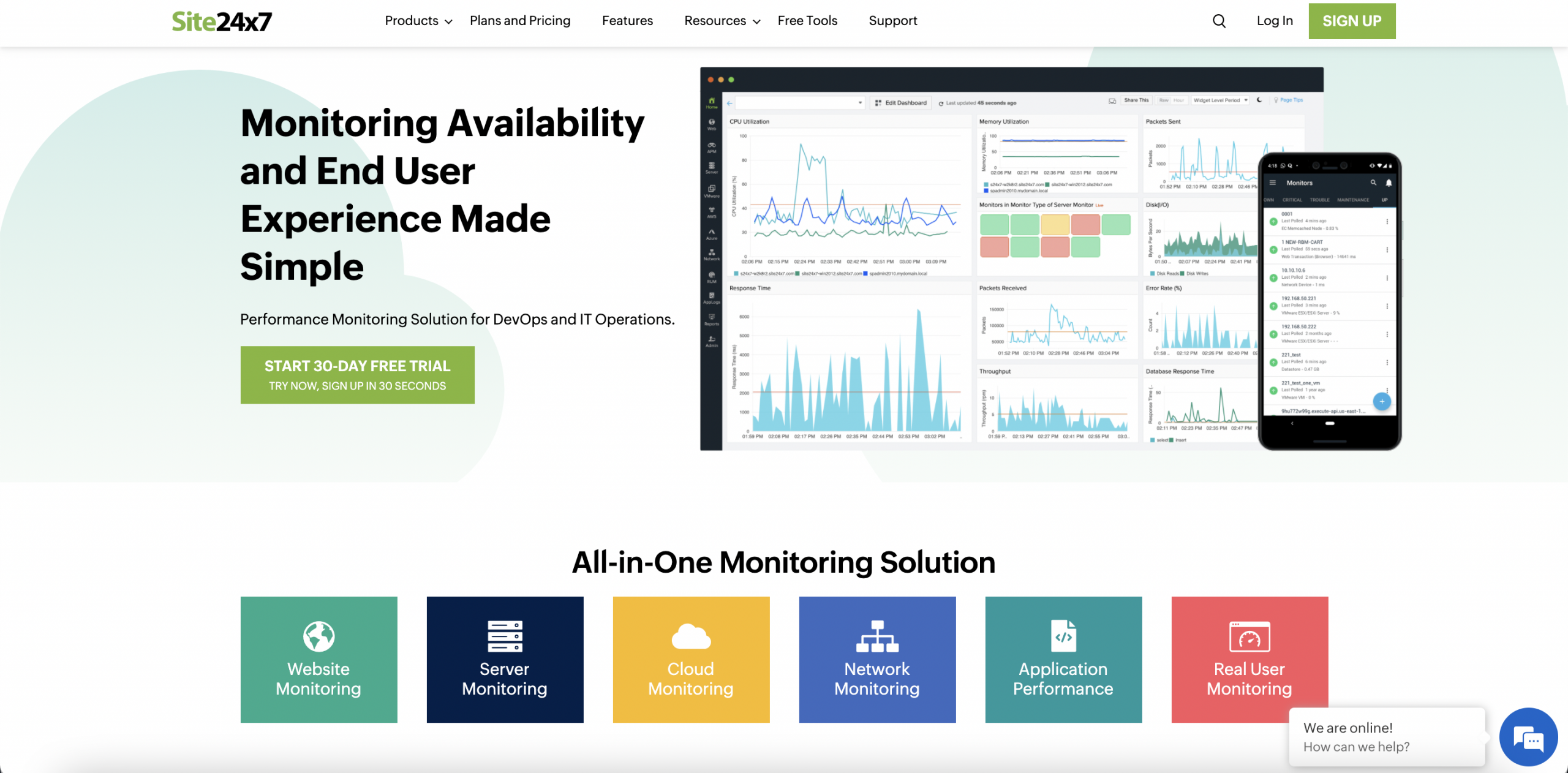 Site24x7 succeeds in giving its users deep visibility into critical performance parameters of their resources and provides insight into issues before they even arise.
The downtime notification tells the owner of the site as well as the users about your service status and the cause of the downtime via a status page. 
7) Uptrends
With Uptrends, you get a comprehensive monitoring service that covers your site, users, and any applications you have. Uptrends monitors the uptime, performance, and accuracy of websites for over 30000 users globally.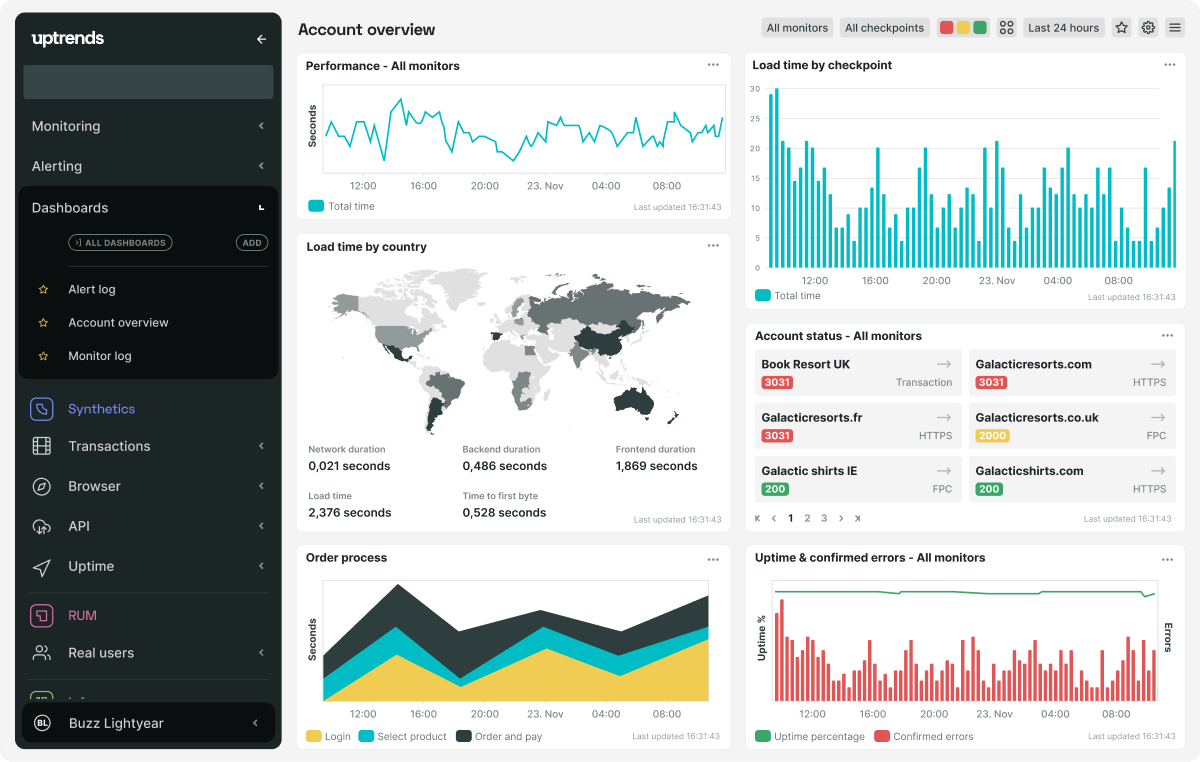 Uptrends offers multi-step transaction monitoring that evaluates shopping carts, check-outs, logins, etc. This service helps you fine-tune your site performance to benefit your customers based on the tech they use, improving site performance and customer satisfaction. 
8) Dotcom-Monitor
Dotcom-Monitor simplifies the process of monitoring websites, web applications, servers, and APIs of businesses. This service also ensures that the functionality and uptime of your site are 99.999%, which is a solid rating in the industry.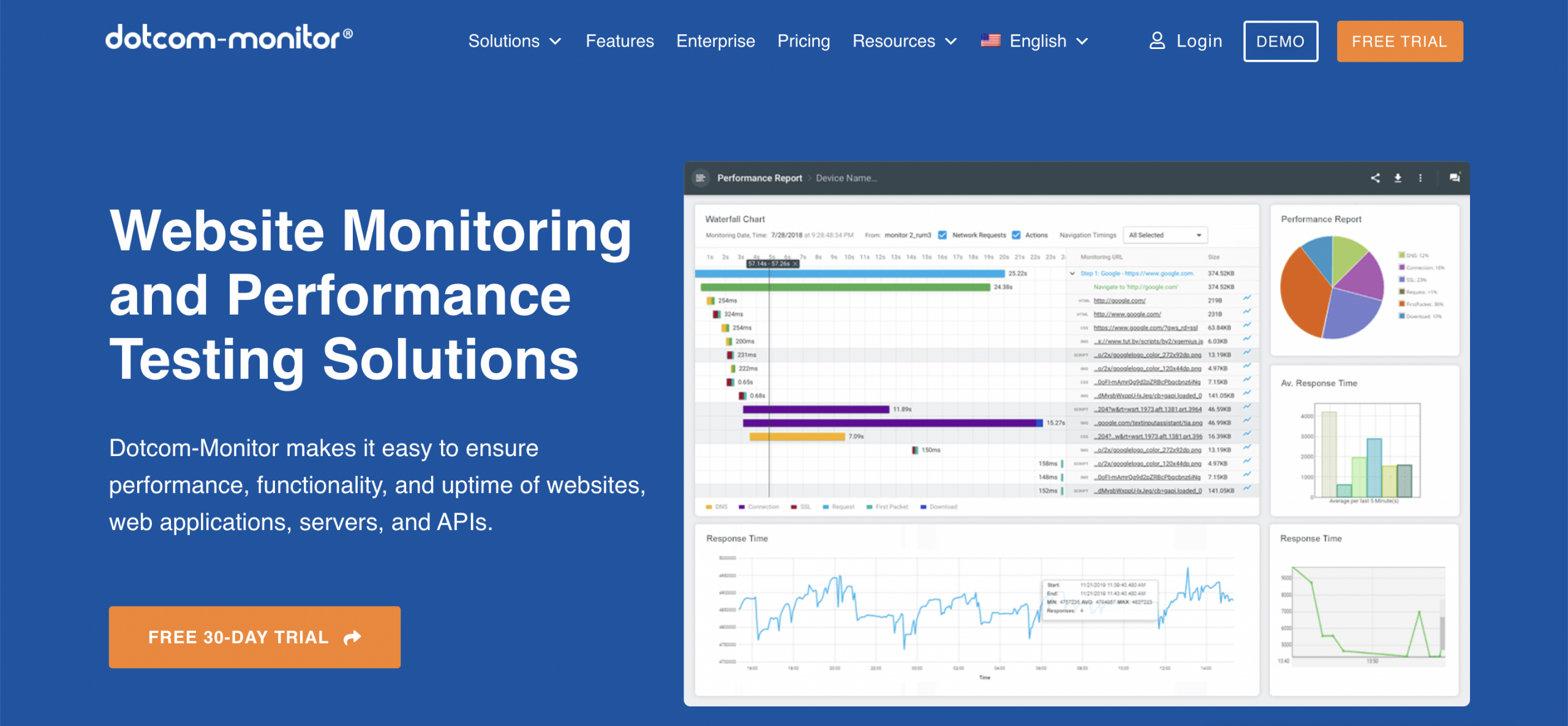 With over 25 monitoring locations worldwide, Dotcom-Monitor checks your site every minute and helps you quickly locate where performance issues originate. Dotcom-Monitor's instant notification service keeps you abreast of any sudden changes in site performance via email or SMS. 
9) Sematext
This website monitoring service is used by some of the biggest companies globally, including Microsoft, Dell, Instagram & eBay. It is easy to use and can be set up within 10 minutes. 
Sematext offers performance monitoring, uptime, user experience monitoring, and a host of other monitoring services and tools.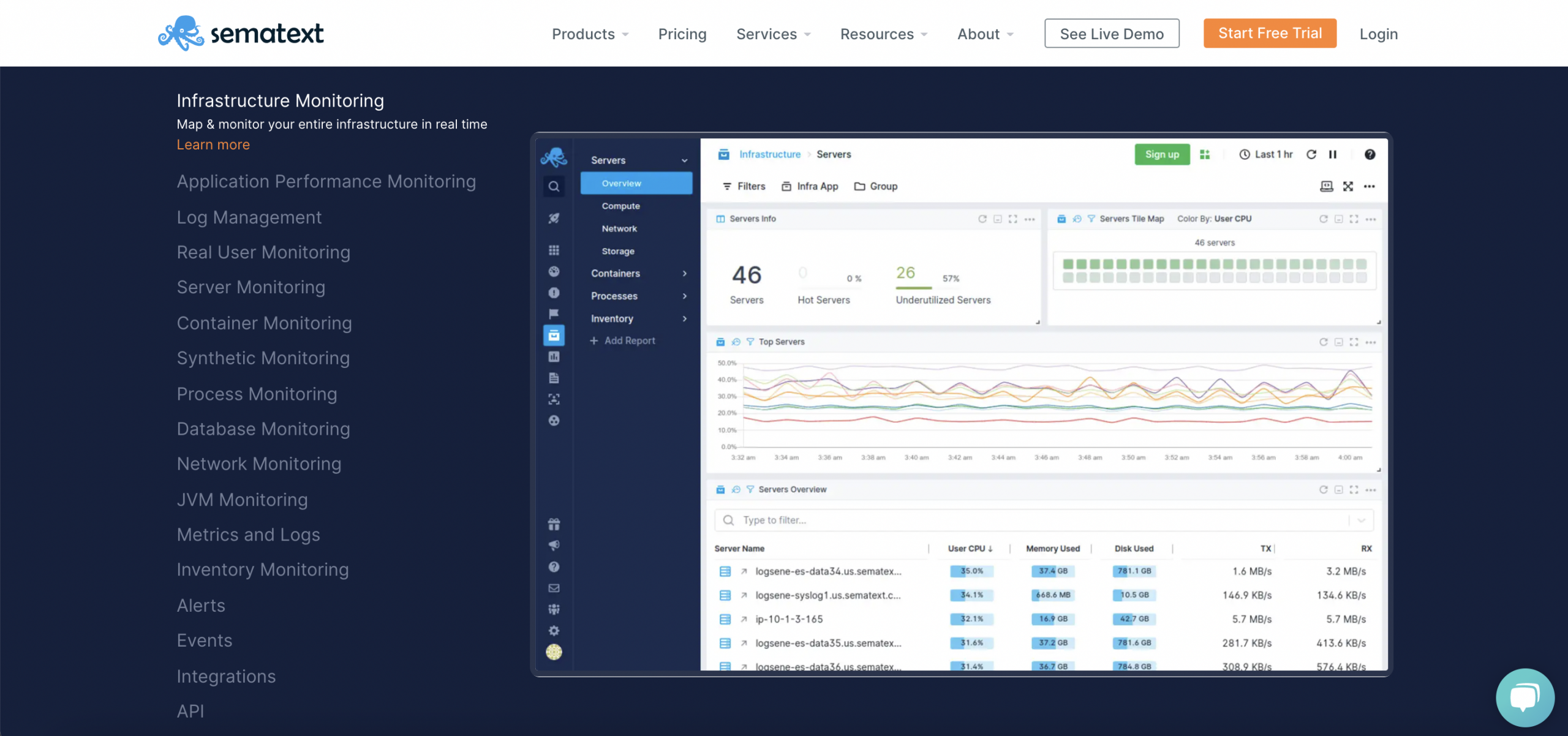 These services aggregate to give users better visibility, metrics, and functionality at an affordable price, and it's one of the most used services on the planet today.
10) Cronitor
Cronitor is one of the most used monitoring services in the world. It monitors IoT devices, Cloud providers, virtual servers, S3 buckets, and APIs from 12 locations worldwide.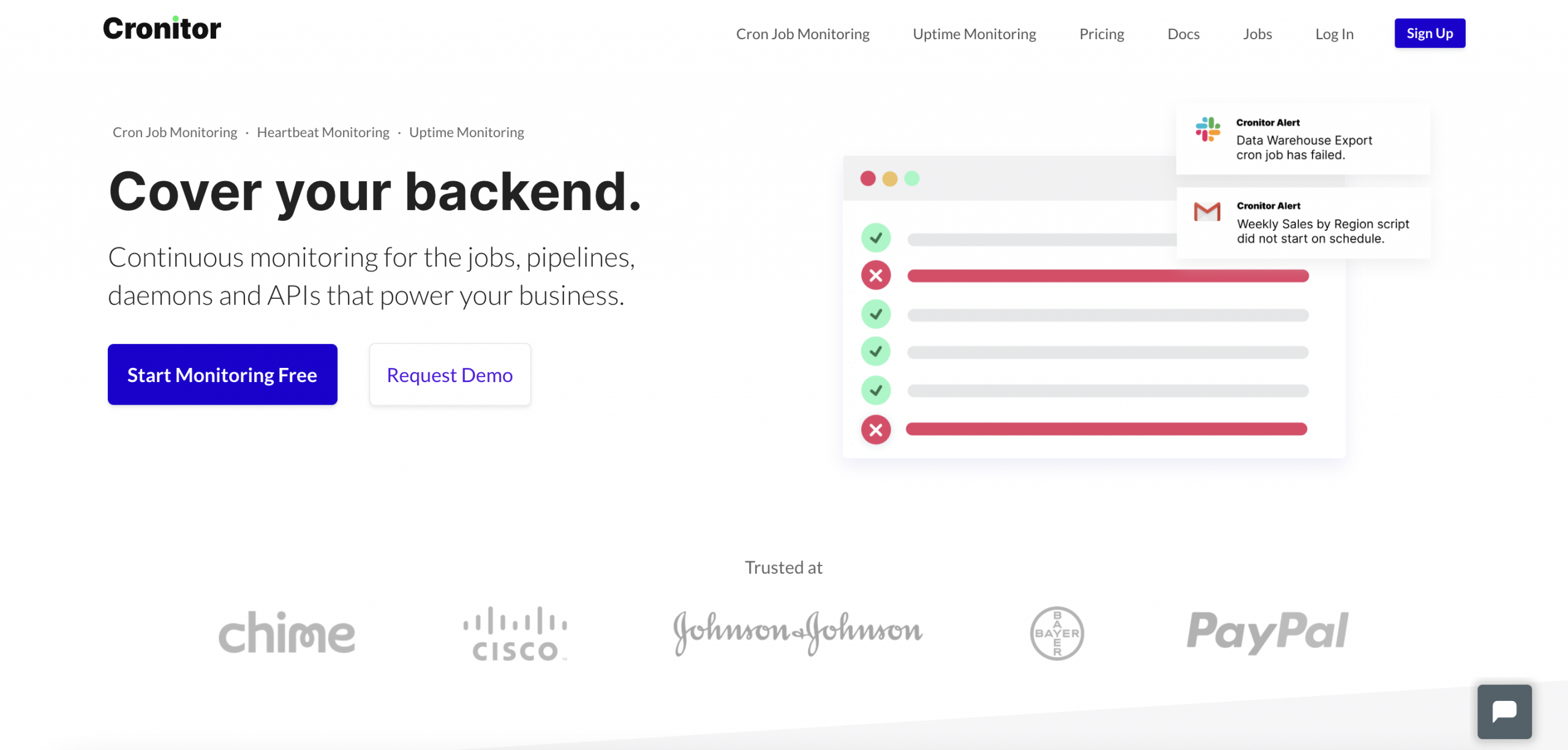 Cronitor is one of the world's fastest monitoring services, with checks occurring every 30 seconds. As a result, if your website goes down, you'll be the first to know about it.
11) ClouDNS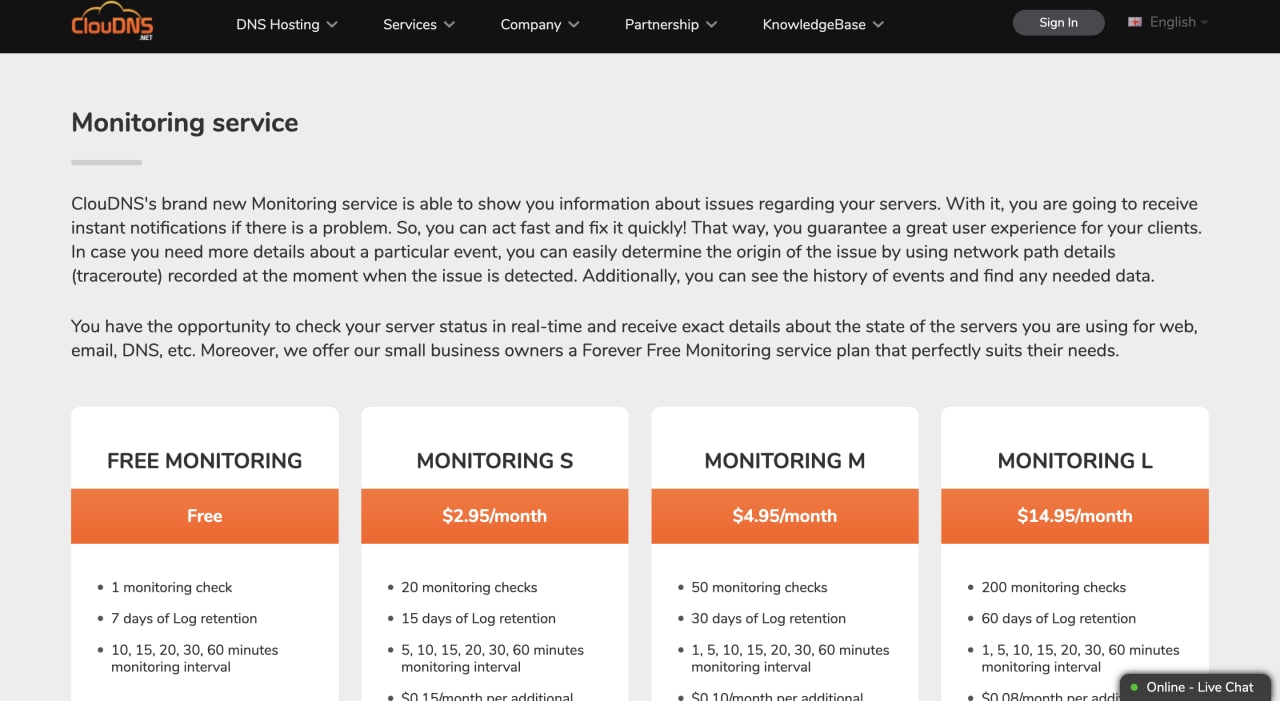 ClouDNS offers an excellent Monitoring service with 80+ Monitoring locations all over the world. In addition, it provides an impressive stack of different check types – ICMP Ping, Web checks, TCP, UDP, DNS, and Heartbeat monitoring.
With the ClouDNS Monitoring service, you can pay close attention to your services in real-time and receive instant notifications, even with web hooks. So, you can act fast and fix it quickly! That helps prevent downtime and maintains better network resilience and visibility.
You can sign for a free 30-day trial for one of the Premium Monitoring plans or check out the Forever Free Monitoring service!
Conclusion
The website of every business or service is crucial to its successful operation. Ensuring that your website is always at optimal levels is a priority for all businesses. The tools listed above are just what you need to monitor your website effectively and ensure it doesn't go down.