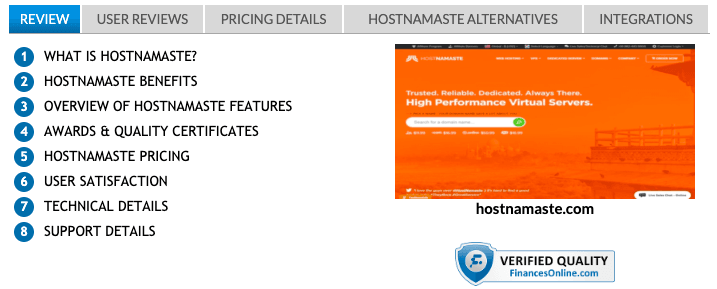 HostNamaste, a Reliable Indian Hosting Company, is proud to announce that we have recently been awarded two prestigious awards from FinancesOnline: the Rising Star Award for 2019 and the Premium Usability Award for 2019.

FinancesOnline is a popular platform for SaaS/B2B software and financial product reviews. Their business software directory provides an extensive base of reputable software reviews prepared by both experts and actual users, so that visitors to the site can compare SaaS/B2B products in order to find the best solution for their organisations easily. 

FinancesOnline recently featured HostNamaste in a detailed review where their experts analyzed HotsNamaste's Virtual Servers and hosting services, explained the many benefits of using HostNamaste for the web hosting solution for clients small and big websites. 

The review emphasizes that unlike most out-of-the-box, about the users satisfaction. READ THE FULL HOSTNAMASTE REVIEW HERE
Learn more about HostNamaste Today!
To learn more about HostNamaste and our offerings, visit us online or submit a ticket to have one of our trained professionals assist you! https://www.hostnamaste.com/
Related Web Hosting, VPS Blog / Web Hosting Business News: