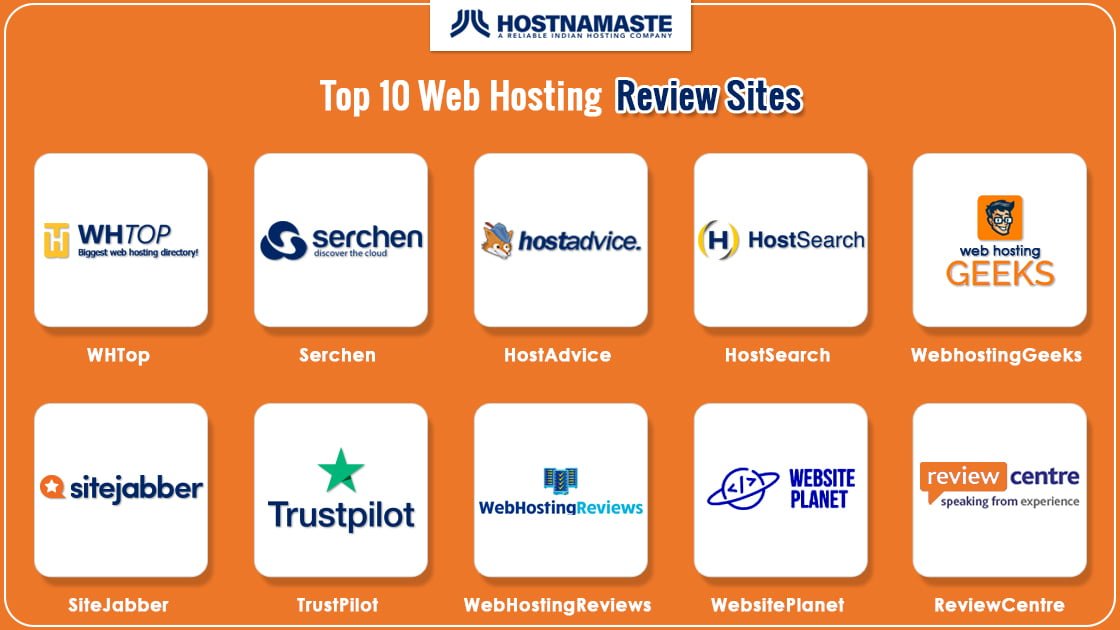 I remember when people were aware of just a handful of web hosting providers and there weren't any hosting review sites either which helped in recognizing which web host was more reliable.
Now that new web hosting companies are emerging from the bottom in hopes of making to the heights, people are looking for ways to stay up-to-dated with quality hosts in the market.
You and I both know that you cannot host your precious website with just about any company. You need to be confident in a particular web host, do research on the provider, compare it with other hosts in the market, pay heed to its features, and assure that the hosting doesn't surpass your budget before buying the package.
Now, the real dilemma here is; no one has that kind of time to do all that. That is how the reign of hosting review sites took over the Internet.
I'm not going to lie; these review sites have saved my money multiple times and spared me from spending on unreliable hosts. Besides, I have also benefited a great deal since most of these sites offer enticing discounts on so many hosting packages.
Here is our list of the top 10 web hosting review sites as of 2019/2020:
Ever since its commencement in 2004, WHTop is known as the biggest web hosting editorials and review site to ever grace the internet. The website alone contains the biggest web hosting directory with over 27,000 companies from across the globe and almost 90,000 hosting plans.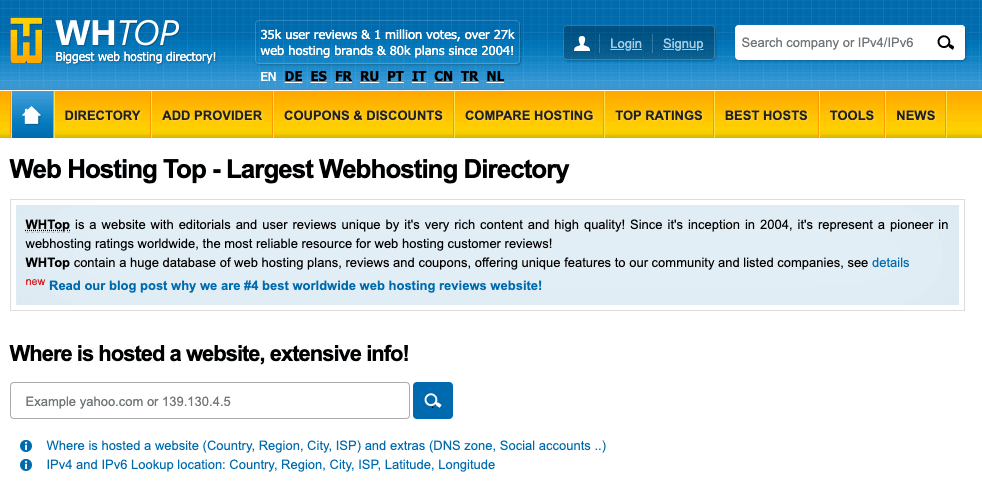 WHTop is a haven for brilliant discounts as well. On top of that, the user is directed straight from the homepage itself to several recommended web hosts and their comparison. The newsletters, articles, and reviews range in thousands and user ratings have surpassed over 1,000,000 votes.
The second in our list is Serchen. It's another great hosting comparison and review site that has the directory of over 20,000 companies to choose from. The best thing I liked about Serchen is its categorization approach. It has well over 400 categories from which we can easily choose the hosting that is best suited for our websites.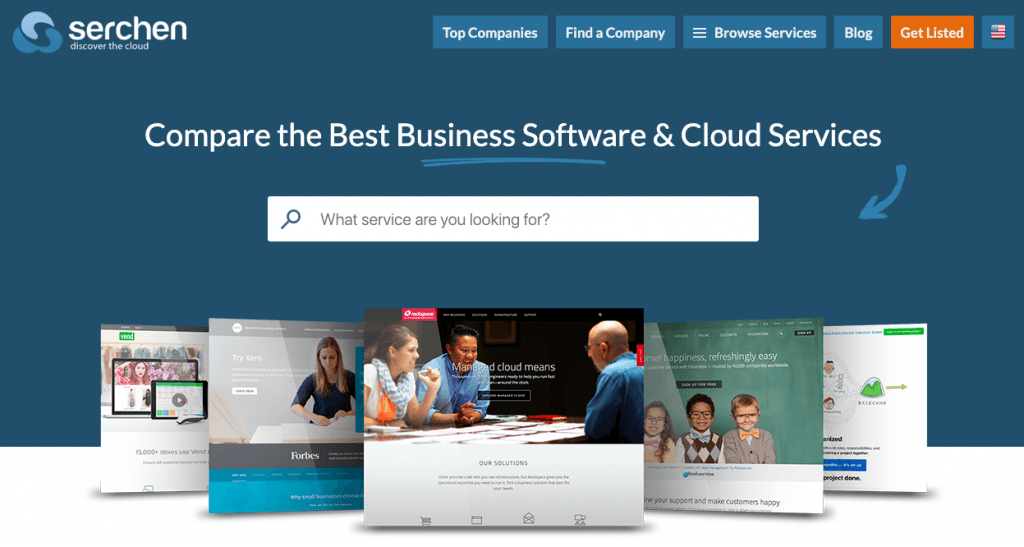 Serchen has the list of top companies and compares thousands of packages varying from different types of hosting and tools. If the viewer has a specific web host in mind, Serchen finds it for you and compares them to other alternatives to help find the best web host in the budget.
HostAdvice is one of my favourites due to the straight-forward and genuine user-ratings we find on the site. Well over 44,000 authentic users review different web hosting companies each day so viewers like us can benefit from them and find a reliable company for our websites.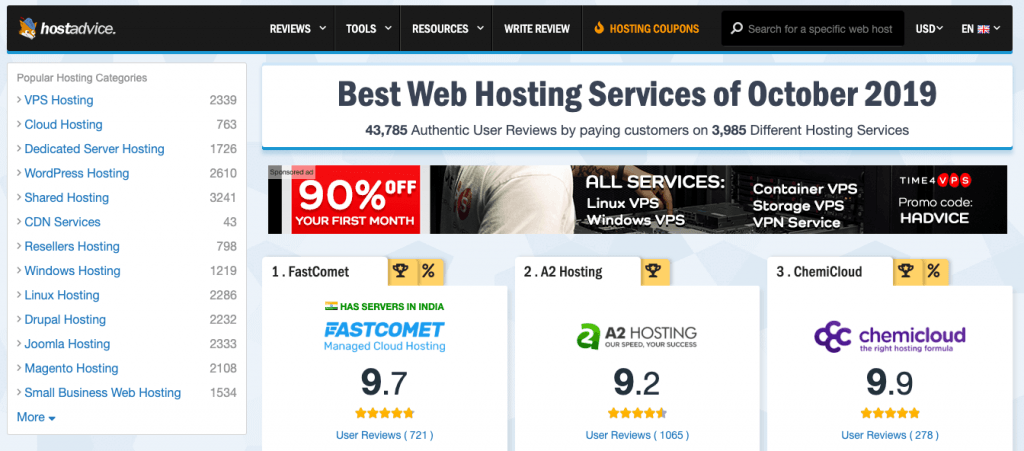 HostAdvice's categorization and filter system are good and you can easily find the directory of around 4000 to 5000 different web hosting providers.
HostSearch has one of the best content-driven hosting reviews, articles, newsletters, and interviews. Straight from the homepage, the advanced search inquires your preference and according to the features you enter, presents the best rated hosting provider in your desired pricing range.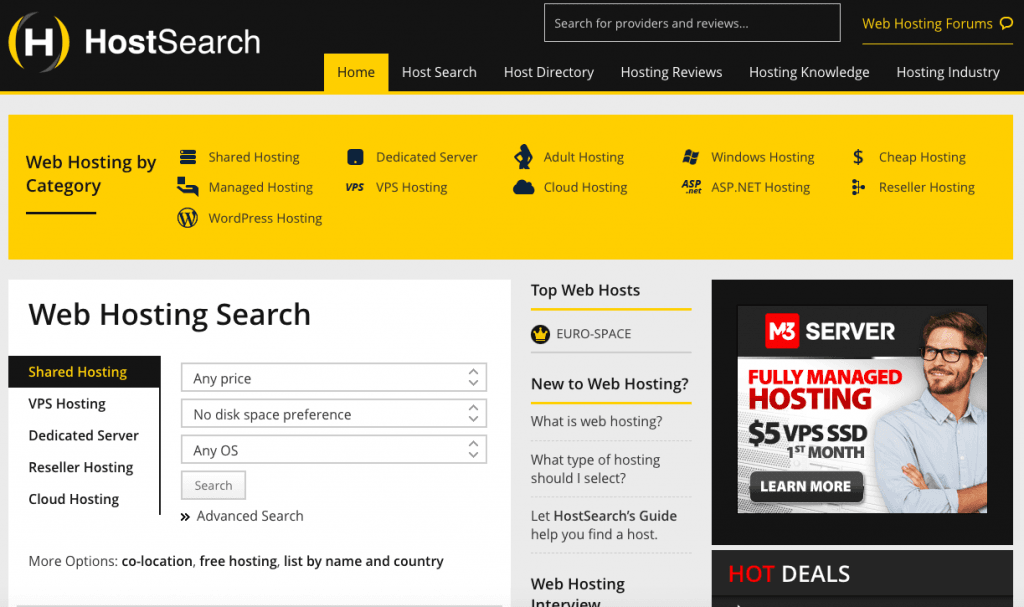 HostSearch's homepage itself is so user-friendly and as you navigate through it, you will find fascinating hosting-related articles, relevant hosting updates, and top-rated reviews.
It even offers a lot of hot discounts on various packages, so along with reading genuine reviews, you end up saving a lot of money on these packages.
WebHostingGeek is another review site with a large hosting directory. Ever since 2004, verified and authentic users have been posting genuine reviews on renowned web hosts. As of 2019, almost 30,000 reviews posted on around 25,000 web hosting companies are recorded.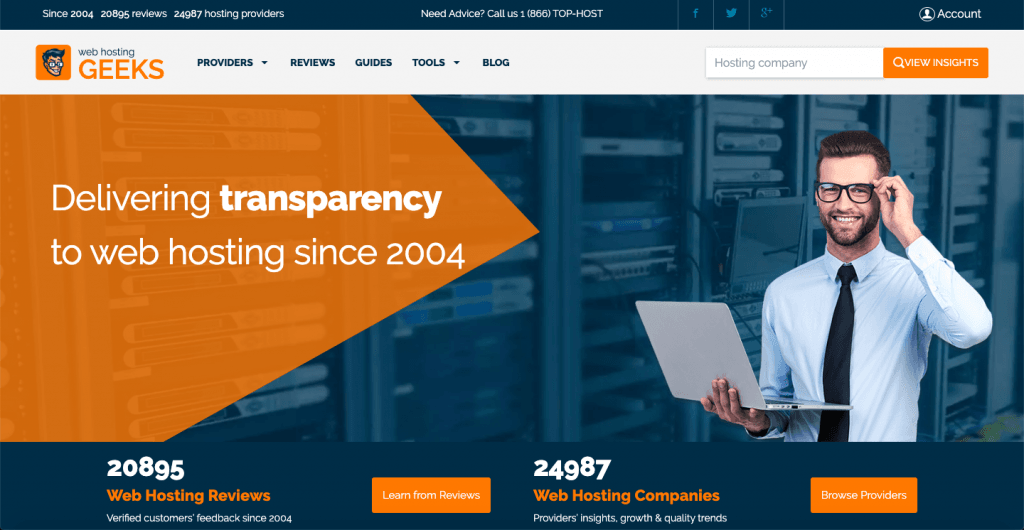 WebHostingGeek has its own list of top-rated providers and after navigating through the webpage, you will find a comparison table of some of the best hosting companies in the market.
SiteJabber is more than just a web hosting review site. In fact, it contains reviews and user-ratings of all types of businesses and services. Some popular categories include hotels, web hosting, electronics, apparel, etc.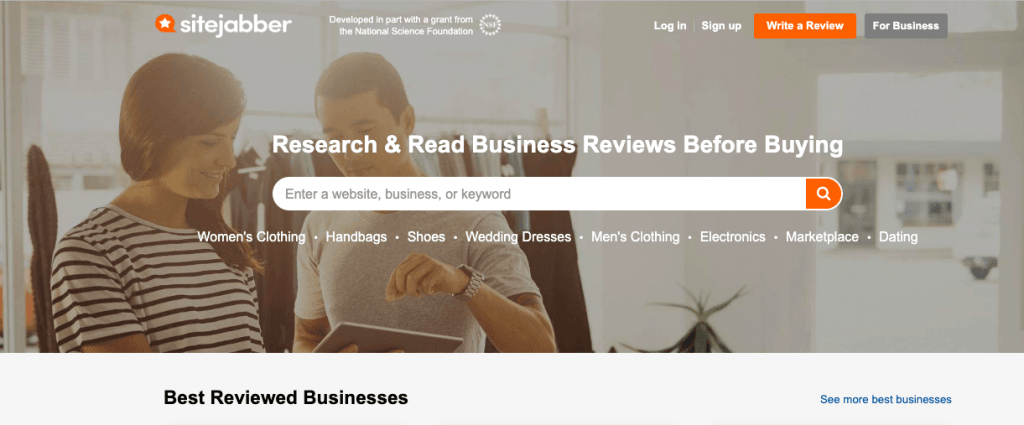 After you enter the keyword 'web hosting' in the search box, you will come across the names of some hotshot web hosting providers. SiteJabber contains hundreds of reviews on each of these hosting companies and their features.
TrustPilot is not just web hosting-oriented. Just like SiteJabber, it reviews all kinds of websites. TrustPilot has reviewed over 3,00,000 websites in just 12 years and there are over 65 million ratings posted by verified users on all kinds of products.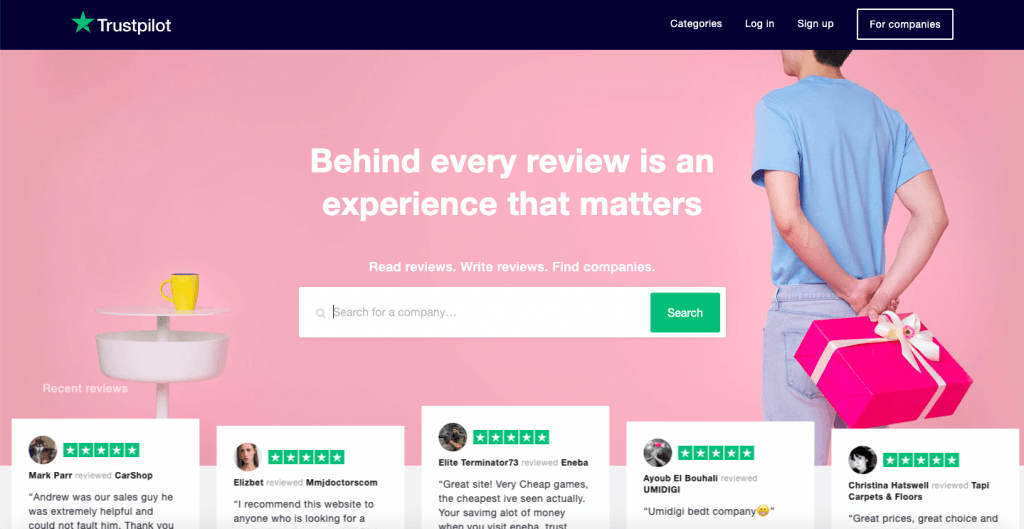 The only reason why we didn't put TrustPilot at the top is that its multi-niche focused. Sure, you will find hundreds of hosting providers and thousands of reviews written on them. However, I'd personally prefer a site that is focused solely on web hosting businesses.
WebHostingReviews was started by a 16-year-old kid way back in 1999; the kid grew up and so did the website. This site is excellent for detailed web hosting reviews, but it doesn't have hosting-related articles or any exciting hosting discounts.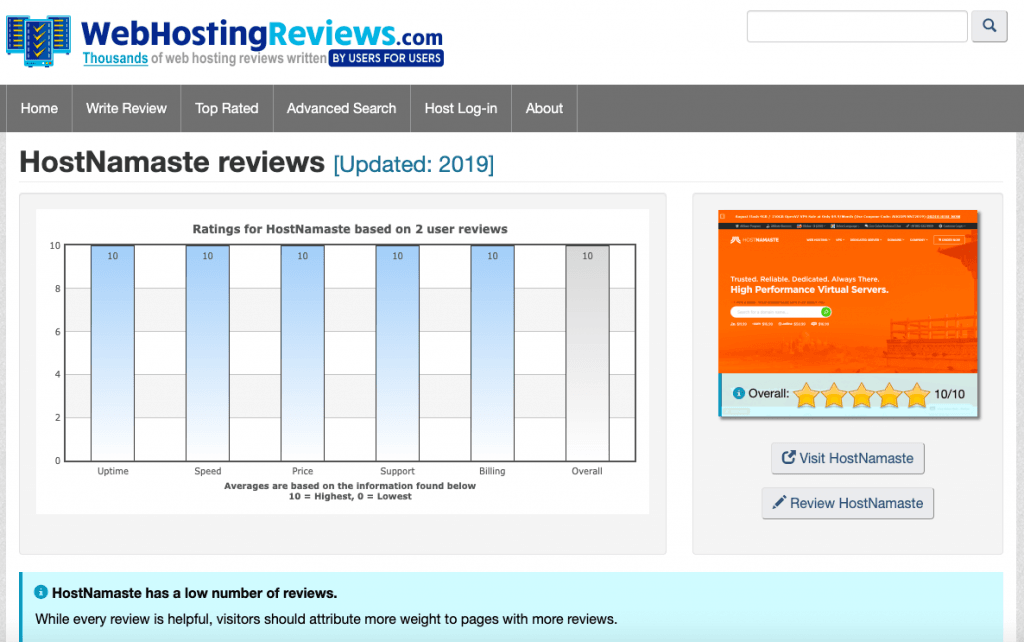 The hosting reviews, however, are thorough and honest. I found them pretty insightful and reliable. Most of the web hosts have hundreds of user-reviews and the top-rated ones are highlighted on the homepage.
WebsitePlanet reviews every service and company offering solutions that help in making the website perform and appear better. You can find user giving ratings on the newest web hosting companies, landing page creators, website builders, and so on.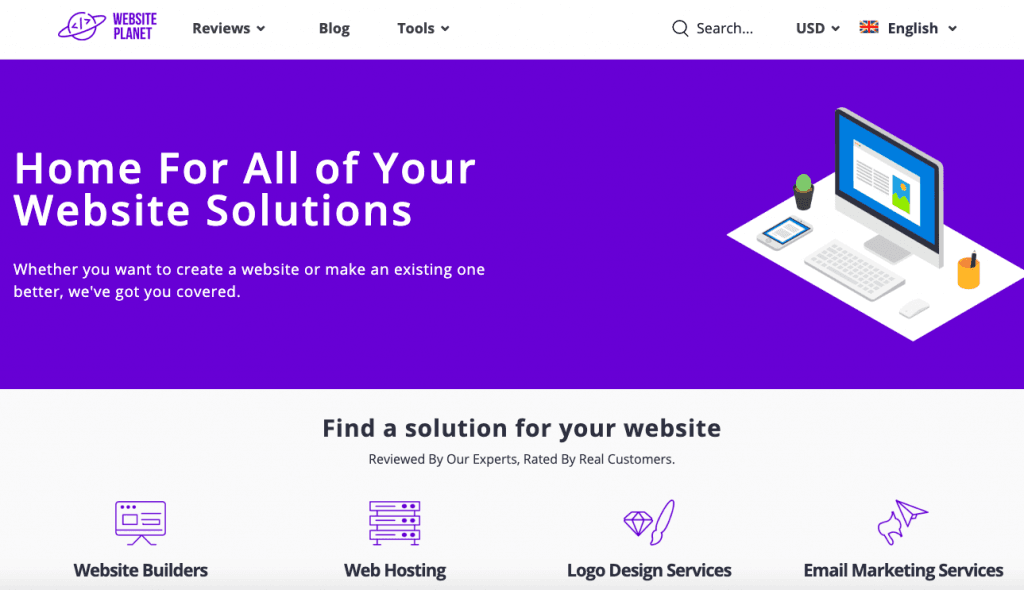 It has a lot of articles, hosting reviews, frequently asked questions, Top 5 services, and hosting comparisons which makes it easier for the viewer to distinguish between varied web hosts.
Last but not the least in our list of top 10 web hosting review sites is ReviewCentre. It has over 2 million user reviews on all kinds of products and services. The homepage itself shows the most recent ratings left by users on several different companies.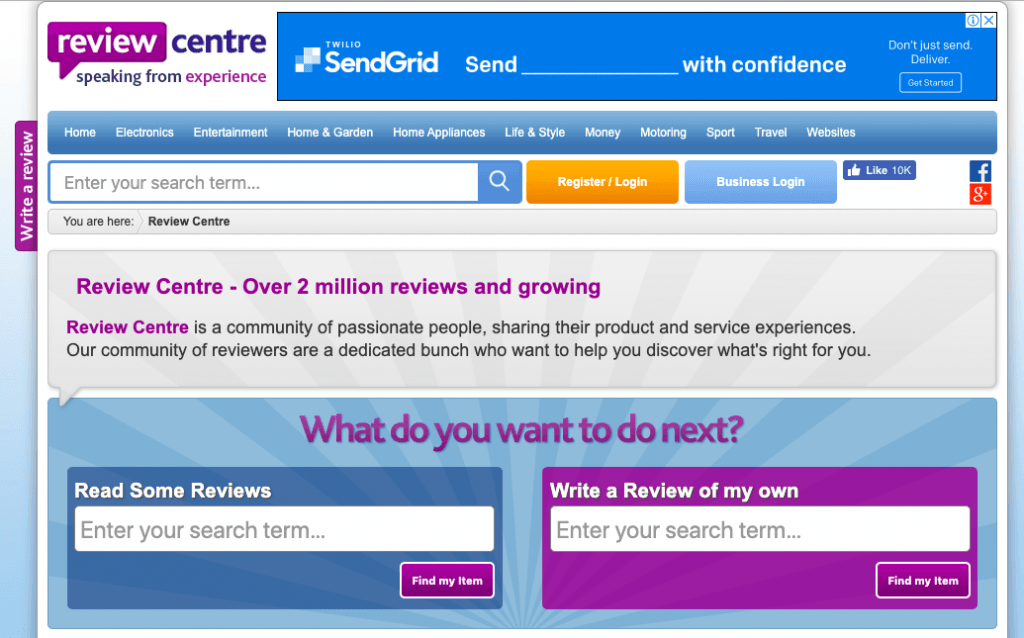 This site is considered as one of the biggest review sites, but there are two reasons why I have put it in the last place. Firstly, it is multi-niche and secondly, I didn't find the web hosting reviews to be as enlightening as compared to other websites.
So that sums it all up. The ones mentioned above are the most well-known and reliable web-hosting review sites that you're going to find in 2019. I have placed them according to the quality and value of reviews on each site and the additional benefits the sites offer to the viewers.