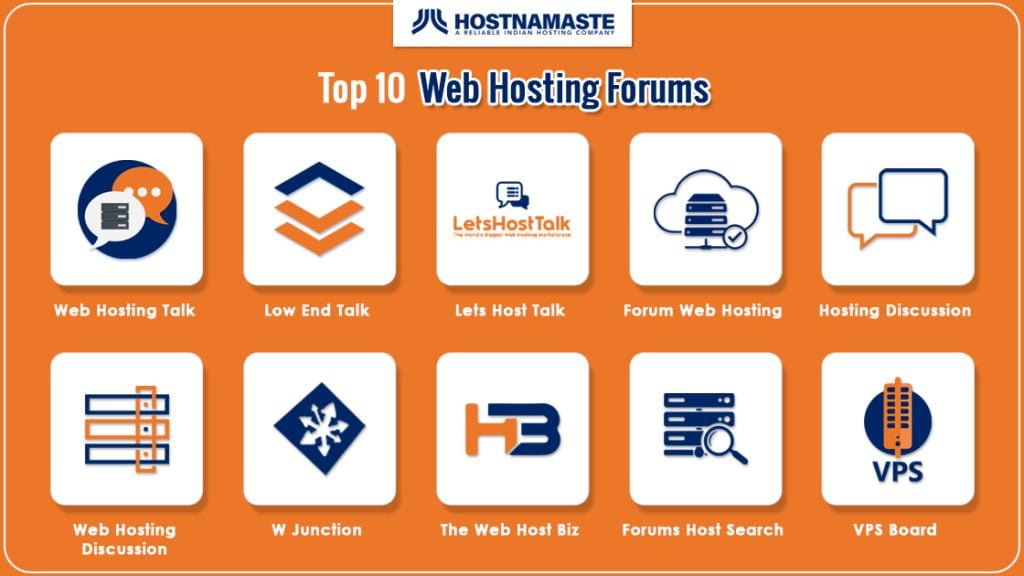 Web hosting forums are in such a trend nowadays, that it's hard to keep up with all the new forums emerging over the internet. In addition to separate forums, a lot of web hosting providers are being majorly influenced to start a forum on their platforms.
Well according to me, it's a rather good approach. After all, what's better than indulging in discussions regarding web hosting than on a web host you're already hosted with?
However, there's a slight catch with these forums. The customers are rather partial and it's hard to talk in favor of fellow contending hosting providers. Personally, I prefer separate forums.
The discussions taking place are broader and every user is given utmost reign to provide honest reviews. There is also another reason why I love web hosting forums. They are a haven for lots of mouth-watering coupons and discounts.
Let us narrow down the Top 10 Web Hosting Forums that ever graced the world of web hosting.

As of 2023, WebHostingTalk remains to be the largest and the most participated in web hosting forum with users from all over the world actively engaging in the discussion board. You can ask for advice about all hosting-related topics; discussions ranging from shared hosting, VPS hosting, reseller hosting, dedicated servers, hosting tools and reviews, you shall find everything at a solitary place.

LowEndTalk is another one of the most well-talked hosting forums. It's popular amongst the users as it's not as strict as Web Hosting Talk. LowEndTalk has a quite reasonable set of community rules and just like Web Hosting Talk, the discussions are also carried out with experienced and honest users indulged. Upon opening the home page, you shall find a long list of discussions related to hosting and all of these conversations have massive engagement.

LetsHostTalk is a powerful and renowned hosting forum. I quite prefer it due to its simplistic yet sophisticated interface. The other forums look rather monotonous. LetsHostTalk, on the other hand, is easy on the eyes.
Other than that, the Categorization system is also impressive. You don't have to find particular discussions manually; the categories are all there on the right, along with recent hosting offers and coupons. It also shows the number of views and comments made by the user on each discussion, thus it's easier for you to know which topic is the most engaging and which is not.

Yet another web hosting forum with splendid categorization is ForumWebHosting. On the web page, you will find dozens of discussions on a wide range of topics. From the most recent to the most liked discussion, you can easily engage in any topic that fancies you. It also has a separate head for the latest reviews and feedbacks of different web hosting services.
Along with that, it enables you to get your hands on lots of discounts and hosting offers. Whenever I have my eyes set on a certain web host, I make sure to check on ForumWebHosting in case I can nail an amazing discount.

HostingDiscussion is counted amongst the most interactive web hosting forums as of 2023. It has more than 20,000 active users with over 230,000 posts and almost 70,000 threads. The interface is simplistic and the users find this forum to be rather uncomplicated. You can search your desired discussion or you can scroll through the latest posts; whichever action best suits you.

WebHostingDiscussion is another platform where you can exchange your views, tips, advice, and experiences regarding the different web hosting providers and the services that you've tried. It's effortlessly interactive and I've found users to be more engaging on WebHostingDiscussion than on any other forum. When users are engaging, discussions are more prone to stay relevant and it's easier to connect with more people in the web hosting industry.
After coming across the web page, you will see the main web hosting topics and each forum consists of hundreds of posts and threads.

A forum that is remarkable when the categorization is concerned. WJunction is not solely focused on web hosting news and discussions. It's pretty huge and covers discussions related to a wide range of topics on the Internet. VPS MCQs
The fact that it's not a dedicated web hosting forum didn't bug me one bit. The hosting discussions on WJunction were more efficient than a lot of popular separate forums which I didn't bother to include in this list.

The reason why TheWebHostBiz is on 8th position is that I found it to be pretty remote. I couldn't help but notice that it's not as vast as other forums on the list. Still, I counted WebHostBiz since a lot of users highly favor it. Although, there aren't a lot of forum discussions to choose from; I admit that each forum has thousands of posts and threads on each topic. More often than not, there are more guest users online than actual members.

ForumsHostSearch isn't much different than The Web Host Biz. The two forums have pretty much a similar layout and categorization. Both of them consist of separate discussions for Web Hosting consumers, providers and market places.
However, the engagement level on ForumsHostSearch was further elevated than WebHostBiz. The reason why it's still behind in 9th position and couldn't nail the 8th spot is because there weren't a lot of discussions to choose from.

Finally, the last spot in our list of Top 10 web hosting forums is snatched by VPSBoard. VPSboard has a wide variety of hosting discussions ranging from Cheap VPS, Cheap Shared Hosting, Cheap Reseller Hosting, Budget Dedicated Servers topics, etc.
Users have posted reviews and feedbacks of the services they've tried and discussions are covering the Q & As and Guides & tutorials of many web hosting providers.

Web Hosting Debate (WHD) – Web Hosting Forum – Welcome to WebHostingDebate. WHD is the largest, most influential web and cloud hosting community. It is your main source for discussions and breaking news on all aspects of web hosting including managed hosting, dedicated servers, bare metal, shared hosting, reseller hosting, hybrid, cloud servers, colocation, openvz, kvm, xen, windows, linux and VPS Hosting.

HostBoards – Web Hosting Forum – HostBoards.com remains a large & Exciting web hosting forum with users from all over the world actively engaging in the discussion board. You can ask for advice about all hosting-related topics; discussions ranging from shared hosting, VPS hosting, reseller hosting, dedicated servers, hosting tools and reviews, you shall find everything at a solitary place. Web Hosting Offers, Hosting Control Panels, Host Billing Systems, and every webhost topic you can think of.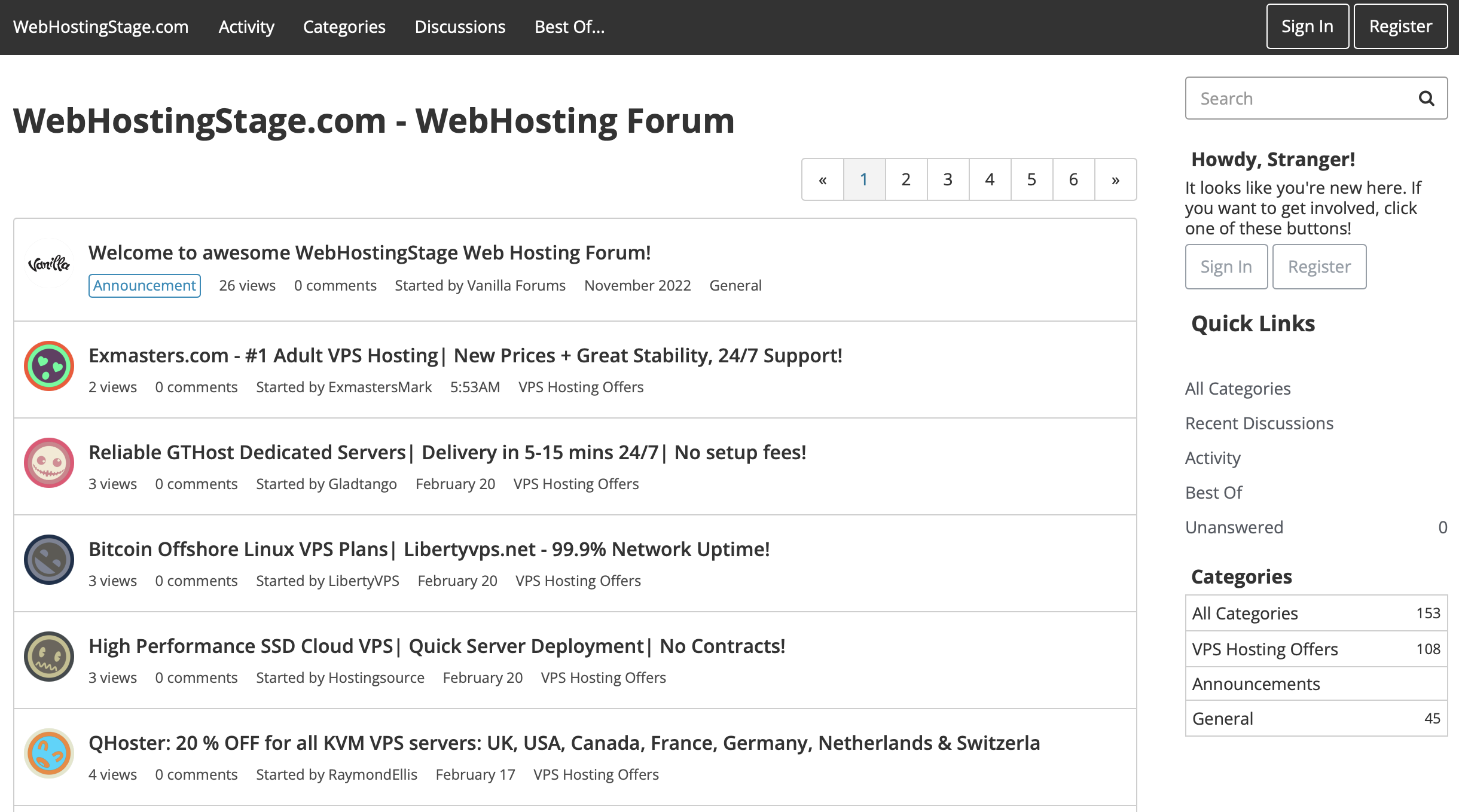 WebHostingStage is the new web hosting forum recently launched and showing promising growth in a few months, they are saying it is the largest web hosting forum driven by the community. Members can discuss about Cloud hosting, Bare metal servers, VPS servers and other hosting related discussions. As of now they are allowing to post only VPS related Offers on their forum and they will be allowing to post other shared, reseller and dedicated servers offers soon. They are still new hence I have put on the 13th post but who knows they can go up in the coming time :)
Conclusion
Well, there you have it; Top 10 web hosting forums you could easily choose from. All of these forums have been personally tried out our team and therefore, we've decided to number them according to their engagement and the count of recent discussions and topics of each.