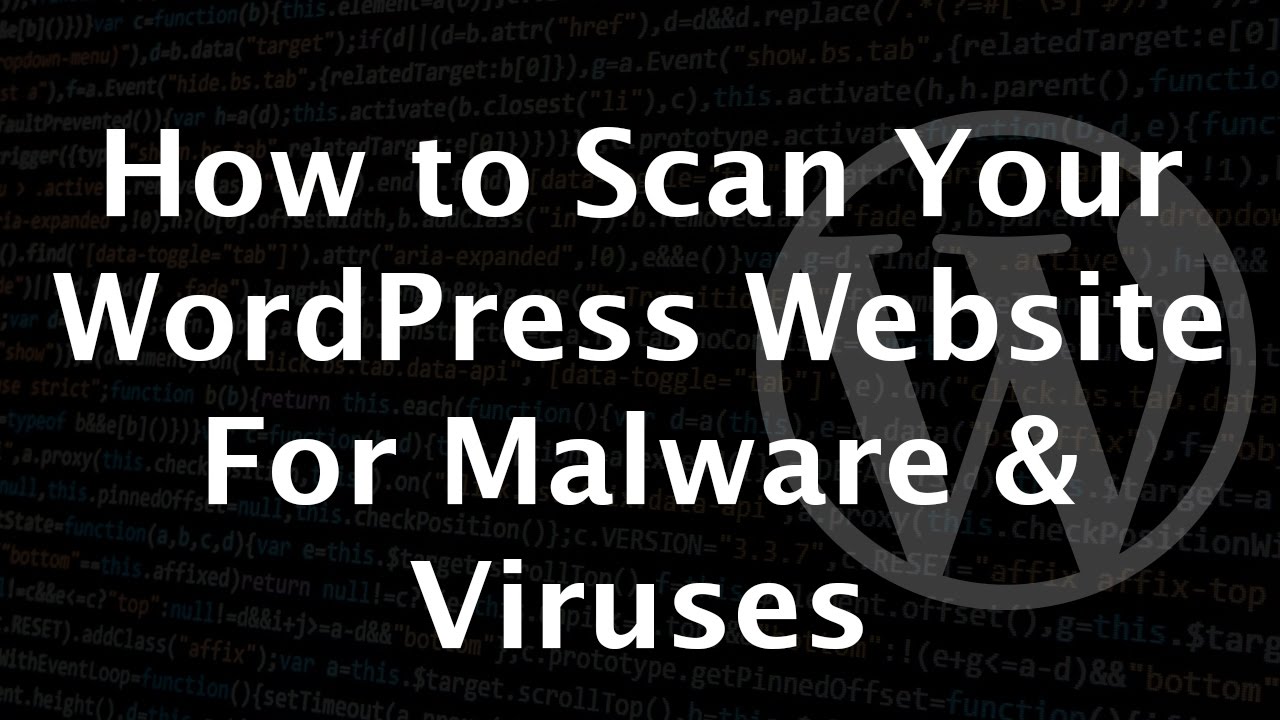 Powering millions of blogs, online businesses, and professional websites, WordPress is the clear favorite of website owners around the globe. But this popularity also makes it a favorite with hackers. Hackers are constantly looking for ways to exploit any vulnerabilities in WordPress Websites to insert malware and malicious code into them. This malware can be inserted into the WordPress installation files, plugin/theme files, and the WordPress database. 
Luckily, there are multiple ways to scan wordpress sites for malicious code. This article looks at how you can scan your site for malware and clean your website to remove it. Let's get started. 
How to Scan a WordPress Site for Malicious Code and How to Clean it?
Warning Signs of a Malware Attack
It is important to keep an eye on your website's behavior to look for early signs of a malware infection. Though hackers can compromise a WordPress site in multiple ways, the symptoms your site exhibits are common across different types of attacks. 
Symptoms of Malicious Code in your WordPress Site
While there is no way to know for sure how malware will manifest itself, here are 6 telltale signs that your website could be infected: 
Your website shows a sudden drop in loading speed and performance. 

Your web browser displays a warning message when you try to open your website.

You receive an email from Google suggesting that your website could be hacked. 

Your website is suspended by your 

WordPress hosting

 company.

You find that spam emails have been sent from your official email to your customers or contacts.

You find "suspicious" JavaScript code in your website code.

Your website ranks for spammy words.
The only way to confirm your suspicions though is to scan wordpress for malicious code. Let's start with where you need to start looking. 
Where can you Locate Malware in WordPress?
Unfortunately, there is no fixed location where you can look for malicious code in your WordPress installation. Depending on the type of hack, hackers can infect different parts of your WordPress site including the:
WordPress installation files or folders

WordPress plugin and theme files

WordPress database tables
At this point, you're probably thinking, 'How do I scan my wordpress site for malicious code at so many locations?'  
There is an easy way to do this. Keep reading. 
How to Scan WordPress for Malicious Code
There are multiple ways of performing a WordPress scan for malicious code. Here are the three main types to choose from:
Automatic scanning using a WordPress security scanner

Fast scanning using an online security scanner

Manual scanning
Let us discuss each of these in detail.
1) Using a WordPress Security Scanner
If you are serious about WordPress security and making it a part of your website maintenance plan as opposed to a one-off thing, investing in a WordPress security scanner tool is the best way to do this. 
Though there are free security scanners available in the marketplace, we would always recommend a paid scanner like MalCare or Wordfence for your WordPress site. In addition to scanning your website files, a WordPress malicious code scanner can also scan WordPress databases for malicious code. Since they have evolving algorithms to detect even the latest or as-yet lesser-known attacks, using them is your strongest defense against the dynamic and ever-changing face of cyberthreats.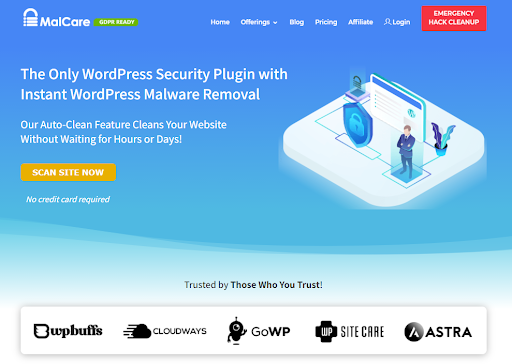 2) Use Online Security Scanners.
Online security scanners do the job if you simply want to check if your website is infected with malicious code. You can use services like WPSec where all you need to do is enter your website URL to get a vulnerability report instantly. Other security scanners like Hackertarget also offer a low-impact way for website monitoring to get a high-level overview of your site's security posture.
3) Scan WordPress Files Manually
The third way to scan your WordPress site for malicious code is through the manual scanning method. Compared to the other two methods, this method can be complex and time-consuming and we recommend that you try it if you're a fairly technical user familiar with WordPress and how its backend files work.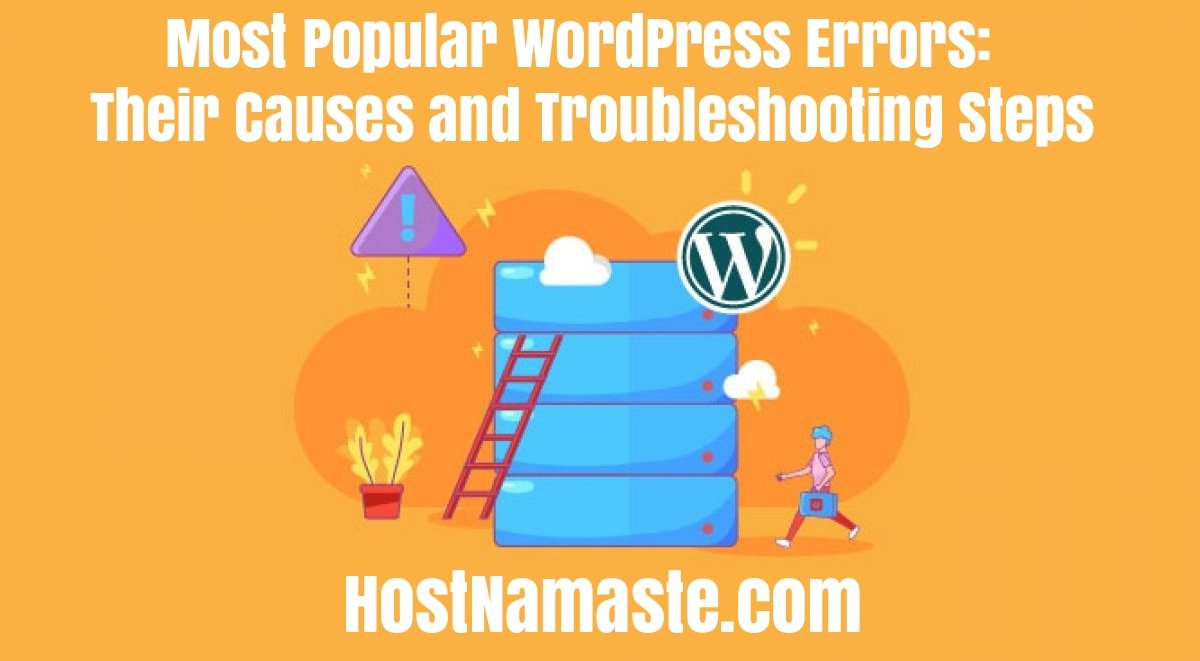 Manual scanning involves downloading a fresh copy of WordPress core or plugin/theme from the source and comparing each of them to your infected website for any recent modifications. 
For example, you can scan a WordPress theme for malicious code by downloading a fresh copy of the same theme and version – and comparing it with your installed theme file (for any malicious code).
Any changes you see, except for the customizations you've done, could be malware inserted by hackers. 
Also Read: The Ultimate Best WordPress Security Practices
How to Remove Malicious Code from Your WordPress
Once you have scanned and found malicious code on your WordPress website, the next step is to remove malicious code from WordPress sites. Let us look at the two primary methods of removing malicious code.
1) Cleaning Malicious Code using a Security Plugin
The best part about using a security plugin like MalCare or Sucuri is that the same tool can be used to remove malicious code from the Core WordPress files, plugins/themes, and database tables, without any additional expense, and in a few clicks. For instance, MalCare offers a one-click "Auto Clean" functionality so you can remove malware from your site without relying on external technical support. 
Before using a security plugin for clean-up, make sure you take a backup of your entire WordPress including website files and the database. You can use a backup plugin like BlogVault to do this. 
2) Cleaning Malware Manually
Alternatively, you can try to clean your infected website independently through the manual removal method. 
The main idea behind manual clean-ups is replacing infected files with the corresponding file from a fresh WordPress version or a clean plugin/theme version. In addition to this, you need to look through your database tables and remove suspicious code or code that you haven't included. 
Here are the steps you need to clean your WordPress files:
Use an FTP tool like FileZilla to access WordPress files like wp-config.php or installation folders like wp-admin and wp-includes.
Through your FTP tool, check for any recently modified files.

Download a fresh copy of your current WordPress version from the WordPress repository.

Replace the "suspicious" installation files that have been recently modified with the copy from the fresh WordPress version. For any customizations you've made,  you'll need to open each file and remove only the parts that you don't recognize, and that could be inserted by hackers. 
Next, to manually clean your WordPress database:
Create a backup of your database tables.

Sign in to your WordPress database panel and search for malicious entries like suspicious links and keywords.

Manually remove the database records (or tables) containing any malicious content.
As you can see, this method is fairly complicated and poses a few risks as you could end up deleting critical files or undoing customized changes you'd made. You should try this method only if you have a technical understanding of, and experience with WordPress files. 
As in the previous method, remember to take a complete backup of your website files before performing any manual clean-ups to avoid the risk of erroneously deleting any important files.
Impact of Malicious Code on Your Site
Detecting and removing malicious code from WordPress sites is not a one-time effort. Malware can lie undetected on your site for months, but inflicting damage on your SEO rankings or your visitors' user experience. Here are just some of the things malware not removed on time can do to damage your business: 
Redirecting your website visitors to external unsolicited websites or fake pharma stores

Getting your business website suspended or even blacklisted by Google search engine – thus further reducing your incoming traffic and undoing all your SEO efforts 

Displaying many illegitimate pop-up ads on your homepage to gain user clicks

Stealing sensitive information from your databases such as financial records, credit card numbers, and customer data.
Even if you manage to clean your website, your business credibility and revenues might have already taken a huge hit. This is the reason why ongoing malware scanning and removal should be a part of your WordPress maintenance checklists. WordPress security plugins help you automate the malware detection and removal process so you catch the first sign of infection and risk minimal damage to your site. 
Why does your WordPress Site have Malicious Code?
Some of the most common wordpress errros and reasons for malicious code entering a WordPress site include:
Weak login credentials (or access control) where hackers can gain unauthorized access by simply guessing user passwords and usernames

Software-related vulnerabilities including a lack of updates of your Core WordPress and WordPress plugins and themes, or the use of abandoned (or nulled) plugins/themes on your website.
Using a 

shared hosting

 platform that does not enforce or practice security best practices

Lack of security protection for the wp-admin folder in the WordPress installation

Lack of website firewall protection that can block web requests from suspicious or malicious IP addresses.
Can you protect your WordPress website from malicious attacks and code? Yes, let us see how in the next section.
Conclusion: How to Protect Your WordPress from Malicious Attacks
To end this blog on a good note, here are 5 tips on protecting your WordPress site from malicious attacks:
Install a comprehensive WordPress firewall on your website. 

Enforce a strong password policy for all your users including administrators.

Take regular backups of your WordPress files.

Apply the latest software updates of your WordPress version, along with your installed plugins/themes.

Invest in a WordPress security plugin like MalCare that in addition to malware detection and removal can also help in implementing the above features through its dashboard. 
While these preventive measures cannot guarantee 100% website security, they can make it harder for malware and hackers to find their way to your site. 
We hope the tips and strategies we shared in this article help you develop a robust and consistent security strategy for your website. All the best!