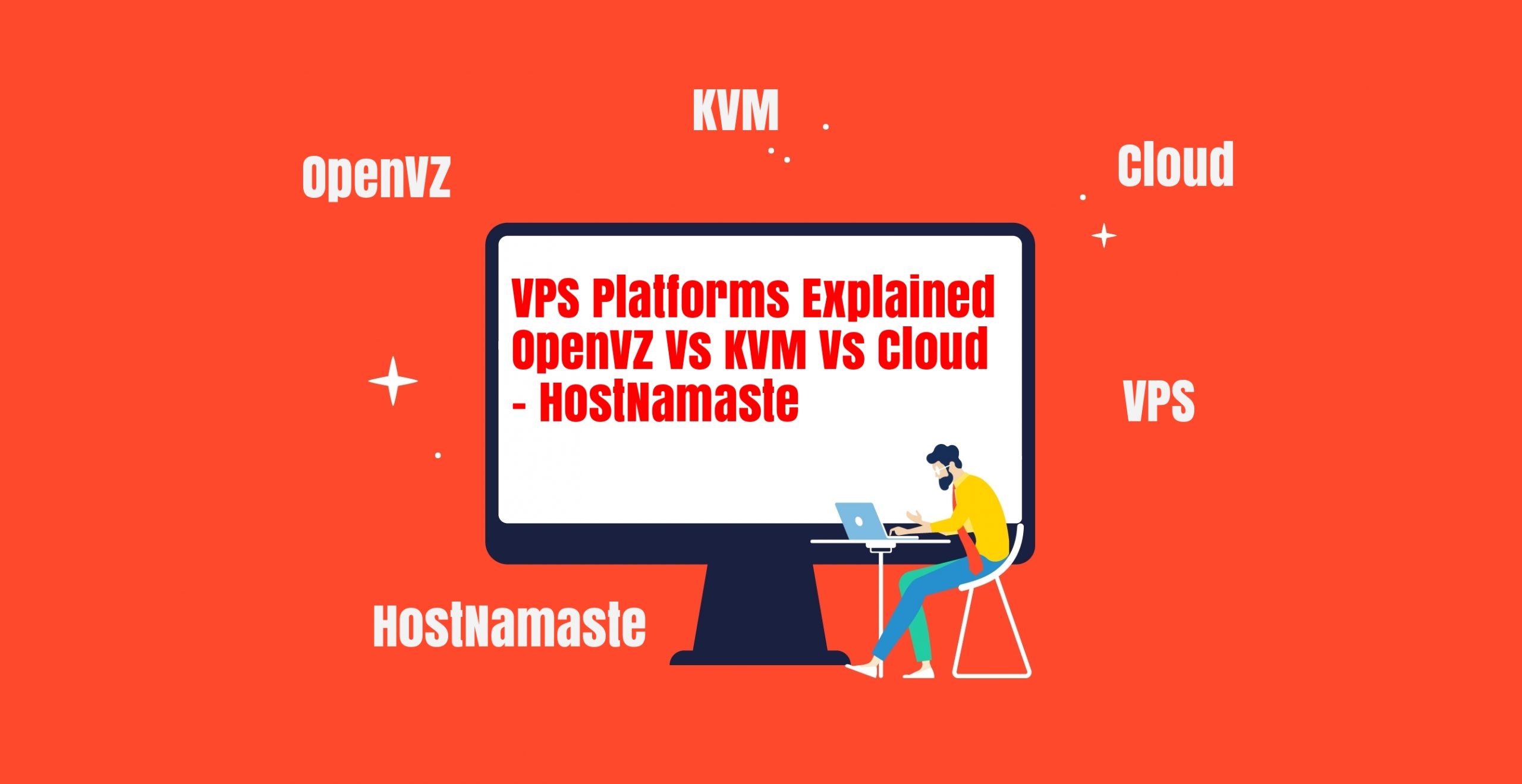 In the VPS Hosting Market, you might find it very hard to choose between several different types of VPS Platforms or Virtualization Technologies. We at Host Namaste also offers three different types of VPS Platforms OpenVZ VPS, KVM VPS and Cloud VPS Hosting. All these Virtualization VPS Technologies has unique pricing, advantages and disadvantages. The following information will give you a brief description of each platforms so you can decide it from yourself. Before we get into the various VPS platforms, let us first understand what a VPS is and how does it work.
What Is a Virtual Private Server?
A server is a strong machine that houses all of the information and files that comprise the website. When anyone enters your web address into a web browser, a strong machine "serves up" your site to the searcher. Now it's time to talk on the virtual side of things. Virtual Private Servers (VPS) utilize virtualization technologies to divide the same efficient server we just discussed into many virtual servers.
Consider it this way; it's a single piece of physical machinery that performs the tasks of many different servers. The term "personal" denotes just as it implies. You would not have to exchange RAM, CPU, or data with many people since your computer system is dedicated to you.
How Does VPS Work?
If you're also sharing the actual server with other people, VPS Hosting simulates the illusion of having a dedicated server. Using virtualization technologies, the web hosting service creates a virtual layer on top of the server's operating system (OS). This layer divides the server into individual compartments separated by virtual walls, allowing each user to install their operating system and applications.
A VPS is truly a private server since it distinguishes the data from those of other users on an OS basis. This ensures that the website is hosted within a protected container with assured server resources such as memory, storage space, and CPU cores. You are under no obligation to share all of it with anyone.
Now that you understand what a Virtual Private Server is and what it does, you should move on to learning about OpenVZ Virtualization. OpenVZ Virtualization is a cloud operating system that is mostly focused on the Linux kernel and operating system. This is a container-based virtualization technique that enables website administrators to run multiple operating system implementations on a single web server.
The OpenVZ platform is known to be very important for users since the virtual computer has its own virtualized hardware or para-virtualized in full virtualization from the perspective of the operating system. The kernel is considered to be driven by this hardware, leaving the Virtual Servers with their own. This might not be the case for OpenVZ since the virtual server may not include the hardware, does not include a PCI or any network, and does not include the installation of a new network card. OpenVZ doesn't have its own kernel, but both of the applications that work together are running on the host kernel.
In the cases of para-virtualization, the hypervisor works in a somewhat different way, allowing several guest operating systems to work together rather than clash. Each Operating System guest is aware of the virtualized environment and cooperates with the hypervisor in order to achieve virtualization. It's an OS-level program implementation that divides the operating system into partitions called containers using the kernel. A number of VPSs will be able to control the kernel itself. The OpenVZ systems are divided into two categories: dedicated resources and burst resources.
If the OpenVZ VPS demands dedicated resources, they will be provided with them. Burst utilities, on the other side, can be accessed thanks to the device's excess capacity. This virtualization framework allows one VPS to rent or use services held by other VPSs that are not currently optimized. In the short term, burst programs will help you meet the capital requirements. You are, however, free to terminate your processes anytime you believe it is necessary.
The full exchange of information that OpenVZ provides is both a benefit and a drawback. OpenVZ runs on a shared kernel with a virtualization layer on top of the real Linux operating system. This kernel is not customizable since it is used by all VPS users on this node. If you've used up all of your allotted RAM from the host, the leftover RAM becomes available to all those users on the server. This isn't a concern if you're running tiny programs, but it might be a problem if you're running anything that requires a lot of resources.
Also Read: What is OpenVZ Virtualization? – All You Need to Know about the OpenVZ Virtualization

KVM (Kernel-based Virtual Machine) is a virtualization technology for Linux that is free and open source. It uses a hypervisor form 2 (a virtual machine manager, which is installed as a software application on an existing Operating System). It is in the Linux kernel (the center of the OS, which provides basic serves for other parts of the OS). In KVM, the Linux kernel is used as the hypervisor to streamline the management of virtual machines and to improve their efficiency.
KVM has been bundled to the Linux OS since 2007 and can be enabled with the Linux kernel. KVM supports various guest operating systems, including Windows, Haiku, Solaris, etc. In brief, you must run a Linux version published after 2007 and must be built on X86 hardware that allows virtualization.
If you check any of these boxes, you only need to load 2 existing modules (host kernel module and processor-specific module), an emulator, and some drivers to support you operate additional systems. However, implementing KVM on a supported Linux release extends KVM's capacity and enables you to exchange resources between visitors, share popular libraries, improve device stability, and more.
For improved VM protection and isolation, KVM uses a mix of Linux enhanced security (SELinux) and safe virtualization (SVirt). SELinux sets security limits for VMs. SVirt expands the capabilities of the SELinux such that the compulsory access control (MAC) authentication is implemented on guest VMs and manual marking errors are prevented.
KVM VPS lets you set maximum and minimum values for your resources in order to use only the resources your apps need. This is true hardware virtualization, which means higher output from lower hypervisor specifications. One consumer is dedicated to 100 percent of the RAM and disc resources. KVM offers a more segregated and user-friendly atmosphere.
Also Read: OpenVZ vs KVM VPS – What is the Difference? – Virtualization Explained

Cloud storage, by extension, is the method of storing, managing, and processing data via a network of distributed servers located on the Internet instead of a personal computer or a local server. The storage is the same regardless of whether you want Cloud VPS, Cloud Dedicated, or Cloud Server Hosting. While a local computer may connect to the cloud, the goal is for the environment to be remote, eliminating the need for local infrastructure for data collection, maintenance, and transmission.
The Cloud VPS Hosting Platform is a patented cloud storage solution focused on KVM (Kernel-based Virtual Machine), a Linux kernel-based virtual machine. It provides scalable, virtualized services as a commodity that can be bought as required. To put it another way, you just pay for the services you want. In a scalable, virtual world, dynamic provisioning is possible. Many tasks need resources that are accessible in minutes, allowing for near-instant access to a new server. Best of all, you won't have to migrate your data or change your server configuration to do this.
When the hosting criteria shift, one of the main advantages of a Cloud VPS is that it can quickly be scaled up or down. You might discover that your website requires additional resources in order to efficiently serve your guests. Or maybe the company is shrinking and you no longer need any of the money you currently have.
You can quickly scale the setup with a Cloud VPS at any point in time. You don't have to think about running out of power since the host node that controls the virtual server will distribute resources as required with a few clicks.
Using the details above, it's simple to deduce that VPS Cloud hosting refers to a virtual private server (VPS) that has been moved to the cloud. The benefits of a Cloud VPS server combine the advantages of both VPS and Cloud Hosting, and VPS Cloud hosting is the best choice, especially if you operate an online company. High-load sites do well even though they get a lot of traffic, so let's go over each advantage one by one. You have complete control of what you put on your Cloud VPS with this kind of server. You should install the operating system and control panel with root access because you have root access. There are no restrictions, so you can run as many programs and software as you want!
Also Read: OpenVZ, Xen, And KVM – The Differences, The Advantages, A Comparison
Final

Thoughts

 – Ready for Your Own Private Server?
As more and more days are passing, a large number of users are inclining towards Virtual Private Servers. However, the three platforms mentioned above create confusion among the users are OpenVZ VPS, KVM VPS, and Cloud VPS are equally powerful for your website's needs.
While there are numerous vendors, several companies nowadays opt for an OpenVZ, KVM, or Cloud VPS bundle. Many consumers are attracted to all three because of their convenience, efficiency, and dependability, as well as their inexpensive price. So, if you want a reliable and scalable hosting service, you can carefully consider which platform is better for your company and then make your decision accordingly.